Some big races and some even bigger results for our Beagles this week including International medals! It's been so lovely to hear all the stories that came flooding in over the weekend of personal achievements and success. Thank you so much to everyone who took the time to share.
National Primary Cross Country
Once a year at Prestwold Hall, a very special event happens for primary age children – the national cross country championships. This is a very unique opportunity to race in a massive field of children from all over the country and really get a taste for competitions experienced by the older age groups.
We are really pleased that three of our Beagles travelled to Loughborough for the experience. First up was Ollie Kindler who took part in the 1400m year three race – a massive cross country debut for him! Ollie ran amazingly well in a field dominated by local children, to finish 32nd boy in 7:21. Amazing!
Fynn Anderson ran in the 2.4km Yr5 boys race against an incredible field of 190 children. With an aim of just being in the top 100 – Fynn absolutely smashed that ambition to finish in the eighth place with a time matching 7th of 9:00. A truly remarkable achievement for one of our very talented runners.
Finally, Madison Kindler, who has had such a strong set of local races this year, competed in the 2.4km year 5 girls race against 162 girls. Committed as ever to giving her best, Madison dominated at the front of the race and really showed off her abilities finishing in second place with a time of 9:13.
A brilliant set of results from a trio of great runners with very bright futures ahead of them. Thanks also to the parents who supplied pictures here.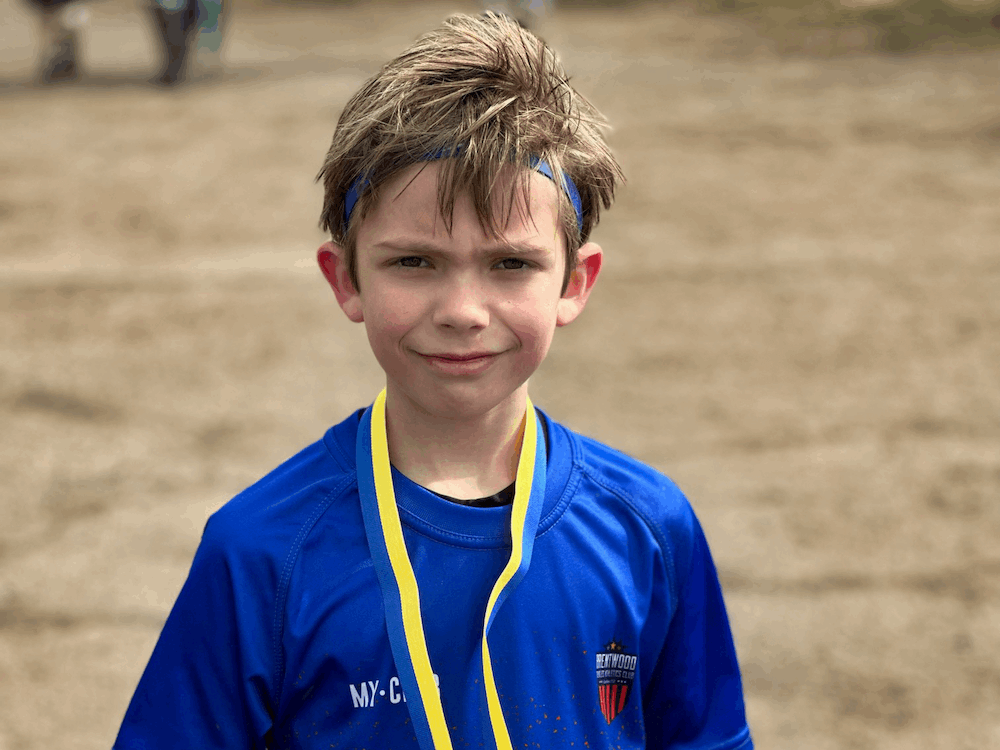 SIAB
We wrote last week of how Olivia Forrest had earned her England vest and this weekend she was off to Liverpool to compete in it! The Schools International Athletics Board (SIAB) event brings together the best runners from England, Ireland, Scotland and Wales to compete against each other. Each selected athlete is given international athlete status and taken to join the team accommodation sharing with another member of their own team. This allows a real experience of the much-forgotten side of competition – preparation away from home and support by "team" staff rather than your own coaches.
We are really pleased to say that Olivia had an amazing time and loved the opportunity to spend some time with many of the girls she has been racing against all season from across the country.
Even better though – she grasped the opportunity of her last XC race of the season with both hands. The 3K course around Sefton Park offers many twists and turns but Olivia did us proud. Despite a not ideal start, she showed her grit and determination to push through the field, bridge the gap to the leader and ultimately fight for the win eventually finishing in second place (10:43). However to end the season as the fastest girl in England is a definite win and Olivia still ended up with a gold medal too as her England team finished in first place.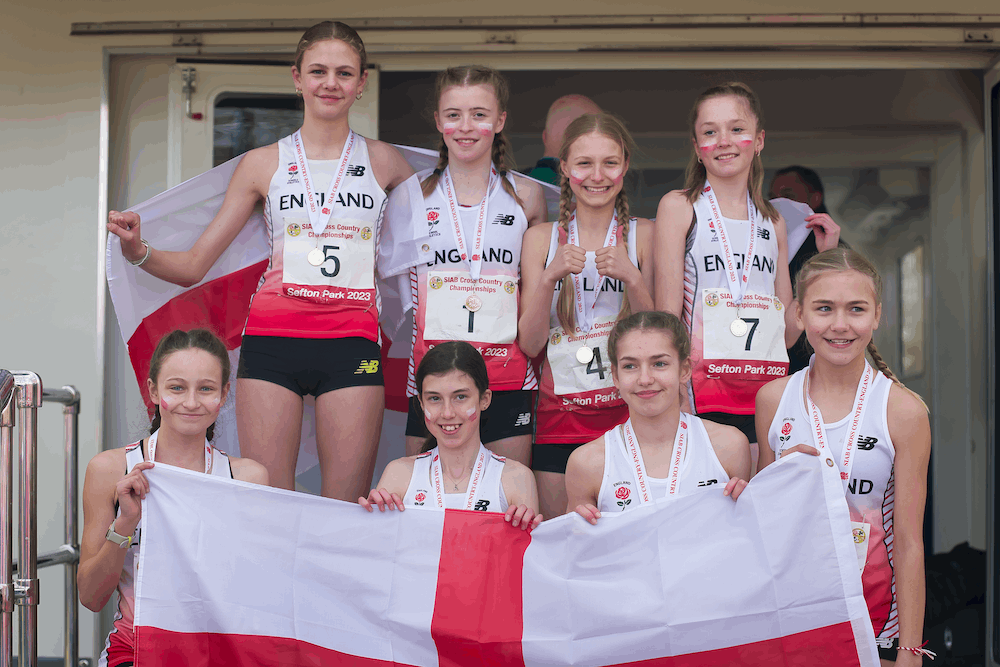 Year 7/8 Essex Schools Intercounties
In Kent, another great cross country event was taking place to end the season. The Year 7 and 8 Schools Intercounties race saw a number of Beagles representing Essex against teams from Hampshire, Kent, Surrey and Sussex.
In the Year 7 girls event Hollie Poyton finished in 27th (12:22) just ahead of fellow Beagle Sophie Halford in 28th (12:23). Esme Thomas also ran well to finish 44th (12:50).
In the Year 8 girls event Isabel Forrest took second place (12:32) with Rosie Quirk 14th (13:09), Millie Cameron 32nd (13:42) and Nicole Hawkins 51st (14:20).
Finally in the Year 8 boys event Zac Thomas was fourth (11:44) and Jude Hearn 27th (12:29).
A great way to end the season for our cross country runners – many earning their first Essex Schools vest which really is an incredible achievement. Thanks to the parents who supplied the pictures here.
Minithon
Across at Lee Valley, a number of our younger Beagles were having a brilliant time at the well run Minithon event designed to offer younger athletes a chance to get some competition experience. We are thrilled that so many grasped the opportunity to show off their skills and are really pleased to hear about new PB's and the great efforts made.
Unfortunately the official results aren't out yet but we would like to congratulate:
Liam Worth – PB's in all 3 of his running events
Sonny Jones – 1st in the Turbo Javelin (throwing 2m further than his previous best), 3rd in the 600m and a strong effort in the 200m saw him awarded a gold medal for finishing in the top 10 overall.
Matthew, Owen and Nathan Cottee – great performances across all their events including high jump, shot put and javelin as well as some strong runs.
Alice Jones – amazing performances across the Turbo javelin, 200m and hurdles.
Phoebe Castiello – amazing effort with her with PBs in three events including 60m sprint and hurdles.
Caitlyn Beeston – great efforts across all her events including a strong run.
Well done to all for taking part. Thanks also to the parents and coaches who supplied pictures from Lee Valley.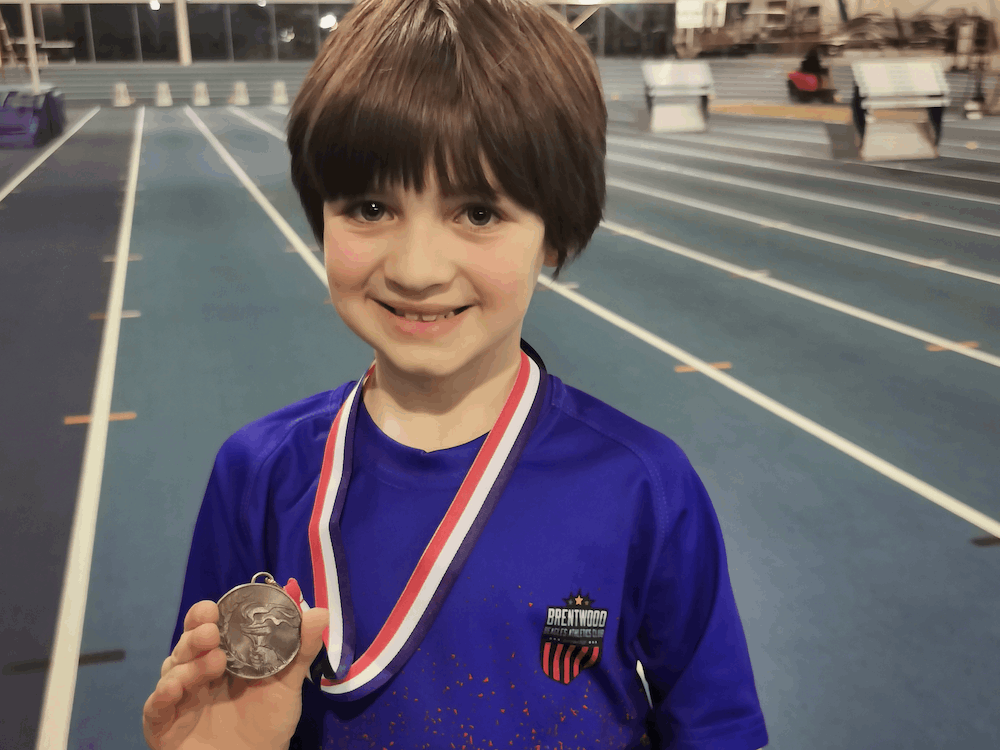 Half Marathon
Huge congratulations to Elliot Worth who ran the Lee Valley half marathon as part of his marathon training. An amazing time of 1:33.25 gave him a 70.20% age grading and 5th place in his age category. A really great effort on a very miserable day weather wise!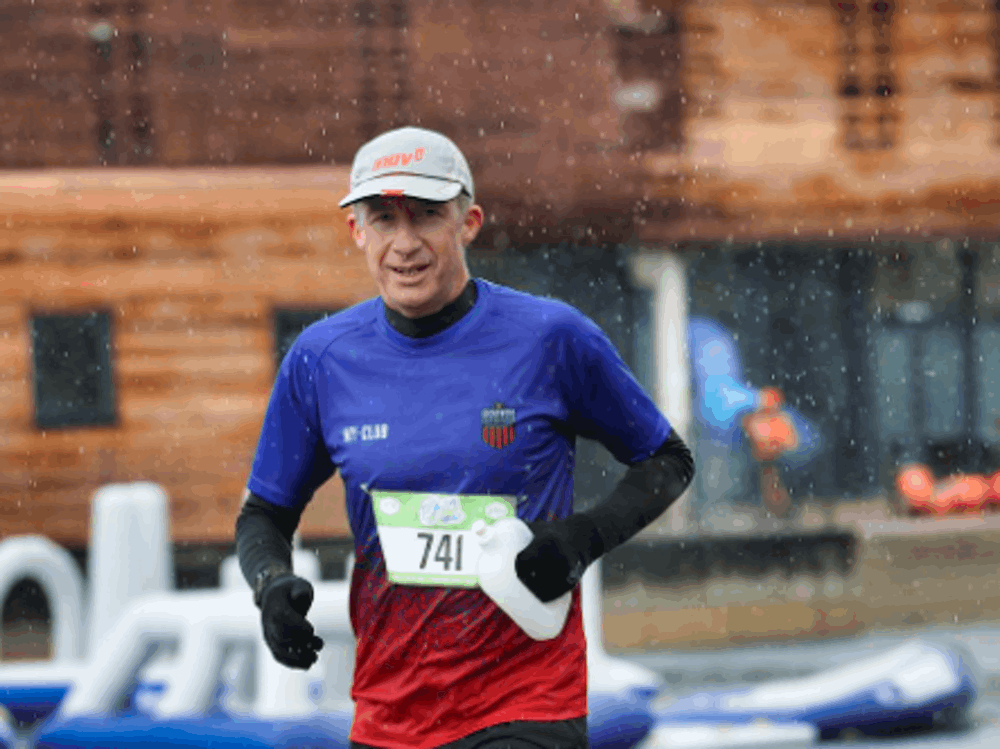 Aquathlon
Slightly away from the usual track competitions, on Sunday Madison Kindler, Isabel Forrest and Olivia Forrest, all competed in the East Essex Aquathlon event which consisted of a pool swim followed immediately by a run.
Making her debut at such events, Madison proved equally talented in this space finishing first in her age group following her 150m swim and 1200m run. Isabel swam 400m and ran 2.4km to finish second in her age group. And Olivia swam 400m and ran 5km to finish first in her age group and actually third out of all the adult and youth entries (1st female).
A good event to really test stamina and resilience! Well done girls. Thanks also to the parents supplying pictures here.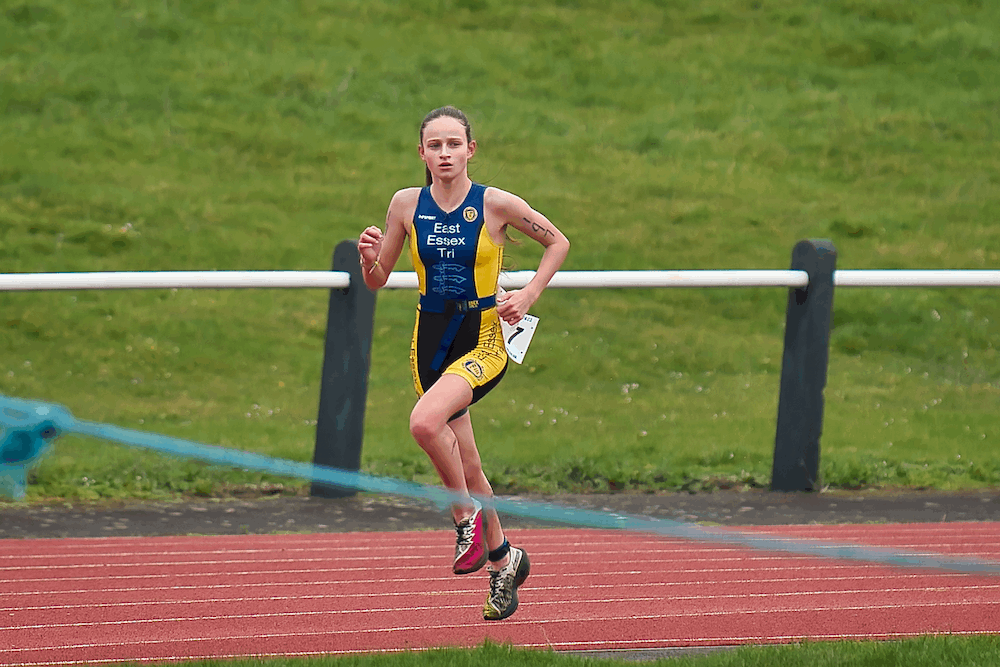 Beagle Bites Updates
Just a quick reminder of this week's Beagle Bites topics. We had two great videos – the first on helping out athletes deal with disappointment a particularly useful watch ahead of the new track season. The second was on periodisation – why we train the way we do! You can catch up on all the video series here – Beagle Bites Archives – Brentwood Beagles Athletics Club We hope you find them useful – do let us know if you have any specific topics you would like us to cover and we will get our coaches on the case!
Parkrun / Junior parkrun round up
Another great Saturday of parkrun performances to be shouted about. At Valentines parkrun Max Sanderson finished first (17:59) with an honourable mention for dad Laurence Sanderson who achieved a new PB (27:29). Emily Brewington visited for the first time too (22:55). Dean Savery made his Raphael's debut finishing 5th (18:21) and was joined by George Ashton in 13th (19:11). Elliot Worth was running well over in Chelmsford (21:36) whilst at Brentwood Daniel Jaycock finished first (21:02) with Stuart Crowther fifth (22:28) and the Delea trioalso running well –Marc (27:08), Erin (28:47) and Emma (36:21).
Sunday was horrible weather wise so we had a much reduced turnout at the junior parkruns. Well done to Emily Brewington who survived the mud at Harrow Lodge to finish first (8:50) and to Daniel Smith who did the same at Lake Meadows (8:49).
Well done everyone!
Membership renewal
Please be reminded that the renewal period for membership is now open. All renewals must be completed by the end of 31st March 2023 otherwise we will remove you from our membership systems and you will need to be added to the waitlist if you wish to return to the club. Any questions just ask Vicky on the next track night or email elaine@beagles.org.uk
Coming Up
The final (we think!) XC race of the season is happening – the Essex primary schools XC is on Wednesday – good luck to all competing. And then we are on to the outdoor track for the start of the track season at the Havering Spring Open – fingers crossed for great performance for the 14 athletes competing at that event.
PLEASE REMEMBER… let us know if your athlete is planning to compete and afterwards, their results, and if possible provide some photos if we are not there covering the event. We try extremely hard to cover all activity of our athletes but many events do not post their results immediately on Power of 10 and it therefore makes it very difficult to summarise your amazing athlete's performances without the heads-up.