Thank you to everyone who came and supported us this week at our first Night at the Races event – so much enthusiasm and great performances by all involved. Congratulations to the three Beagles involved with their schools at the English School finals on Saturday – a wonderful experience for all.
Lee Valley Sprint Night
Wednesday night saw four Beagles sprinters headed to Lee Valley for the 100m Double sprint night, where sprinters get to run twice in the one evening being seeded against like timed athletes. It makes for some close finishes and ideal competition for personal bests.

Early in the semi overcast and variable wind direction night was one of our Senior Men, James Gillingham, promptly despatching a legal lifetime personal best of 11:07sec (+1.1m/s wind) which once verified should see a new club record as well. His second round was 11.14sec (+1.4m/s).

Ava Carter, U15G, had to contend with a strong headwind running 13.84sec (-2.1m/s) in round one, then a 13.62sec (+1.0m/s) in round two.

Stephanie Smith, U15G, dropping down from her regular 300m and making only her third appearance over the 100m ran a new personal best of 14.24 (-0.1m/s).

Jake Mitchell, U15B, ran close to his PB with 14.43 (-0.1m/s).

Sadly neither Jake or Stephanie had the opportunity to run a second round due to a track emergency closing the meeting early, we all hope the injured athlete makes a speedy recovery.

Thanks to Mark and Laura for photos.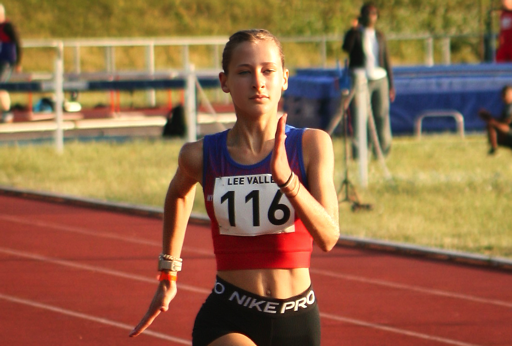 Wroxham 5K
The Norfolk County 5k championships also took place on Wednesday night under the guise of the Wroxham 5K. First up though was a one mile junior event which Isabel Forrest dominated finishing as first female.

In the 5K, in a field of over 900 runners, Olivia Forrest finished as first U15G and fifth female overall in a time of 17:11.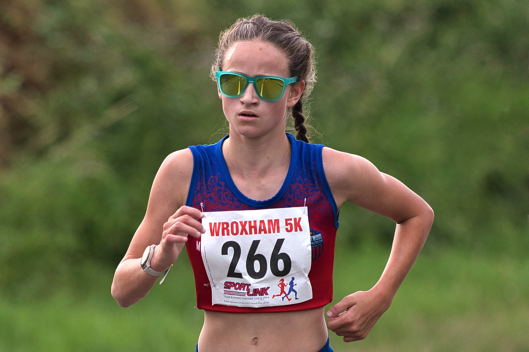 Beagles Night at the Races – Boys
Congratulations to all our male Beagles who produced some great performances at our Night of the Races event this week. We are really proud of all of you for taking part – trying hard, running your best and gaining a time are a really important part of tracking your training. Well done!

Under 9's:
60m – Alex Smith finished first (10.5), with Oscar Booth second (11.2) and Oliver Kindler third (11.5) in this well fought sprint race.
400m – Alex Smith took his second win over the longer distance (1:23.60) with Oliver Kindler running well in second (1:29.30) and Oscar Booth taking third (1:39.30).

Under 11's:
75m – A dead heat in this sprint event between Finley Lethbridge and George Smith who both recorded the same time (12.2). Joey Marchant ran well in third (12.60) and Owen Cottee finished strongly (13.10).
600m – Finley Lethbridge managed to just take the win over the distance run (2:02.10) with George Smith second (2:02.40). Cameron Young was third (2:08.70) with Joey Marchant (2:16.20), Robert Pearson (2:25.40) and Owen Cottee (2:39.80) completing the line up.

U13's upwards:
Alf Carter – produced a strong 300m performance (44.70) and ran well in the 800m (2:27.0).
Louis Geater – ran confidently throughout his 800 despite heel blisters (2:21.0)
Israel Shokoya – produced two solid sprint performances. In the 100m – 13.6 and in the 200m -28.8
Jeremy Li – showed his potential with two good runs – in the 100m – 13.9 and in the 200m – 29.7
Jake Mitchell – ran confidently in the 100m with a time of 14.70 and in the 200m – 30.8
Ronnie Marchant – continued to demonstrate his determination with a good 100m run of 16.0 and a 200m run of 33.6
Matthew Cottee – a good performance in the 200m – 33.4 and a strong run in the 800 – 2:43.7
Louis King – battled the heat to run his 1500m in 5:22.6
Henry Willingale – a great 1500m debut with a confident performance demonstrating good potential – 6.14.2
Ollie Johnson – a really mature run in his 800m – 2:40.5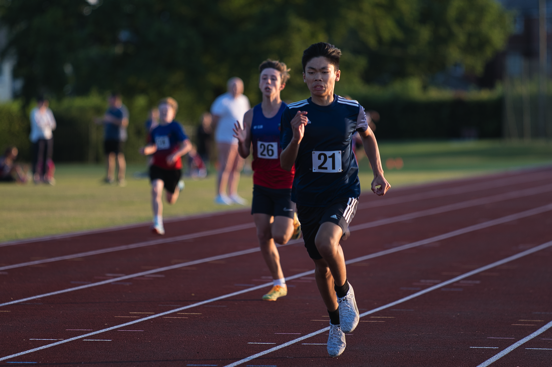 Beagles Night at the Races – Girls
Well done to all our brilliant female athletes at our night of the races event. Such tenacity, teamwork and superb performances on show across every single event. We were incredibly impressed!

U9's:
60m – A close race with all four girls finishing within a second of each other. First was Christina Lees (10.80), in second place Camilla Nash (11.0), Bailee Andrews was third (11.5) and fourth Primrose Ox (11.80).
400m – Christina Lees also took the win in our 400m distance race (1:34.4), with Bailee Andrews second (1:43.9), Camilla Nash third (1:45.4) and Primrose Ox fourth (1:54.6).

U11s:
75m – Shared first place in the sprint between Elsie Martin-Boucherab and Olivia Willard (12.2) – well done both. Following them home were Phoebe Castiello (12.7), Emily Brewington (13.2) and Libby Adams (13.80).
600m – A strong run from Madison Kindler to finish first (1:55.4) with Emily Brewington second (2:12.0) and Olivia Willard third (2:18.0). Grace Lander finished just behind Olivia (2:19.80) with Else Martin-Boucherb fifth (2:33.7).

U13's and over:
Evie Warn spent the evening testing her sprint distances covering the 100m (15.1), 200m (32.1) and 300m (49.9)
Amy Maher also sprinted well all night – 100m (15.3) and 300m (54.1)
Megan Morgan did the sprint double with good runs in both the 100m (16.3) and 200m (34.5)
Izzy Young definitely preferred her sprint 100m races (17.3) and 200m (36.6) to her distance 800m event (3:27.4).
Ava O'Neal ran well in both her events – 200m – 33.7 and 800m – 3:01.4
Isabel Forrest tested herself over the 800m – 2:44.4
Olivia Forrest took advantage of the opportunity to run a shorter distance than usual in the 800m – 2:21.4
Hollie Poyton continued to show her strength over the 800m – 2:32.6

Congratulations to all of our brilliant girls.
English Schools Track & Field Cup Final
Three of our Beagles travelled to Chelmsford on Saturday for the final of the prestigious English Schools Track and Field Cup. A school's team competition, meaning individual good performances alone won't lead to success, each individual athlete can take part in a maximum of two events.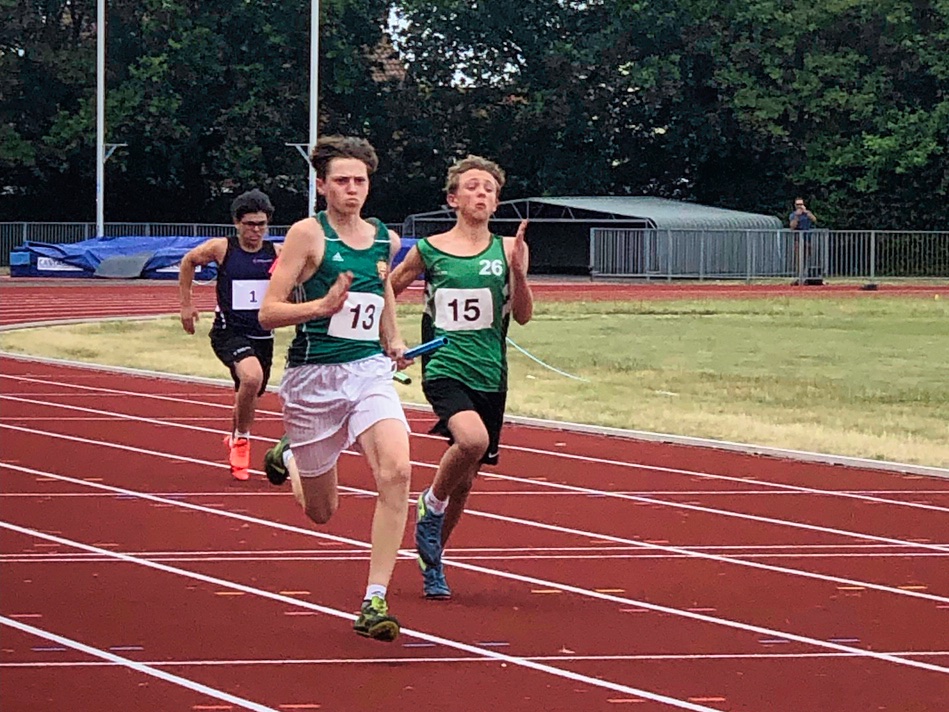 Jude Hearn competed in the junior boys 800m and had the race of his life, finishing as fastest boy across all three of the heats and taking home a great new PB of 2:14.0. He also formed part of the 4x100m relay team which finished in a time of 54.8 seconds . His Southend School for Boys team finished the competition in 6th place.
The Brentwood School intermediate girls team featured two of our Beagles athletes. Ella Gilder Briggs started the day with high jump reaching a best height of 1.32m. In the afternoon she sprinted over 200m with a great performance of 26.6 seconds. Megan Collett produced a best long jump of 4.19m and also sprinted strongly over 100m with a time of 14.2 seconds. Overall the school team finished in 10th place.
Well done to all three on making the most of this valuable experience.
Upminster District Champs
The final schools district championship this year and just one result to bring. Congratulations to Ollie Johnson who finished 6th in the long jump with a great effort of 3.84m.
Parkrun / Junior parkrun round up
Saturday parkruns saw a number of Beagles out doing their best. At Billericay parkrun, Zac Thomas ran a PB to finish third (19:27) and Laura Durn also ran well (23:03). At Chelmsford Central, Reggie Edwards finished 11th (19:44) with brother Frankie also having a good run (22:55). Over at Brentwood, Olivia Forrest finished second (as first female) with a new course PB (19:32), Elliot Worth was fourth (20:47) and Isabel Forrest, second female (22.59). Congratulations to Marc and Emma Delea who were also making the most of the lovely morning run at Brentwood. Finally, at Raphael parkrun, George Ashton finished sixth (19:33).
On Sunday, we saw more great running from our juniors. At Lake Meadows, Dylan Hussain ran a great new PB (8:36), Jamie Murphy ran close behind (8:42), and Isobel Larner also gained a new PB (8:45). Ivy Kernohan ran very close to her PB (10:39) and we also had great running from Sage Kernohan (12:23). At Harrow Lodge, Ollie Johnson finished first (7:48) with Emily Brewington as first female (8:24). A great new PB for Evie Foley (10:05) and good running by Hudson Jeffery (11:09) and Henley Jeffery (12:37). Finally at Hutton Rec juniors – first finisher was Mattie Delea (7:09), Daniel Smith took a new PB to finish third (8:15) with Ethan Wilson also gaining his new best time and half marathon wristband milestone (9:16). Liam Worth was another Beagle with a personal best (9:34) – well done. Congratulations too to Joshua Barke (11:02), Bailee Abrahams (12:10) and Camilla Nash (12:23) who have all shown great consistency in recent weeks.
A reminder – if you could please add Brentwood Beagles AC to your parkrun club list (go into manage your profile) – it does help us spot you in the results!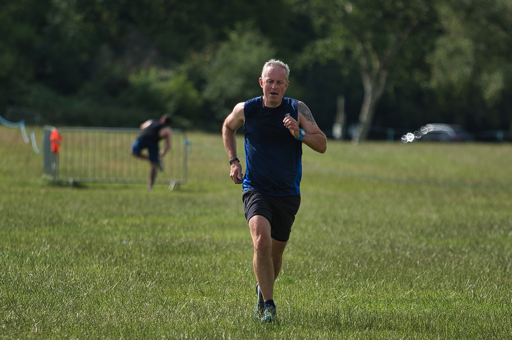 Club Records
A quick reminder that club records are drawn from Power of 10 which is the UKA reference database for competition performances. For activities to qualify, they must be a) On your Power of 10 profile and b) Your profile must show 'linked' attachment to Brentwood Beagles Athletics Club at the point/date of the activity. Note, 'linked' her means that the club name must be in red and clickable. What this indicates is that the athlete or their representative/parent has taken ownership of the athlete profile. This is key, as for privacy reasons, your profile will not be attached to the club as a searchable resource unless you 'own it'. We hope you acknowledge that for a club our size, it is almost impossible to search Power of 10 for all members where they are not linked to us! Note also, it is not unheard of that some results take weeks to appear on Power of 10 and sometimes, may never appear (case in point here is the Essex Cross Country Relay Championships last year). For these and other events such as unlicensed activities at schools etc, these results will not appear on Power of 10 and will therefore not be included in our club records. We hope this provides clarification to how we operate our club records.
Coming Up
This Friday sees a number of Beagles teams take on the Essex track relays – good luck to all of them. On Sunday we have the next round of the EYAL taking place at Chelmsford for our U13/15/17 athletes. Fingers crossed for more great performances. As usual, if you any stories or photos of your athletes performances, please feel free to send them through.