This week's cross country adventures really did test our Beagles with the weather playing it's part in creating some incredibly muddy courses. All good fun though!
National Cross Country

On Saturday, in an incredibly muddy Berry Park, Mansfield our U15 girls took on the National Cross Country Relays. One of the most exciting courses of the season the weather ensured that it was incredibly tough.

However, our girls train for such things and therefore as the gun went off, Evie Warn was ready and charged off the line, battling all of the other 92 runners over the first 100 metres. Determination and resilience prevailed as she moved to the front of the race and led throughout her leg to finish first with the fifth fastest time (overall U15 girls) of the day – 7:35.

Missy Tiller took over the lead and ran against a competitive group to finish her leg in 9th place – 8:20.

Olivia Forrest immediately seized the opportunity to pick off some runners and worked hard to close the gap at the front but sadly ran out of course just behind the leading three to finish fourth. She did however take home the fastest U15 girl time of the day – 7:16.

Well done to all three – fourth nationally is an amazing achievement and there is so much potential in our team for individual success over the upcoming cross country season.
Watch the Race Highlights here.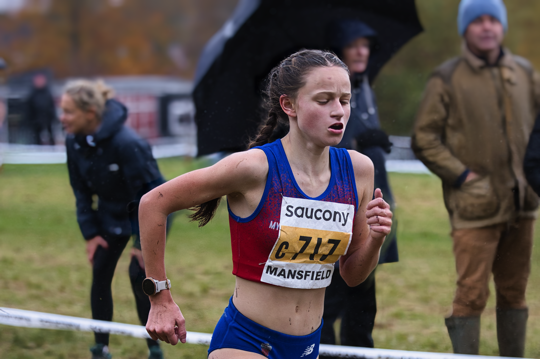 Essex XC League – Round 3
Congratulations to all of the Beagles who braved the mud at Writtle University yesterday for the third round of the Essex XC league.

The U13s led the way with some confident running and great to see full teams for both our boys and girls this week with the girls team coming second! Unfortunately a timing error means we only have positions for this age group but well done to Frankie Edwards – 7th, Ollie Johnson – 19th, Daniel Smith – 34th and Matthew Cottee – 48th. For the girls Esme Thomas finished 10th, Hollie Poyton – 11th, Sophie Bickerstaff – 16th, Aria Sabado – 18th and Ava O'Neal – 34th.

The depth and quality of our U15 girls team was underlined with a second place finish despite several of the team in Mansfield. Isabel Forrest finished 3rd (16:37), Stephanie Smith storming back from last weekend's disappointment in 11th (17:40), Nicole Hawkins 16th (18:10), Aisling O'Leary 20th (18:28), Ella Gilder-Biggs 24th (19:00), Honey Peck 29th (21:03) and Ava Carter 31st (21:07). Congratulations to Jude Hearn who finished 5th in the boys race (14:16), Jake Mitchell who improves in confidence every race – 25th (16:31) and debutant Matthew Jones – 38th (17:49).

Our U17 men were once again led home by Max Sanderson with another second place finish (23:06). Louis King had a superb sprint finish to finish 17th (25:20) and Louis Geater ran well in 38th (28:23). Well done to our U17 women – Jemimah Knightbridge who finished 11th (29:46) and Mara Thomas 14th (30:31).

Just the two senior runners this week – on the ladies side Laura Durn had another strong run to finish 10th in her age group (35:14) and Elliot Worth was also running well to finish 8th in his age group (32:39).

Well done again everyone and in particular Max, Jude and Isabel whose performances earned them Essex vests for an inter counties race in December! The Essex League takes a break now until 16th December. Remember to register on Roster by searching for Hilly Fields – there will be a year 5/6 race too.
Thanks again to Mark Smith and Laurence Sanderson for stepping in to take photos at Writtle.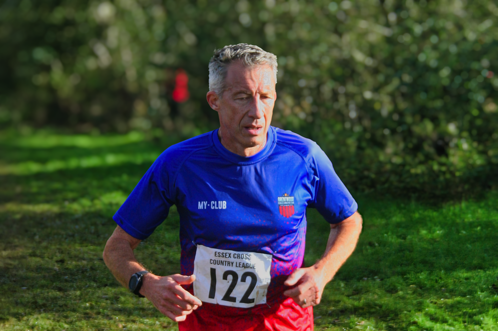 ESAA
The final first round ESAA event took place on Wednesday in Basildon with Elle Gray and Stephanie Smith helping their school to first place with their finishing positions of 10th and 11th respectively. Also running well in the same race were twins Nicole Hawkins (13th) and Katie Hawkins (17th). Zac Thomas took first place in the inter boys race with Alf Carter also running strongly and ensuring the team qualified for the next round.
Ealing Mile
Olivia Forrest took the opportunity to stretch her legs pre relay weekend with a run around the Ealing Mile course. Always a great experience and another first place female finish in 5:08.
Parkrun and Junior parkun round up
With the vast majority of Beagles at Writtle on Saturday, Emily Brewington was the sole Beagle tackling a parkrun. Well done to her on a good run at Raphael's (24:03).
On Sunday, Lake Meadows juniors was cancelled due to the fireworks but our Beagles still turned out in force at the other local events. At a windy Harrow Lodge there were no PBs but good running from Isabel Forrest 1st (7:57), Emily Brewington 3rd (8:35), Aria Sabado 5th (8:50), Ezra Gooch who hit his 50th junior parkrun (10:18) and Freya Brewington* (12:09). Over at Hutton Rec it was Beagles domination in the top 10 with 7 places taken. Congratulations to Madison Kindler who finished first (7:39), Frankie Edwards 2nd (7:49), Sophie Bickerstaff* 3rd (8:36), Jamie Murphy 4th (8:42), Ethan Wilson 6th (9:37), Oliver Kindler 7th (9:44) and Nora Heidemans 8th (9:47). Also running brilliantly were Joshua Barke (10:49), Liam Worth (11:17), Max Wilson (12:00), Camilla Nash* (15:53) and Bailee Abrahams* (15:54). Finally well done to Olivia Forrest who took the female record at Barking junior parkrun and finished first (6:33).
Well done to all our runners this weekend. Note for parents, if your child has an * by their name, please help our editors by adding Brentwood Beagles as their club under their parkrun profile (groups). Feel free to contact us if you need help setting this up.
Apply now for a Grant of Up to £100!
Deadline for applications is Friday 17th November.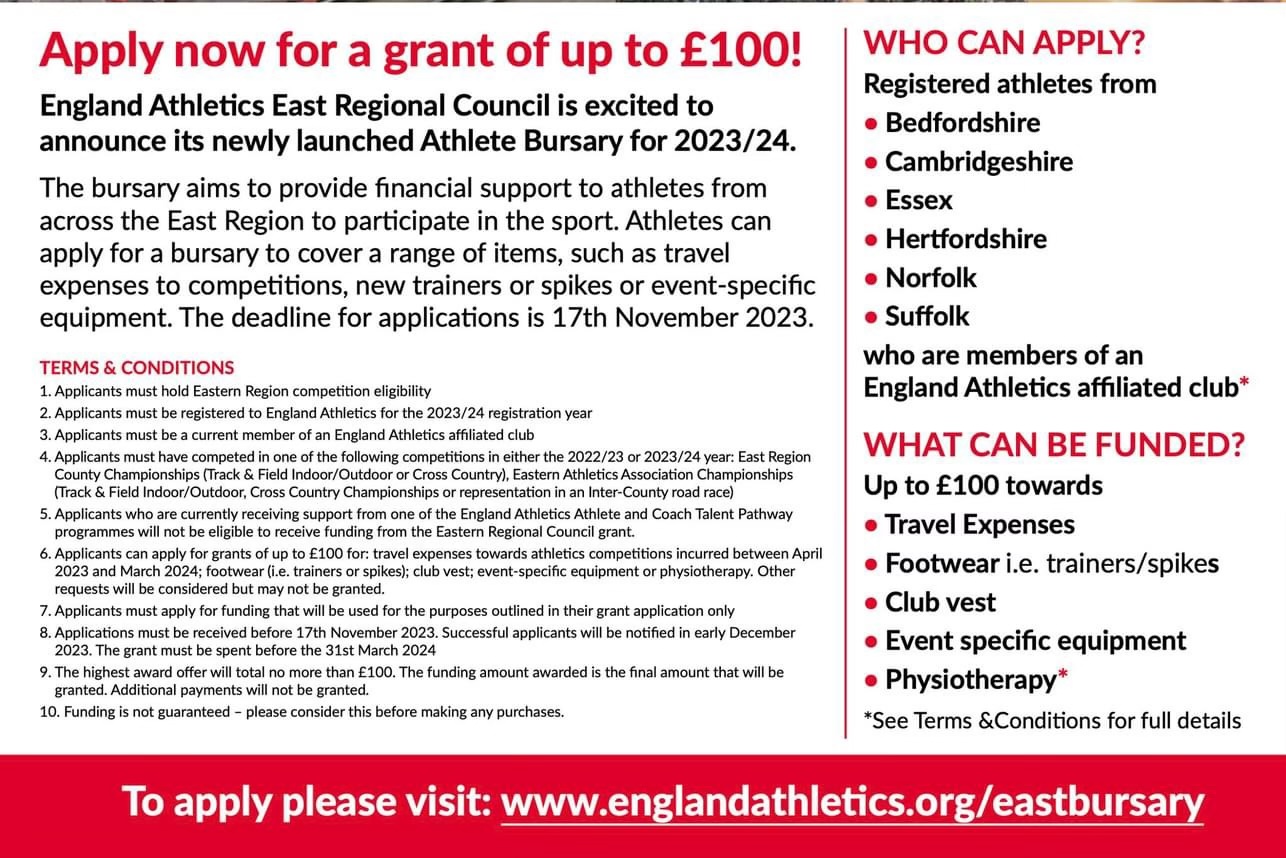 The bursary aims to provide financial support to athletes from across the East Region to participate in the sport. Athletes can apply for a bursary to cover a range of items, such as travel expenses to competitions, new trainers or spikes or event-specific equipment.
To apply please visit: www.englandathletics.org/eastbursary

TERMS & CONDITIONS
1. Applicants must hold Eastern Region competition eligibility (if you are a member of of Brentwood Beagles and have an EA registration, this means you do)
2. Applicants must be registered to England Athletics for the 2023/24 registration year
3. Applicants must be a current member of an England Athletics affiliated club
4. Applicants must have competed in one of the following competitions in either the 2022/23 or 2023/24 year: East Region County Championships (Track & Field Indoor/Outdoor or Cross Country), Eastern Athletics Association Championships (Track & Field Indoor/Outdoor, Cross Country Championships or representation in an Inter-County road race)
5. Applicants who are currently receiving support from one of the England Athletics Athlete and Coach Talent Pathway programmes will not be eligible to receive funding from the Eastern Regional Council grant.
6. Applicants can apply for grants of up to £100 for: travel expenses towards athletics competitions incurred between April 2023 and March 2024; footwear (i.e. trainers or spikes); club vest; event-specific equipment or physiotherapy. Other requests will be considered but may not be granted.
7. Applicants must apply for funding that will be used for the purposes outlined in their grant application only
8. Applications must be received before 17th November 2023. Successful applicants will be notified in early December 2023. The grant must be spent before the 31st March 2024
9. The highest award offer will total no more than £100. The funding amount awarded is the final amount that will be granted. Additional payments will not be granted.
10. Funding is not guaranteed – please consider this before making any purchases.
If in doubt – speak to your coach!
Coming up
Good luck to all of the Beagles making the trip to Cardiff for the first round of the National Cross Challenge series. Closer to home we have lots of Beagles representing their schools in the regional round of the ESAA competition. Finally it's the second Sports Hall Event in Chelmsford on Saturday too – please remember to register if you are going to attend – EAN Sportshall 2023 Round 2 November # Tickets, Sat 11 Nov 2023 at 12:00 | Eventbrite (Closes Tuesday 6pm)