This week saw a great number of Open meets and PB's concluding in the weekends English National Championships for the U15/U17 age group which featured four of our athletes and concluded with one of them becoming national champion!
Blackheath & Bromley Open
Monday produced a lovely still, cool evening which meant perfect conditions for middle distance at the Blackheath & Bromley Open event.

Olivia Forrest was up first in the 1500m and showed great consistency with her recent form to finish marginally outside her best – 4:30.66.

Isabel Forrest has had a long road back from her growth spurt this season but tonight underlined her return to form with a race win and new PB in her 1500m – 5:06.42.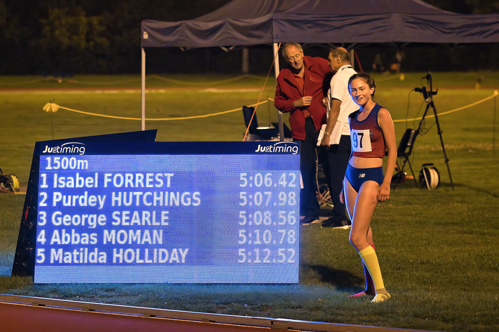 Watford Wednesday
Wednesday saw the best Watford weather all season and our Beagles took advantage of the great conditions to bag some brilliant times.

First up in the 1500s was Isabel Forrest who took Monday's PB and thrashed it with another confident run leading to a new best time of 5:03.84. Next up was Louis King who dominated his race leading from start to finish and also banking another brilliant new PB of 4:48.48. Mattie Delea ran strongly throughout his competitive heat with a good performance and time of 4:43.49.

In the faster 1500 races, Olivia Forrest also continued to show her progress and ran yet another PB to take the fastest female U15G time in the UK this year of 4:26.12. Finally in the 1500s, Max Sanderson showed he is in great form ahead of the weekend with a well-judged race to finish just outside his PB – 4:05.42.

Last but not least, Dean Savery took on the 3000m once again front running the race for the early laps. Despite losing a couple of places, Dean charged to the finish line regaining second place and finishing with a new PB – 9:32.77.

Just one last Watford Open of the year on the 6th September with 800's and 3000's on offer.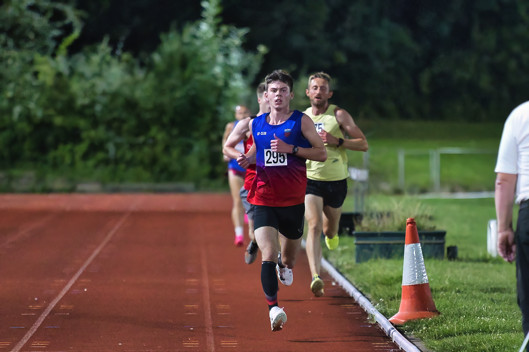 England Athletics National Championships
It's been an incredible weekend for our Beagles who competed Birmingham at the England Athletics National U15/17 Championships.

First up – Missy Tiller at her first UK national competition, ran an incredibly strong first lap of her 800m heat before just falling back on the second lap to finish in 2:28.18. An amazing performance for a first year U15 and a valuable experience to build on next season.

Max Sanderson has moved up an age group to U17 since last year's national event, but the hard work he has put into training over the last year paid off. A confident performance with a couple of laps of front running before finishing in 5th to take a fastest runner up spot for tomorrow's final at 17.20. Max is the only first year U17 in the race – underlining what a great achievement this is.

Finally Olivia Forrest took on the U15 girls 3000m. A performance summarised by England Athletics as follows:

The U15 girls' 3000m perfectly demonstrated that as Olivia Forrest (Paul Forrest, Brentwood Beagles) ran the opening 200m in 33 seconds on her way to 9:32.47. Behind her, Ireland's Emer McKee the world record holder for the aged 12 Parkrun (16:44) matched her stride for stride but had to settle for 9:35.73 as Olivia eased away in the final 100 metres. It was a championships best performance, the third fastest time ever and just about the most thrilling gun-to-tape race you'll see given the incredibly swift opening furlong.
You can watch Olivia's awesome Championship performance here:


We know everyone at the club has been behind Olivia throughout her races all season and know how strongly her performances have been in recent weeks. Once again, she has put our club on the map proving that hard work really does pay off!
Day two of the Championships saw Ella Gilder-Briggs make her debut at national level. Ella defied her event ranking to finish a strong 6th in her 200m heat with a wind assisted time of 27.02. A great effort and experience (thanks to Jon Briggs for the pictures of Ella in Birmingham).

Max Sanderson returned to Birmingham for his 1500m final, again out performing his ranking, Max ran confidently holding his position well to finish 9th in the country with a time of 4:12.28.

Great performances and a brilliant weekend of action in Birmingham. We hope our four national finalists will inspire others for next year!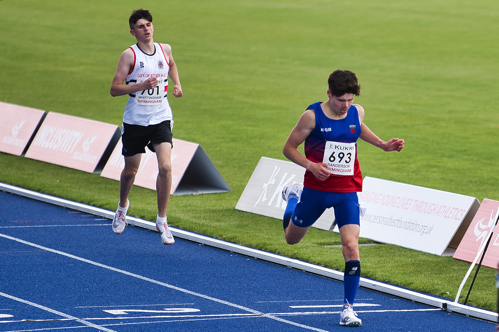 Parkrun / Junior parkrun round up
Some great Saturday morning runs from our Beagles with Brentwood parkrun proving very popular this week! Elliot Worth was celebrating a sub 20-minute time and a third place finish (19:48) with Evie Warn first female and just outside her course PB (20:56) with Louis Geater similarly close to his (22:33). At Harrow Lodge, Daisy Middlemiss had another good run (27:17). In Chelmsford, Reggie Edwards continued to show his good form to finish seventh (18:58), Madison Kindler was first female with her 5K PB (19:38) and Frankie Edwards ran a new course PB (20:56). At Sheringham parkrun, Harriet Ward enjoyed her holiday run with a new course PB (35:01). Finally at Billericay parkrun, Daniel Smith ran another new PB (22:14) and Laura Durn also ran well finishing not far behind (22:41).
No Hutton Rec this Sunday but our Beagles still found opportunity to run. At Harrow Lodge, Daniel Smith ran a new PB (7:55) with Isabel Forrest ably assisting and finishing as first female (7:59). Jack Collier also ran well (10:20). Over at Lake Meadows Madison Kindler finished as first female with a new PB (7:15), Isobel Larner finished seventh (8:47) and Oliver Kindler was ninth (8:56). Magnus Wilks also ran strongly (10:08).
A reminder – if you could please add Brentwood Beagles AC to your parkrun club list (go into manage your profile) – it does help us spot you in the results!
Coming Up
Bank Holiday Monday sees a great number of Beagles headed to Southend for their Open event and next Saturday we have our very own Beagles club championships. Please do remember to enter these using the form on Spond – there is no cost, we are just asking for donations to the Brentwood foodbank.