We're pleased to announce that this morning, Brentwood Beagles Athletics Club has finalised its affiliation with England Athletics.
WHAT THIS MEANS FOR YOU?
We encourage our members to register with England Athletics when they join – especially if you wish to take part in races and running events!
England Athletics is part of UK Athletics (UKA), and registration is only available via affiliated running or athletics clubs such as ours. Registering is optional but it offers benefits:
Entry discounts (minimum £2) on UKA licenced road and multi-terrain events
Entry to events exclusively available to registered athletes – under UKA Rules for Competition some competitions, particularly track and field, are only open to registered athletes
A range of discounts from England Athletics partners.
Regular newsletters including key information on the sport and other exclusive registered athlete offers.
Click here for full UKA benefits.
As a UKA member your race results are also recorded through the "Power of 10" service and your overall performance is ranked against every other registered runner in the country, including athletes such as, Laura Muir, Mo Farah and Katarina Johnson-Thompson! The rankings for all registered Brentwood Beagles can be viewed at The Power of 10 website: enter Brentwood Beagles in the 'Club' box then click 'Lookup'.
In addition to the discounts and rankings service, registering with England Athletics also gives club members a better prospect of taking part in the London Marathon. All affiliated athletics clubs can apply to England Athletics for London Marathon places based on the number of members over 18 who are UKA registered. After the London Marathon ballot results are announced, any Brentwood Beagles who've been unsuccessful can enter our Club Ballot.
England Athletics UKA registration fee for 2022/23 is £16 and can be selected on the membership form when you join.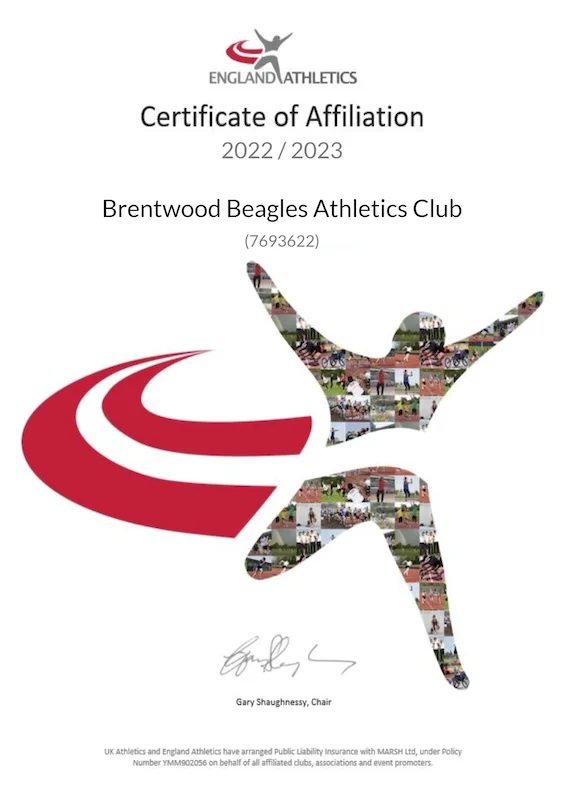 WHAT THIS MEANS FOR THE CLUB?
Affiliation of BBAC means that the club can access support and services from England Athletics to help us grow and develop.  It also helps us to access various discounts that reduce the cost of coach and officials education.  If you're interested in volunteering and would like to know more about how you could help the club, see here.
Club Affiliation also provides us with the ability to operate an enhanced talent pathway ensuring our athletes who wish to compete have the best prospects of participating in appropriate competition.  It also means for those wishing to compete at the highest levels, there is a chance to enter the talent pathways subject to their development and performance as athletes.  Want to know more about how we can support such aspirations?  Speak to one of our coaches here.