It's been an incredibly exciting week for our Beaming Beagles with the first round of this year's EYAL taking place, and two trips to London for the mini marathon and the marathon. Some Beagles also managed to fit in a trip to Watford and there were some amazing parkrun PB's!
Watford Open
The bi-weekly trip to Watford for their Wednesday night open evening was undertaken by three Beagles this week although the freezing cold conditions meant it was not a great time to be a spectator!
With the focus on the 800m – Isabel Forrest matched her 800m outdoor PB in a very congested race to finish in 2:40.36.
Max Sanderson was in a well seeded but challenging race and fought well despite getting boxed in early on – 2:05.85.
Olivia Forrest competed in a packed 3000m race (25+ competitors) and ran well, in particularly the two final laps where she held off her competition with an amazing increase in pace – 10:11.74.
Well done to all three.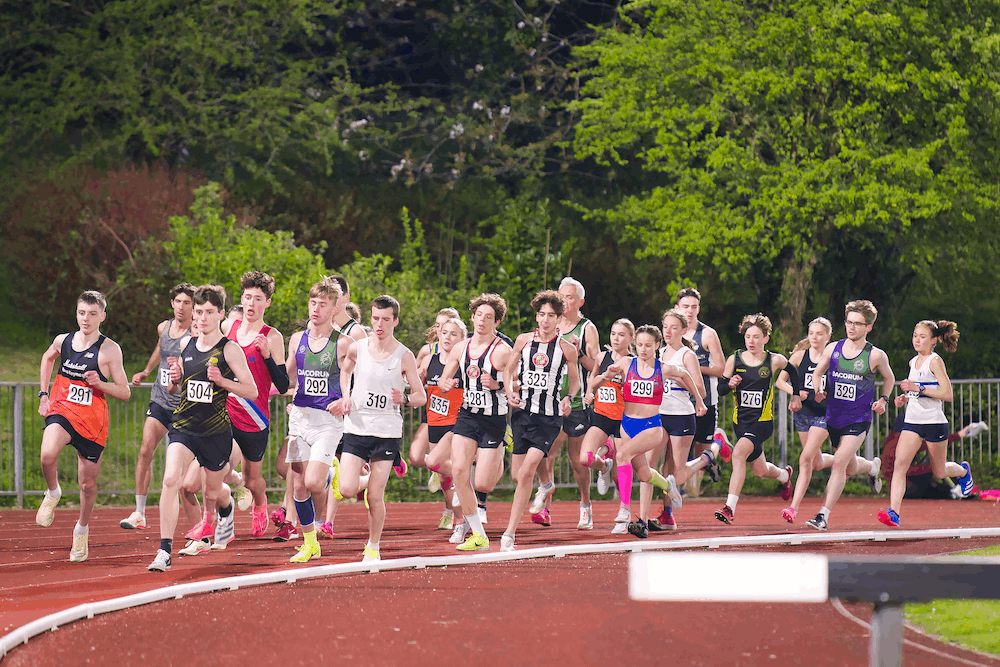 London Mini Marathon

Saturday saw one of the most special events in our calendar – the London mini marathon. Always a privilege to be selected following the qualification so huge congratulations to the six Beagles who represented the London Borough of Havering and to Lianne Esterhuysen who ran with her school in the mass start races. We had brilliant results and notable improvements in performance from October!

All the championship races follow the same 2.6km course with the schools running a mile.

Dean Savery made his mini marathon debut as a U17. Despite getting trampled on at the start he finished strongly in 119th – 8:45.

Max Sanderson ran in the U15 boys race showing real commitment and pace throughout to finish 60th – 8:25.

Mattie Delea finished the U13 boys race as first in Havering and 80th overall – 9:22

In the U15 girls race Olivia Forrest ran at the head of the race to finish 5th overall – 8:44 (the 12th fastest girls time of the day from all races) and first in Havering with Evie Warn finishing second in Havering, 70th overall – 9:45.

Isabel Forrest ran in the U13 girls race, shaking off her recent bike crash, to finish 57th – 9:55.

Lianne Esterhuysen finished her mile wave in an amazing first place with a time of 6:46.

After the race Olivia and Isabel were privileged to meet Eilish McColgan and Liz McColgan at the Asics Store on Oxford Street and got their shirts signed. Looking forward to seeing the clip on tv one day soon.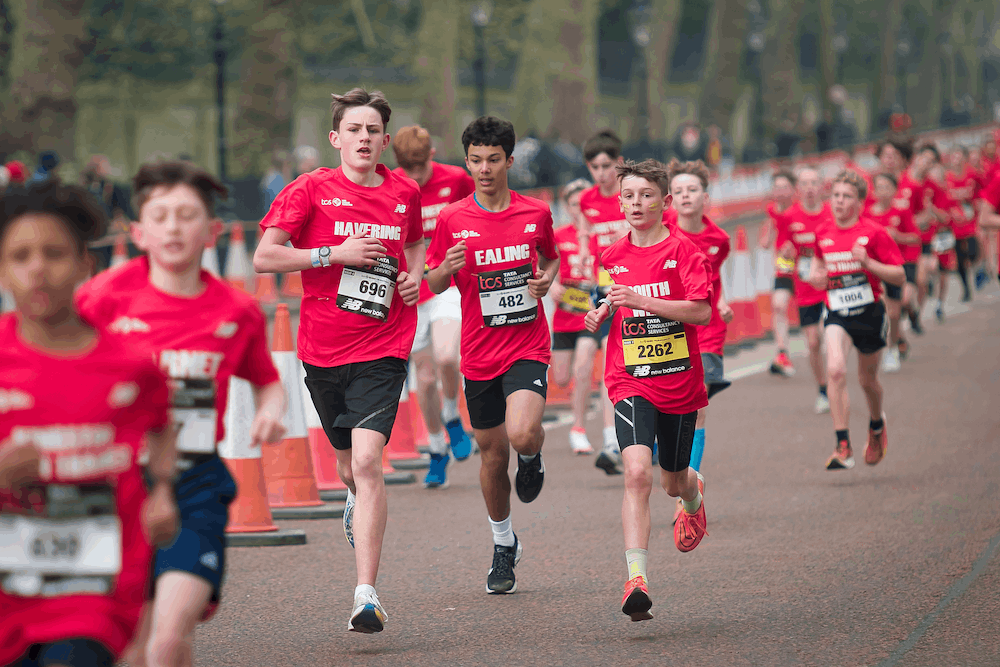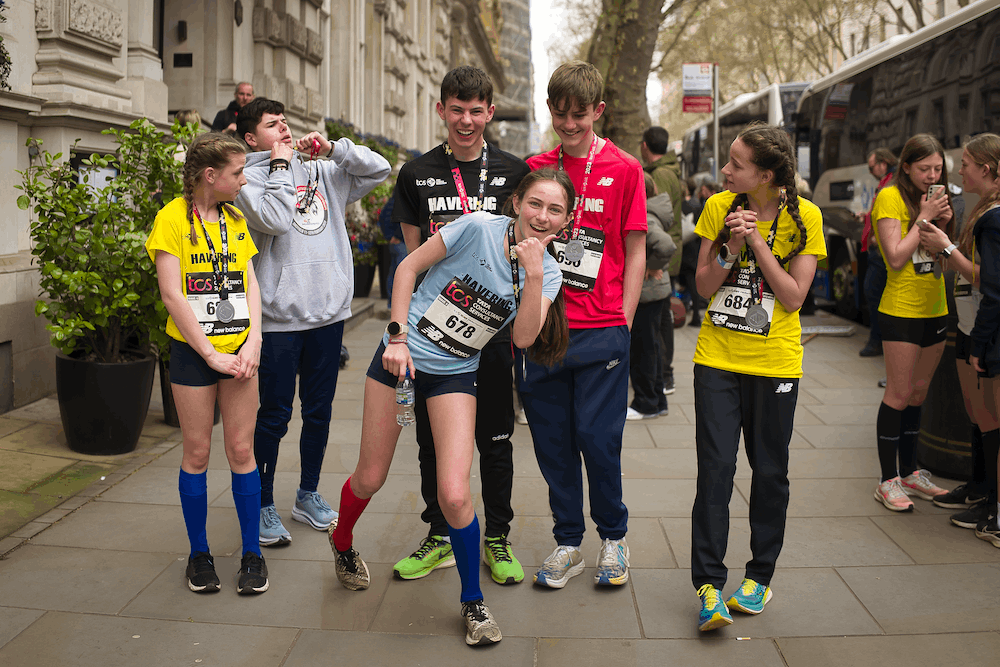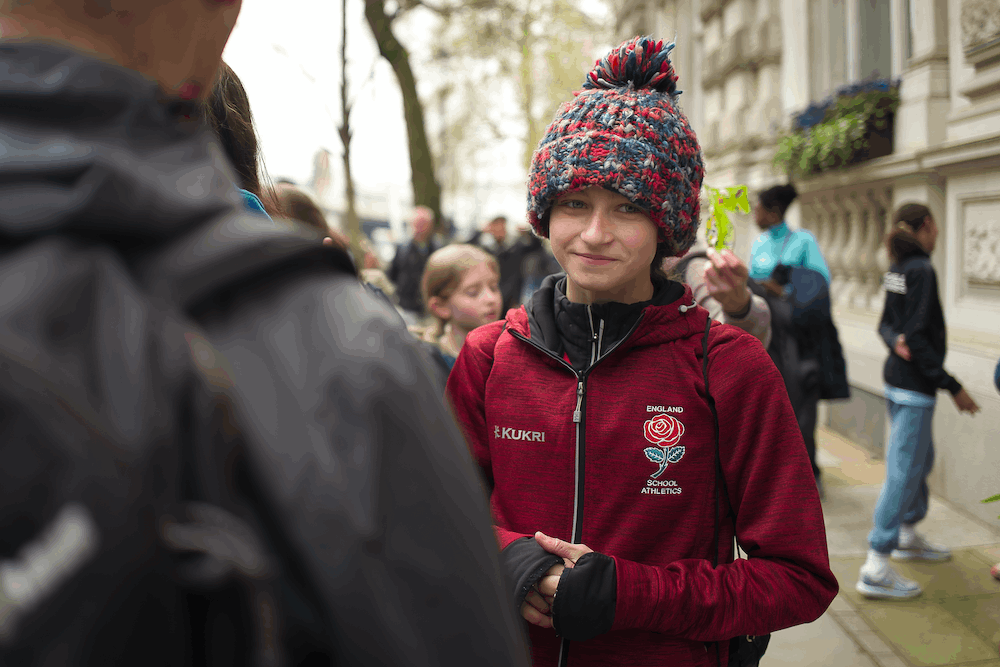 EYAL
Sunday saw the first round of the EYAL series of events for the season. For those new to EYAL – this stands for the Eastern Young Athletics League and is an athletics competition covering both track and field events, that allows local clubs to compete against each other in full fixtures for U13, U15 and U17 age groups. Each round has a different location and different teams competing – every person scores points for the club and the clubs with the most points at the end of the series compete for the overall title and one final fixture. They are a great opportunity to turn up and have a go at a whole range of different events and to be a part of our Beagles team.
Sunday's fixture was held at Blackshots Stadium and hosted by Thurrock Harriers. We had a good turnout of Beagles with a number of athletes competing for the first time. The weather was incredibly miserable making for some difficult conditions however, despite this we still came away with over 50 individual PB's and an overall team fourth place – remarkable given the size of other teams and the number of missed scoring opportunities of our own where we didn't have available athletes.
Thank you so much to everyone who came along – we are very proud of you, the performances you gave and also the support you gave each other. We'd also very much like to thank all the parents who stepped forward to help as officials, team managers or just general support. Your efforts were also very much appreciated – EYAL isn't just about the athletes, it's about the whole club.
U13 girls team
Hollie Poyton and Libbie Gordon both picked up PB''s in the 100m – Hollie running 14.8 and Libbie 15.3.
In the 200m Sophie Halford ran well with a time of 33.2 whilst Hollie Poyton picked up a second PB of the day – 30.6. Libbie Gordon ran a PB of 32.6 with Ava O'Neal also getting a PB of 33.4.
Sophie Halford also ran in the 800m finishing second with a PB of 2:39.3.
In the 1500m, Esme Thomas finished third with a massive PB of 5:47.9.
Ava O'Neal jumped to a new long jump PB of 2.48 whilst Libbie Gordon also achieved a PB in the same event of 2.33.
Esme Thomas also threw a discus PB of 10.11m.
All four girls also joined together as a relay team running brilliantly to finish in third place.
U13 boys team
Nicky Mulholland showed great aptitude in his sprinting finishing second in the 100m with a PB of 14.6, and first in the 200m with a PB of 29.0.
Ronnie Marchant demonstrated a whole range of skills across the day with PB's in all events. In the 100m a time of 15.7, in the 75m hurdles a great effort of 17.7 seconds and in the javelin with a throw of 9.20m.
Dylan Kenly ran confidently in the 1500m with a PB of 6:28.9 and jumped well in the long jump with a PB of 3.20.
Daniel Smith threw well in the javelin with a PB of 8.63 and ran a 5 second PB in the 800m – 2.57.7.
All four boys combined efforts in the relay running really well to finish fourth.
U15 girls team
One of our strongest teams of the day with real strength demonstrated across a number of events – the team finished third overall just a handful of points behind second place.
In the 100m, Ava Carter finished second for the A string in a time of 13.5 (PB) with Honey Peck finishing third in the B string race with 13.8 seconds – also a PB. Ella Gilder-Briggs ran well with a time of 13.6 and Mirabelle Richter took a new PB of 14.4 seconds.
In the 200m Ava Carter finished second again with a great sprint, and second PB, of 28.1 seconds. Ella Gilder-Briggs also finished second in the B string race with a time of 28.0. Daisy Willingale ran strongly with a time of 31.0 and Stephanie Smith also showed strength in 29.7.
More second places in the 300m with Nicole Hawkins running 45.3 seconds and Stephanie Smith 46.5 ensuring great points in the A & B string events.
Over 800m, Evie Warn finished third in the A string race with a 2:31.4 PB with Nicole Hawkins second in the B string with 2:33.8 outdoor PB.
Beagles domination in the 1500m with Olivia Forrest finishing in front by some distance – 4:53.4 and Isabel Forrest ensuring maximum points finishing first in the B string – 5:18.6.
In the 75m hurdles Olivia Forrest ran a PB of 16.4 and Evie Warn a PB of 18.4 to take third place in the B string race.
Daisy Willingale performed strongly in the soggy high jump with a PB of 1.25 with Olivia Forrest jumping 1.10.
In the Long jump Evie Warn stretched to a distance of 3.02 and Stephanie Smith jumped 2.46.
In the Shot Put Katie Hawkins threw well to reach a distance of 5.02m and gain her PB.
Nicole Hawkins threw strongly in the discus with a 15.08m PB and Katie Hawkins showed strength with her throw of 12.71m – also a PB.
In the Javelin Isabel Forrest and Honey Peck both threw for the first time gaining PB's – Isabel 7.69m and Honey 6.17m
Finally a truly amazing relay performance from Nicole Hawkins, Ava Carter, Stephanie Smith and Honey Peck to finish in second place.
U15 boys team
A small U15 boys team but all three did a great job in their individual events.
Mattie Delea ran a PB in the 1500m to finish third – 4:49.25 and also sprinted to a 200m PB – 29.1.
Charlie Lingley achieved PB's in both of his sprints – 50.5 in the 300m, and 32.7 in the 200m.
Jake Mitchell sprinted to a new 100m PB – 15.0, achieved a new outdoor 200m PB of 30.8 and finished fourth in the 800m with a PB of 2:32.8.
U17 women's team
Just one Beagle in this team but Erin Delea threw brilliantly in both of her events. Third in the shot put with a throw of 9.71 and second in the discus with a throw of 23.90. Both throws giving her new personal bests.
U17 men's team
The U17 men's team undoubtedly worked brilliantly as a team to maximise their point score – finishing third overall despite their limited numbers.
Max Sanderson ran a 400m PB of 56.3 before finishing first in the 800m, well ahead of the rest of the field, 2:04.0. Max also threw a javelin PB of 17.60m.
Louis Geater had a brilliant day with incredible performances through his events – PB in the 400m of 60.5 and second place in the B string race. Outdoor PB in the 800m on 2:17.7 and first place in the B string race. And a long jump PB of 3.54m.
Dean Savery finished a very close second in the 1500m with a PB of 4:34.7. In the difficult jumping conditions for high jump he also managed second with his height of 1.65m.
Louis King took first place in the B string 1500m with a PB of 5:07.0.
Tobias Maitland finished second in the 110M hurdles with a PB of 17.7
The U17 men also ran an incredibly strong relay just missing out on the win to finish second.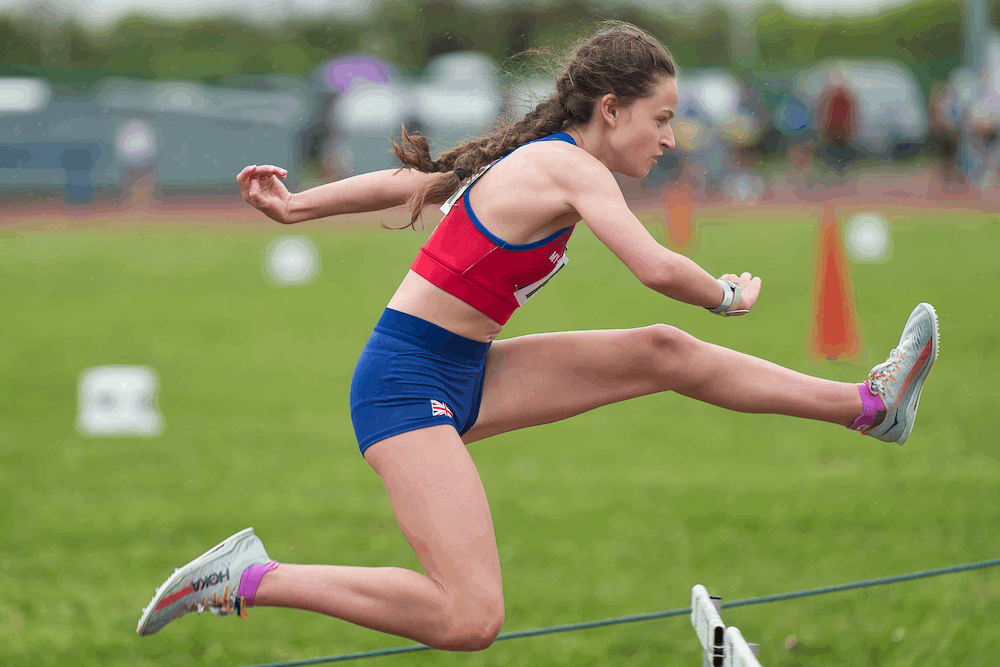 London Marathon
Another magical day in London on Sunday and a real bucket list item for many runners – the London Marathon. Four of our Beagles were competing – all with very different goals for the day – but all very proud to take the Beagles kit to the event for the first time.
Elliot Worth was first Beagle home with a strong run up to the last 2 miles when a cramping hamstring had to be nursed to the finish line. Still achieving a remarkable time of 3:10.22 there is lots to be proud of!
Paul Johnson had been suffering with a variety of issues in the lead up to the event and surprised himself to finish in 3:16.50. Paul definitely discovered that following his plan paid off! We wait to see how long "never again" lasts!
Elaine Forrest made her marathon debut with a plan to just finish given leg issues in the second part of training. However, a good start (desperation to get out of the rain perhaps) led to a better result than expected – 4:53.52.
Vicky Trevor – who definitely "hates" running was also definitely the most smiley runner of the day and seemed to enjoy herself out on the course. A determination simply to make the most of the experience and to finish meant she definitely met both goals – 6:35.15. Vicky would also like to thank everyone who donated to her fundraising effort for Mind. The link is here if you missed out.
Can we take this opportunity to remind everyone that the London Marathon ballot for next year is open until Friday so please do enter if it's on your to do list! The club will support you with a brilliant training plan regardless of your goal. We would also remind you that we do get at least one club place for the marathon which we will offer to any EA registered adult member through a fair club ballot process next year so if you are interested, please make sure you are part of the club!
Note – we'll post more pictures here when the official pictures are published!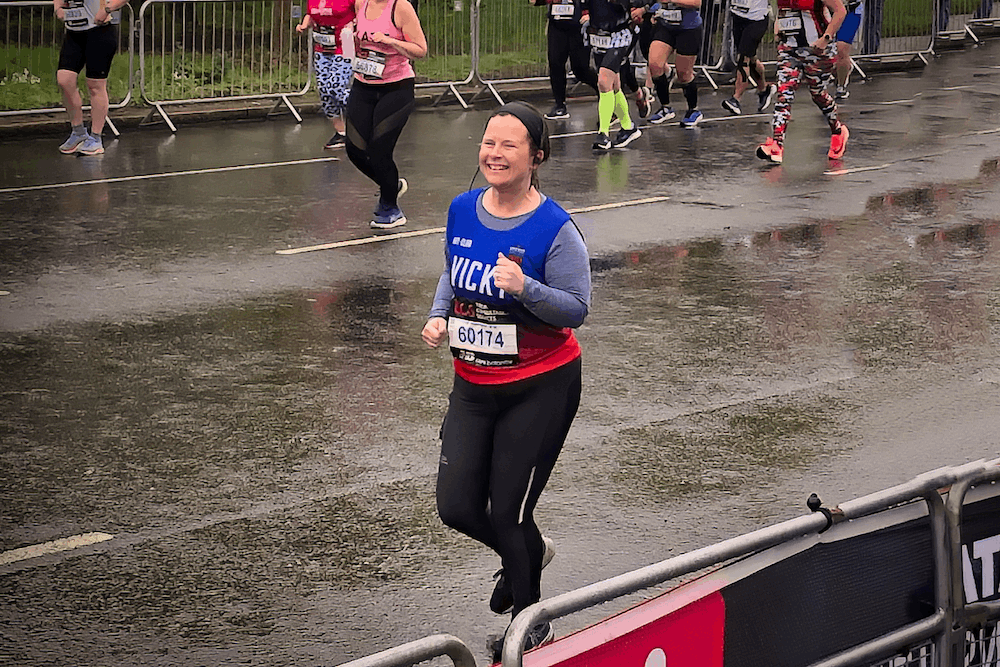 Parkrun / Junior parkrun round up
There were a number of standout parkrun results on Saturday for our Beagles. First up Liam Worth took a brilliant 90 seconds off his 5K and was described as a "rocket" by a lady behind him at Chelmsford parkrun (25:25). Dad, Elliot Worth, only wanted a slow pre marathon run and definitely struggled to keep pace! (25:27). Elsewhere another of our junior rockets – Madison Kindler ran a somewhat unbelievable time at Billericay parkrun to take the second-best time ever by age grading with a staggering 89.1% (19:41). Over at Raphael's George Ashton showed consistency with his times to finish fourth (18:41). At Brentwood parkrun Stuart Crowther finished sixth (22:29) with Daniel Jaycock enjoying a slow (for him) run (26:10).
On Sunday we were thrilled to see the debut of the new Hutton Rec junior parkrun – a big well done to the team there which includes our very own Laura Durn. We were really pleased to see so many Beagles head over to have a go on the new course too. Robert Barke was first Beagle home finishing in second place (8:23), Nora Heidemans was first female (9:10) and Joshua Barke was seventh (9:23). Ethan Wilson showed good form with his running (9:41) with Liam Worth having a second good run of the weekend (10:24). Max Wilson alsohad a good consistent run (10:58). At Lake Meadows Lianne Esterhuysen finished as first female (8:30) and Bailee Abrahams also ran strongly (12:53). Finally at Harrow Lodge Emily Brewington was the sole Beagle butfinished as first female and gained a new PB (8:28)
Our junior Beagles were keeping up their good standards. At Harrow Lodge junior parkrun, Ethan Wilson was the sole Beagle finishing sixth (9:47). Whilst at Lake Meadows – Isobel Larner was first Beagle home in seventh (9:19)whilst Nora Heidemans was close again to last week's PB (9:42). Liam Worth is rapidly approaching his 100th junior parkrun (11:12), whilst Bailee Abrahams reached her half marathon milestone (13:28).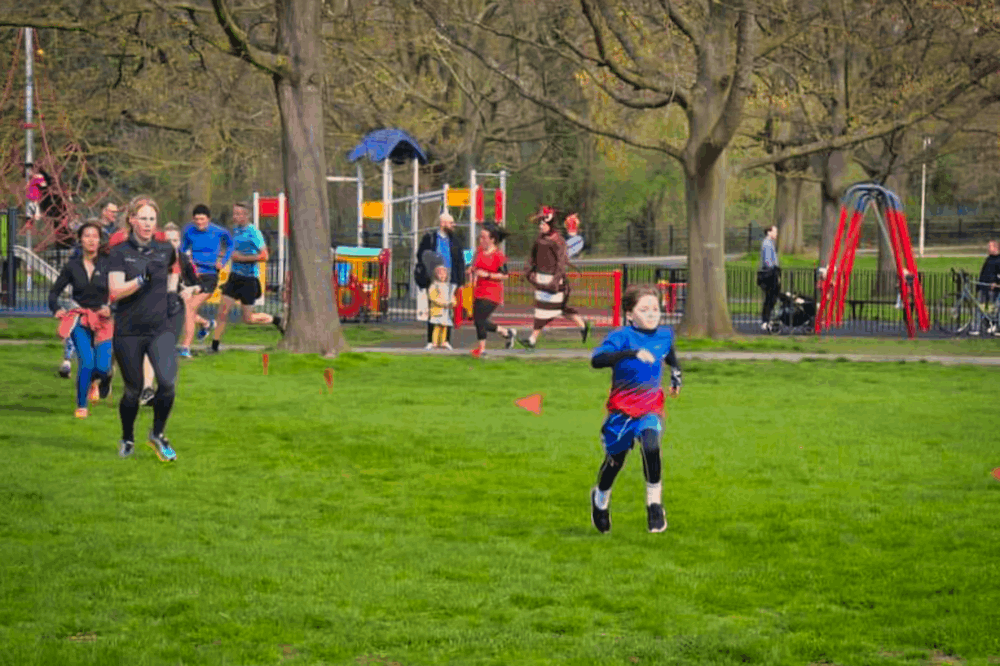 Coming Up
The Lee Valley Sprint Meet scheduled for this Wednesday has been cancelled so please don't travel for that! Thankfully a quieter week coming up but good luck to Olivia who travels to Cheshire the England Athletics 5K Championships.