Wow – it's been an incredibly busy last week of the half term with school's races, league fixtures and some special one off events. Whatever the occasion we've seen our Beagles give their best and do us proud (special thanks to the parent photos sent in this week – remember, send us your pictures of Beagles in action in case we are unable to cover the event).
Yr 7 / 8 Essex Schools cross country
On Wednesday the Essex Schools Year 7 and 8 cross country championships were held at Writtle. This is a great event as the schools all bring large teams meaning the average race size is around 200 children and competition is fierce.

In the Year 7 girls 3k event we saw great running from Sophie Halford 7th (12:46), Esme Thomas 9th (13:15), Holly Poyton 13th (13:44), Eliza Hobden 31st (14:21), Amber Walker 54th (15:13) and Imogen Warn 150th (17:54).

Running brilliantly in the year 7 boys race – also over 3k – were Nicky Mulholland 50th (13:28), Frankie Edwards 63rd (13:35), Christian Ludwig 111th (14:13), and Zac Collings 168th (15:22).

The Year 8 girls ran amazingly well over their 3.5k distance – Isabel Forrest 4th (13:41), Rosie Quirk 6th (14:21), Millie Cameron 10th (14:40), Nicole Hawkins 11th (14:50), Stephanie Smith 28th (16:04), Katie Hawkins 53rd (16:58), Daisy O'Connor 58th (17:02), Imogen Hutton 85th (17:57), Isabella Hutton 96th (18:15) and Daisy Wilingale 134th (19:43).

Finally our super Year 8 boys – also over 3.5k – Zac Thomas 2nd (12:37), Mattie Delea 6th (12:59), Louis Wilkinson 30th (14:02) and Stanley Churchill 128th (15:38)

All top 20 finishers will go on to represent Essex Schools at an intercounties fixture in March so congratulations to Sophie, Esme, Hollie, Isabel, Rosie, Millie, Nicole, Zac and Mattie on earning their Essex Schools vests.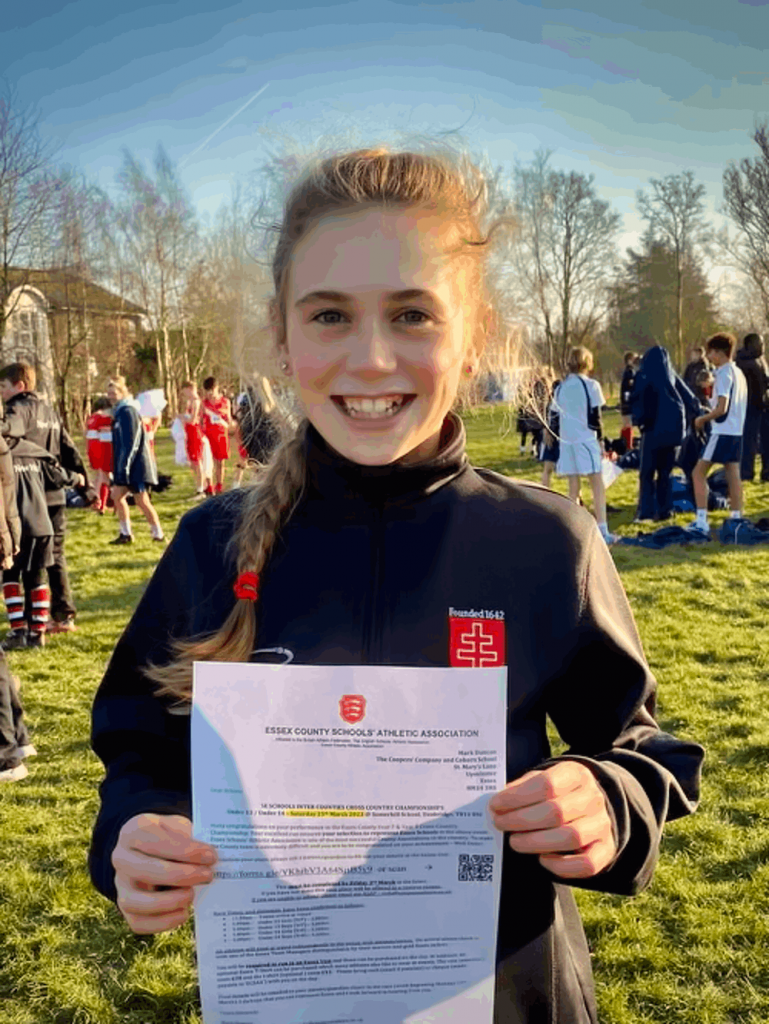 Ayo Falola Dream Mile
Wednesday evening saw Max Sanderson, Olivia Forrest and Isabel Forrest travel to Lee Valley to take part in the high profile Ayo Falola dream mile event. Held annually to commemorate the life of sprinter and coach Ayo Falola, the event always attracts high quality athletes who are drawn by the rare opportunity to take on an indoor mile event.

We are thrilled to say that all three of our runners took home massive PB's. Isabel Forrest finished her race as first female – 5:43.43. Olivia Forrest came home first in her race – 5:18.55. Max Sanderson ran brilliantly from the front, fought hard and was narrowly beaten on the final straight to finish his race second – 4:54.45.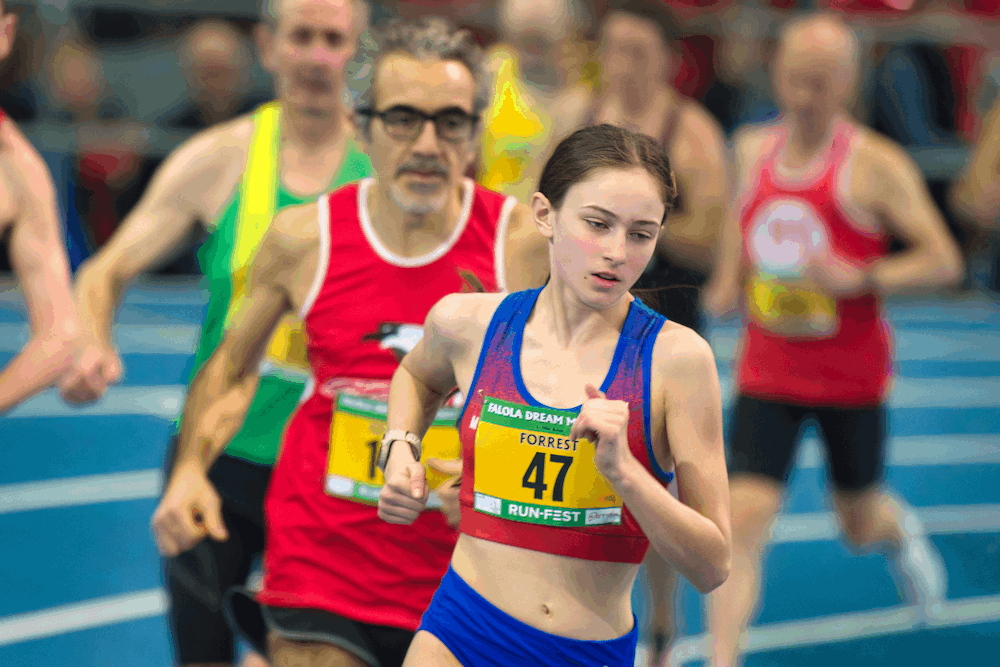 ISA East Region cross country
Friday saw the second school cross country of the week – this time the independent schools East region event held at Finborough School. Results are position only as no times were taken on the day. Congratulations to all our Beagles, particularly those that ran so well as first year runners in the mixed age group categories.

Lucy Reynolds 10th in the Year 4 girls race.

Scarlett Dulwich 20th, Betsy Gilder-Briggs 29th and Zoe Reynolds 78th in the Year 5/6 girls race.

Sophie Halford 3rd in the year 7 girls race.

Olivia Forrest 1st, Isabel Forrest 3rd, Rosie Quirk 4th and Millie Cameron 5th in the Year 8/9 girls race.

Lucy, Sophie, Olivia, Isabel, Rosie and Millie have all now qualified for the national final in March!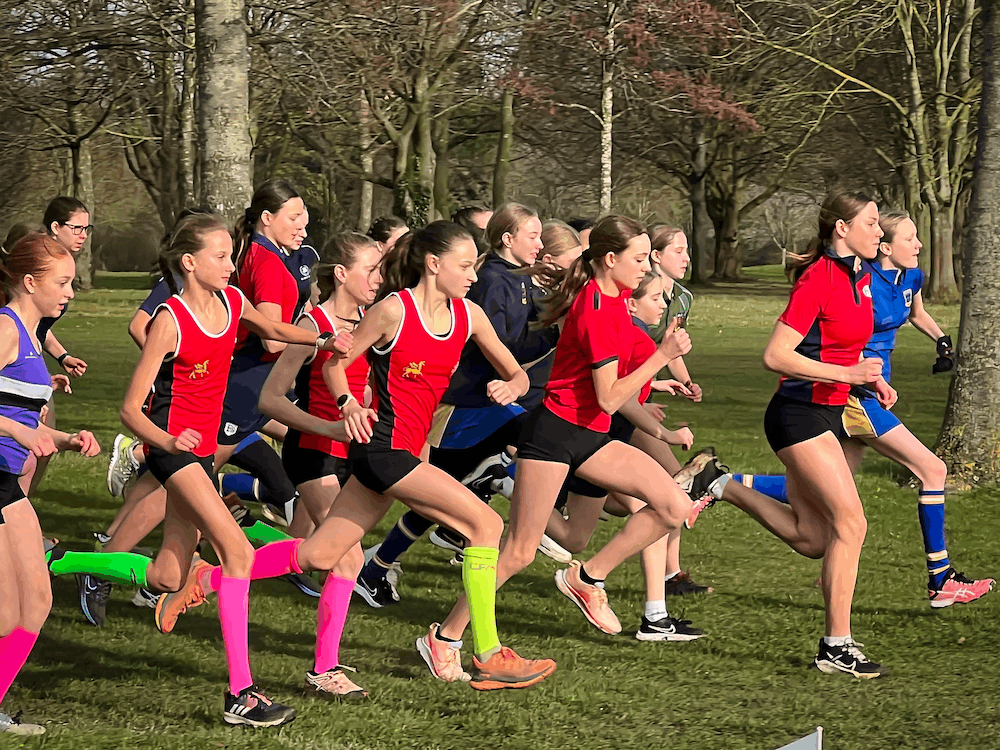 Essex league cross country – Hainault
The final Essex Cross Country League race of the season took place at Hainault Forest on Saturday morning.

In the U13 girls race – Nicole Hawkins finished 9th on the same time as Stephanie Smith in 10th (13:21). Katie Hawkins finished 18th (14:36).

Our U13 boys were led home by Mattie Delea in fourth (11:19). Louis Wilkinson finished 21st (13:33) and Charlie Lingley 27th (15:45). A note of appreciation too for Ollie Johnson who sadly was unable to finish having lost a shoe!

Victory in the U15 girls race went to Evie Warn (17:51) with Mara Thomas 9th (18:36).

Making his Beagles debut today was Jake Mitchell – 31st in the u15 boys (21:00).

Finally Laura Durn ran amazingly in the senior women's race to finish 32nd (29:16).
Essex league cross country – Final league positions
As the Essex league has now drawn to a close, the final placings were announced and we are thrilled that three of our Beagles were awarded trophies for their performance in the series.
Taking first place in the U15 girls league was Olivia Forrest who finished on 3 points. Joining her on the podium was Evie Warn who finished third on 14 points.
Also collecting a trophy was Laura Durn who finished in third place in her age.
Any runner who had completed in 3 of the 4 races of the series were also awarded a final individual placing so congratulations also go to:
Stephanie Smith – 10th in U13 girls League on 40 points
Mattie Delea – 4th (by only one point!) in U13 boys League – 11 points
Ollie Johnson – 18th in U13 boys – 87 points
Mara Thomas – 10th in U15 girls – 35 points
Max Sanderson – 7th in U15 boys – 25 points
George Ashton – 15th in U15 boys – 58 points
Stuart Crowther – 5th in V60 – 366 points
Despite not having full teams in most of the races the Beagles also finished 4th in the U13 girls team competition, 5th in the U15 girls team competition, 6th in the U13 boys team competition and 7th in the U15 boys team competition.
Well done again to all who competed – we hope you found it a great learning experience.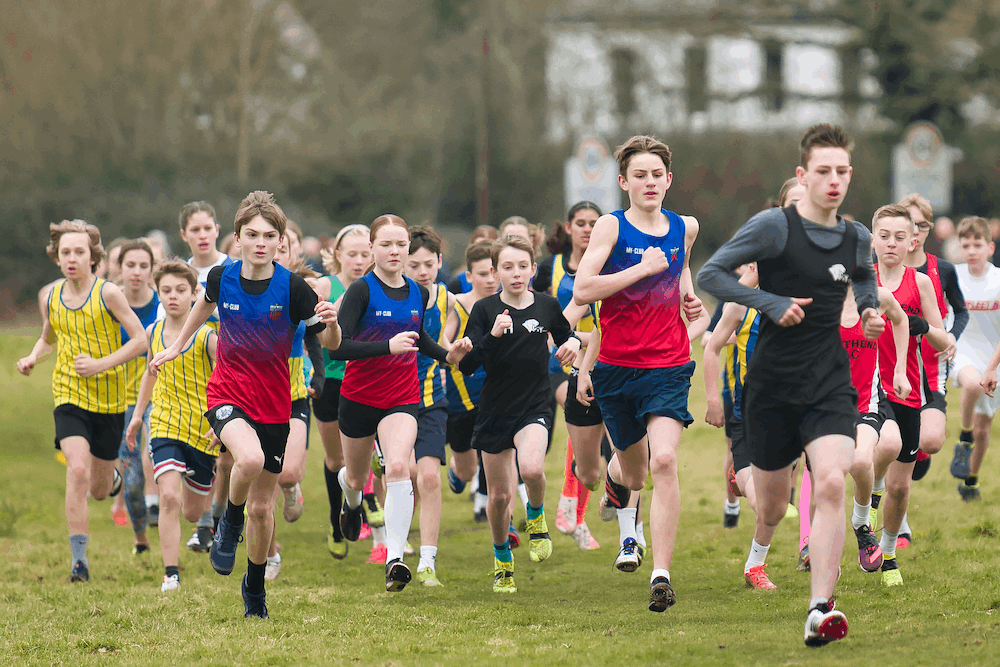 U17 / U20 English National Indoor Championships
Qi Wei and Max Sanderson travelled to Sheffield on Saturday to compete in the U17/U20 England Athletics National Indoor Championships.

To even meet the qualification standards for this event is an incredible achievement, particularly with both athletes in their first year of their respective age groups, and the experience to be gained at such an event is invaluable.

First up was Qi who took on the U20 60m race. A great effort saw him finish his heat with a time just outside his PB – 7.67.

Max finished the day in the U17M 800m heats and ran the race of his life to finish 5th with a new PB of 2:03.52.

We are so proud of both athletes for representing our club so brilliantly at national level.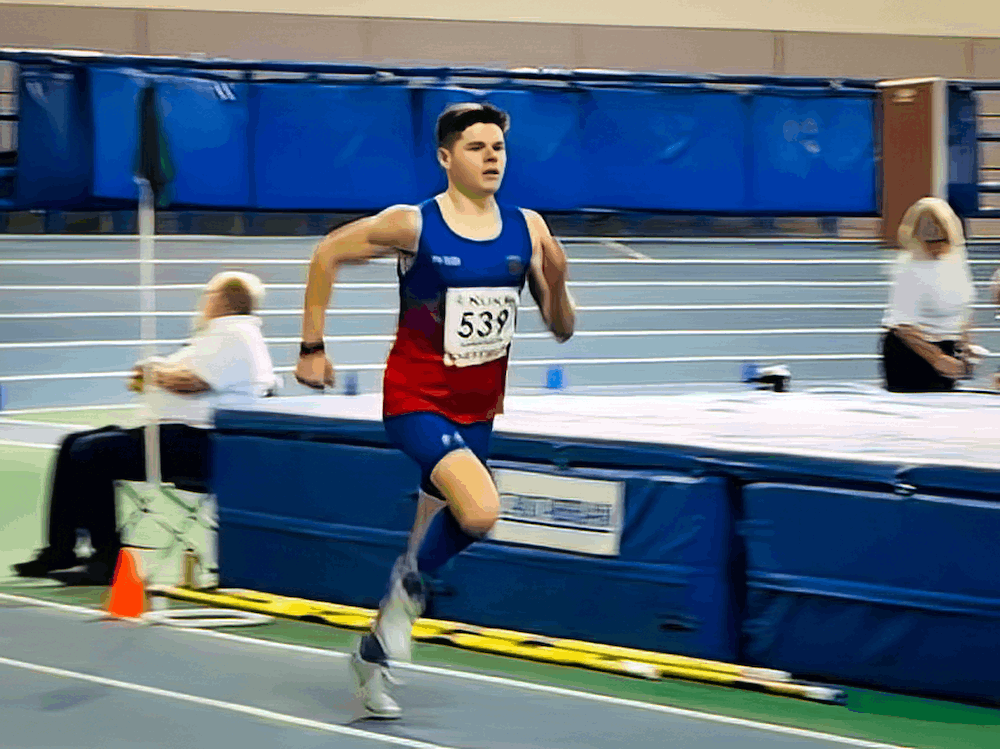 Parkrun / Junior parkrun round up
With most Beagles competing elsewhere, we were a quiet presence at parkrun this week. George Ashton was at Raphael's and finished 6th (18:46) with Ben Corcoran running a new PB (19:20) and Oliver Corcoran making a brilliant parkrun debut (25:28).
On Sunday the junior's also ran well At Lake Meadows – Daniel Smith finished first (8:43)with Nora Heidemans also running well (10:15). Over at Harrow Lodge – Patrick Langan finished as first male missing his PB by a second (8:46), Ollie Trevor finished fourth (8:53) and Emily Brewington rounding off the Beagles performances (9:34)
Well done everyone!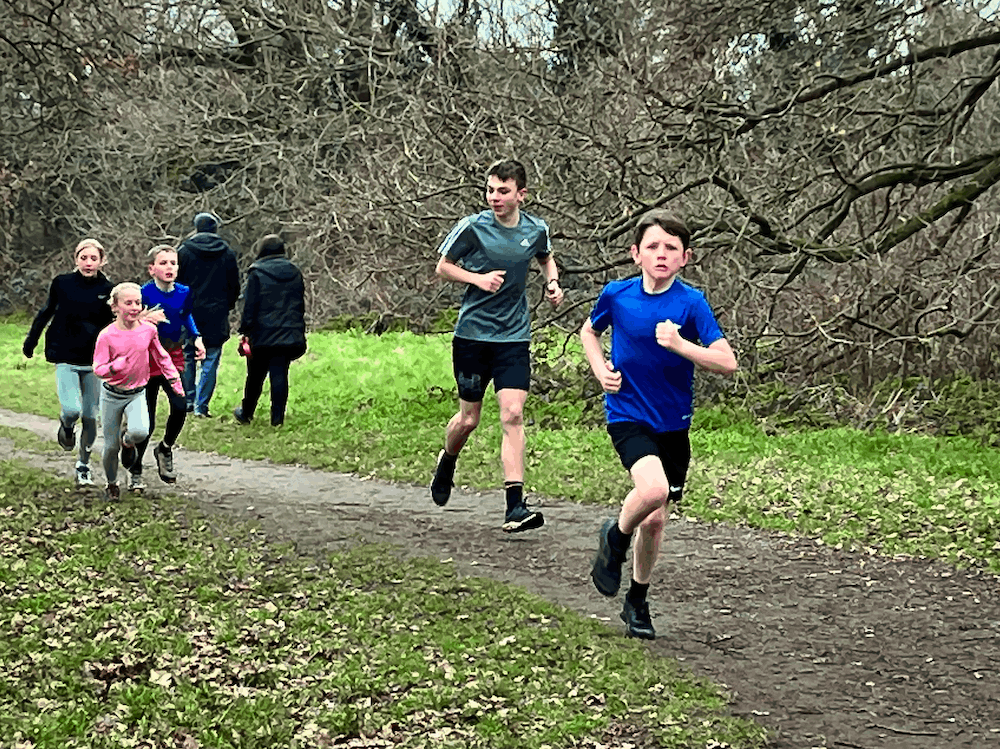 Coming Up
We hope those of you that are away for half term have a really lovely break. Some action is still going on – we have a middle distance indoor event at Lee Valley on Wednesday night and our Beagles Brentwood parkrun takeover on Saturday morning – do come and join us.