Saturday was a great day for our club with Beagles demonstrating their brilliance at three separate events – in Cardiff, as Welsh Wonders at the Cross Challenge, in Chelmsford at Sportshall and in Southend at the regional round of ESAA. And that's not including all those out at parkrun! Well done everyone on another brilliant week of running.
Cardiff Cross Challenge

Wow, Saturday was quite the day for our Beagles with several making the trip to Cardiff for the first round of the highly regarded, England Athletics Cross Challenge series.

Starting the day off in style and dominating her 1.25km race from start to finish, in a time that matched that of the fastest U11 boy, Madison Kindler ran brilliantly. A confident and mature display throughout to finish 18 seconds ahead of second – 4:36.

Next up – and making his national debut – Ollie Trevor had a really strong race growing in confidence throughout to finish 22nd in 5:32.

Our U15 girls were excited by the addition of two log jumps in their 3.2km race! With a strong national field of girls to compete against, both Olivia Forrest and Evie Warn got off the start well and took off in the leading pack. Olivia pushed to the front and took off at her own pace with Evie sticking strongly to the chasing group. Olivia continued to stretch her lead and showed confidence, poise and domination throughout! Eventually taking the tape 31 seconds ahead of the second runner – 10:50. Evie continued her battles once again demonstrating her commitment and resilience to finish 10th – 11:40.

We're so totally thrilled for all our athletes and so impressed at their runs. Please take time to watch both videos as they present a great examples of mature race craft for these young athletes!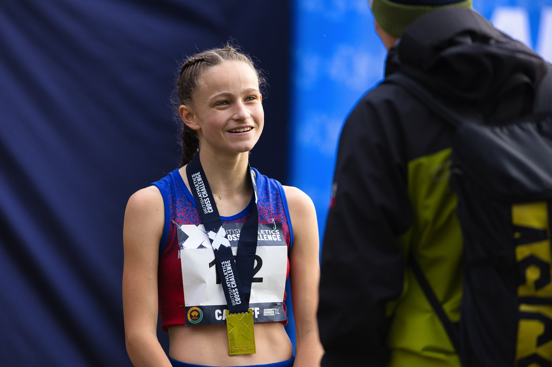 Sportshall
The second round of Sportshall athletics took place in Chelmsford on Saturday and saw some more great Beagles performances from a number of our female athletes. A reminder that sportshall includes events such as speed bounce, vertical jump, chest push, standing long / triple jump as well as a number of running and agility events. Congratulations to:
Evie Abbot (U13) – Chest push 1st – 6.36m, Standing triple jump 2nd – 5.67m, Speed bounce joint 3rd – 67
Elsie Martin-Boucherb (U11) – Standing long jump 3rd – 1.66m, 1 lap race – 13.0, 2 lap race – 26.5
Lianne Esterhuysen (U11) – Standing long jump – 1.54m, Target Throw – 3, Javelin – 8.25m, Over under race 3rd – 20.1, , 2 lap race – 27.8
Katie Lowe (U13) – Standing long jump – 1.98m, 2 lap race – 24.4,
Nesochi Onyechere (U15) – Standing long jump – 3rd – 2.14m, Vertical jump – 54, 2 lap race – 24.1
Ava O'Neal (U13) – Vertical Jump – 39, Speed bounce joint 3rd – 67, 4 lap race – 55.2, 2 lap race – 26.0
Honey Peck (U15) – Vertical jump – 47, 2 lap race 3rd – 23.9.
Thanks to Daniel E for providing photos!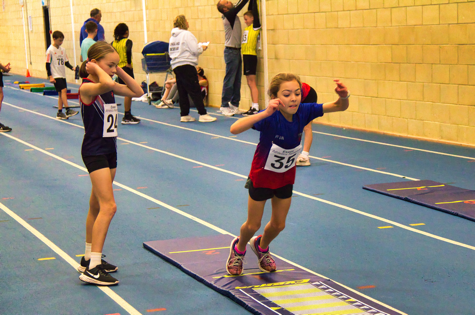 The final Sportshall round takes place on 2nd December from 12pm-3pm in Chelmsford. Entries open on Wednesday and the event is suitable for Year 5 – Year 10 – Sportshall 2023-2024 – Essex Athletic Network (wordpress.com)
ESAA Regional Round
The regional round of the English Schools cup competition took place at Southend on Saturday. With a number of Beagles running and representing their schools it's been great to hear the stories of those who have qualified for the National final in December. Unfortunately the official results are yet to be published so apologies for anyone missed.
Well done to the National qualifiers – Missy Tiller, Isabel Forrest, Millie Cameron, Dean Savery, Jude Hearn.
And to those who ran so well on the day – Stephanie Smith, Ellie Gray, Aria Sabdo, Zac Thomas, Alf Carter.
Parkrun and Junior parkun round up
Our Parkrun devotees were back to normal with a strong contingent of Beagles out and about on a chilly November weekend. At the home of Parkrun at Bushy Park, Phil & Nadia Price (both 21:51) ran well among a huge field of 1,361 runners!
Closer to home at Valentines, Max Sanderson (17:14) was aiming for a sub-17 but was thwarted due to a congested field, still finishing 1st by a considerable margin. Whilst at Harrow Lodge, Preston Taylor* also took first place (18:08).
At Raphael, Oliver Weston-Stokes (20:59), ran well on his first time out on the course to finish in the top 20 while at Wickford, Scott Brooks (18:55), finished 3rd. At Billericay Ollie Johnson (20:05)ran superbly to take 3rd place and clock a new best time, just a shade outside sub-20. Hugo Wilks* (23:26) also ran, finishing his first time at the event in 38th.
There were several Beagles taking on the mud & hills of Brentwood: Elliot Worth (20:25) leading them in in 3rd place with Stuart Crowther (22:38) also taking a top 10 finish.Not far behind him was Max Massarella (23:06), Lorraine Massarella (25:26) taking 37th and 5th female finisher, & finally also running well over the tough course, Lola Massarella (31:05).
On Remembrance Sunday, plenty of Juniors were out at local events. Our Beagles dominated at Hutton Rec, taking 5 of the top 6 finishing places. Leading the group & coming 1st overall was Max Massarella (08:19), capping off a good weekend of running; just 5 seconds behind was Jamie Murphy (08:24) while finishing 3rd was Dylan Hussain (08:33 PB). Daniel Smith (09:44)was 5th and Nora Heidemans (09:57) finished first female in 6th. Also running well were Max Morris* (10:38), Chloe Thomson* (11:23), Joshua Thomson* (11:39), Jessica Thomson* (11:42), and Bailee Abrahams* (11:48). Meanwhile, tail walkers Ethan Wilson (16:45) and Max Wilson (16:53) completed the mornings' activity.
At Harrow Lodge, the Beagles were also dominating as Missy Tiller (07:13) took 1st place by a clear margin. In 3rd was Hollie Poyton (08:09), while also running strongly finishing just a second behind was Lianne Esterhuysen (08:10). Further Beagles were to come with Emily Brewington 8th (08:56), Ezra-Zion Gooch 19th (10:24), Danel Esterhuysen 28th (11:36) and Freya Brewington 31st (11:55).
At Chelmsford, Oliver Weston-Stokes (07:58 PB) ran particularly well to pick up a course and all-time best, finishing 4th from a big field (88 runners). At Barking juniors Ollie Johnson finished first with a new course PB (7:19). Finally, at Lake Meadows, Liam Worth (09:56) ran a consistently paced effort to finish 16th.
Well done to all our runners this weekend. Note for parents, if your child has an * by their name, please help our editors by adding Brentwood Beagles as their club under their parkrun profile (groups). Feel free to contact us if you need help setting this up.
Coming up
A number of Beagles travel to Cambridge this weekend for the Eastern XC event – good luck to all involved. Saturday evening also sees some of our club personnel don their glad rags for a night at the England Athletics Regional Awards – the club has been nominated in a number of categories and we would like to say thank you to everyone who recommended us.