Teamwork is this week's theme! We're not sure that we could have fitted anymore excitement into the last week! From huge PB's in Watford, to amazing relay medals and the brilliant performances on display at the EYAL – it was quite the week!
Watford Open
There were some brilliant races at Wednesday night's Watford open event and we are really pleased that a number of our athletes were at the heart of them!

Mattie Delea ran strongly in his 800m race – staying out of trouble at the start and pacing the race well to finish just outside his PB in 2:16.91.

Max Sanderson was seeded in a very competitive heat and showed his maturity to push ahead from the start. Keeping up the pace throughout and pushing hard towards the end of the second lap saw him run a new PB of 2:02.62.

Finally in the 3000m, Isabel Forrest ran with good consistency as she continues the journey back to her best – 11:21.98. Olivia Forrest ran an incredibly strong race with great pace throughout leading to a new 21 second PB of 9:40.69. This makes her the fastest U15 girl in the UK this year and actually the 6th fastest of all time! A remarkable achievement.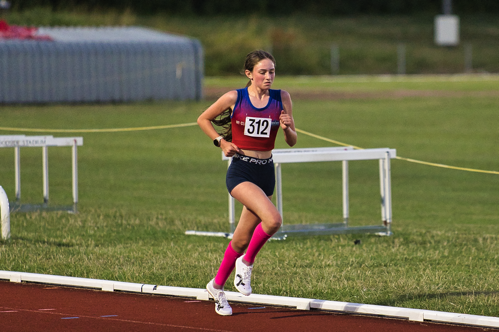 Essex Track Relays
Torrential downpours, did nothing to dampen our amazing night at this year's Essex track relay championships on Friday. 5 Beagles teams took part & took home 3 medals between them. Amazing teamwork, brilliant personal runs & superb dedication – we couldn't be prouder!

U15G 4x300m relay – Stephanie Smith took 1st leg, Honey Peck 2nd, Nicole Hawkins 3rd & Olivia Forrest 4th – between them finishing in 4th place overall with a time of 3:04.97.

The Mens U17 4x400m relay team produced one of the most inspired performances of the night – Israel Shokoya ran the first leg, Louis Geater in another performance beyond expectations, Dean Savery – running one of the legs of the night, & Max Sanderson bringing them home with absolute focus on gaining a medal & securing the bronze with a time of 3:48.52.

In the U15G 3x800m relay – Evie Warn got the team into a good position on her first leg, handing over to Nicole Hawkins in joint 2nd. Nicole battled throughout the first lap before finding a bit of space on the 2nd & able to hand over to Olivia Forrest who stormed forwards closing the gap on 1st but ultimately running out of track. A great team performance to take the silver medal – 7:19.08.

Two U15B Beagles teams in the 3×800 relay. A huge thank you to Daniel Smith – on site simply as a spectator but stepped in & up an age group to ensure that an injury didn't mean we had to pull out. The boys B team had a good start with Jake Mitchell who handed over to Daniel who ran his absolute best before passing onto Alfie Carter to bring the team home strongly – 10th in 7:56.75. The boys A team saw Jude Hearn battle a pack of boys throughout his leg but positioning the team strongly, passing to Zac Thomas who kept up the pace with the team marginally in 4th. Mattie Delea took the baton and bided his time to finish with a great run down the home straight to take 3rd place – 6:49.71 (just 400ths of a second behind 2nd place).

Finally the U17M 3×800 team – 1st leg was Louis who persevered to keep the team in contention, Dean ran well throughout the 2nd leg before passing to Max who overtook 2 teams in the final 100m to finish 5th in 6:45.87
EYAL Boys
Some brilliant performances and teamwork on Sunday from the male Beagles at the latest round of the EYAL held again at Chelmsford. So many people stepping forwards and helping us fill in some teams gaps in less popular events which really did maximise our points scoring ability. Thank you!
U13 Boys – Achieving our highest points total in this age group yet and we are hoping to be confirmed in 3rd place (after a results query). Some great debut performances and everyone giving their best:
Timi Oluseye – 100m: 14.1, LJ: 3.58m – PB's in both
Tobi Oluseye – 100m: 13.7, LJ: 4.13m (3rd) – PB's in both
Tobi Oloyede – 200m: 28.8 (2nd) – PB
Henry Willingale – 200m: 33.3, 800: 2:46.6, – PB's in both, Shot Put: 4.5m
Daniel Smith – 800m: 2.51.5, Javelin: 13.01m – PB's in both
Ollie Johnson – 1500m: 5:25.7, LJ: 4m, – PB's in both, Shot Put: 4.86m
Dylan Kenly – 1500m: 5:49.3, Discus: 7.73m, LJ: 3.45m – PB's in all
Ronnie Marchant – Hurdles: 17.7, Javelin: 12.06m, 100m: 16.4
Relay – Timi / Tobi / Tobi / Ronnie – 3rd: 57.3
U15 Boys – Finishing in 3rd place as a team and demonstrating their teamwork and support for each other throughout the day. The middle distance team in particular is looking very promising for cross country season!
Jeremy Li – 100m: 13.8, 200m: 28.6, 300m: 48.0 – PB's in all
Dexter Smith – 100m: 13.4, 300m: 42.3, HJ – 1.5m – PB's in all
Zac Thomas – 800m: 2:13.2 (3rd), LJ – 4.67m – PB's in both, 200m: 26.8
Jude Hearn – 800m: 2:14.7, LJ – 4.34m
Mattie Delea – 1500m: 4:40.0 (2nd), Shot Put: 7.29m – PB
Alfie Carter – 1500m: 4:47.0, LJ: 4.13m – PB's in both
David Wilson – Shot Put: 10.21m, Discus: 23.25m (3rd), Javelin: 28.06m (3rd) – PB's in all
Jake Mitchell – Discus: 13.96m, Javelin: 17.61m – PB's in both throws, 800m: 2:34.6
Oliver Weston-Stokes – LJ: 3.71m, 200m: 30.5 – PB's in both
Rowan Eaton – LJ: 3.62m, 100m: 14.8, 200m: 31.6 – PB's in all
Relay – Jeremy / Dexter / Zac / Jude – 3rd: 52.0
U17 Men – Down on team members this round due to holidays, we still had some great individual performances.
Israel Shokoya – 100m: 12.2, 200m: 24.6 – PB's in both
Tobias Maitland – 100m: 12.6, 200m: 25.9, LJ: 5.10m – PB
Max Sanderson – 1500m: 4:04.0 (2nd and achieving national standard), LJ: 3.23m – PB's in both, Javelin: 27.68
Louis Geater – 400m: 55.5, 800m: 2:13.4, Shot Put: 6.15m – PB's in all
Dean Savery – 1500m: 4:32.3, Javelin: 29.72 – PB's in both, HJ: 1.6m
Relay – Israel / Tobias / Max / Dean – 4th: 51.9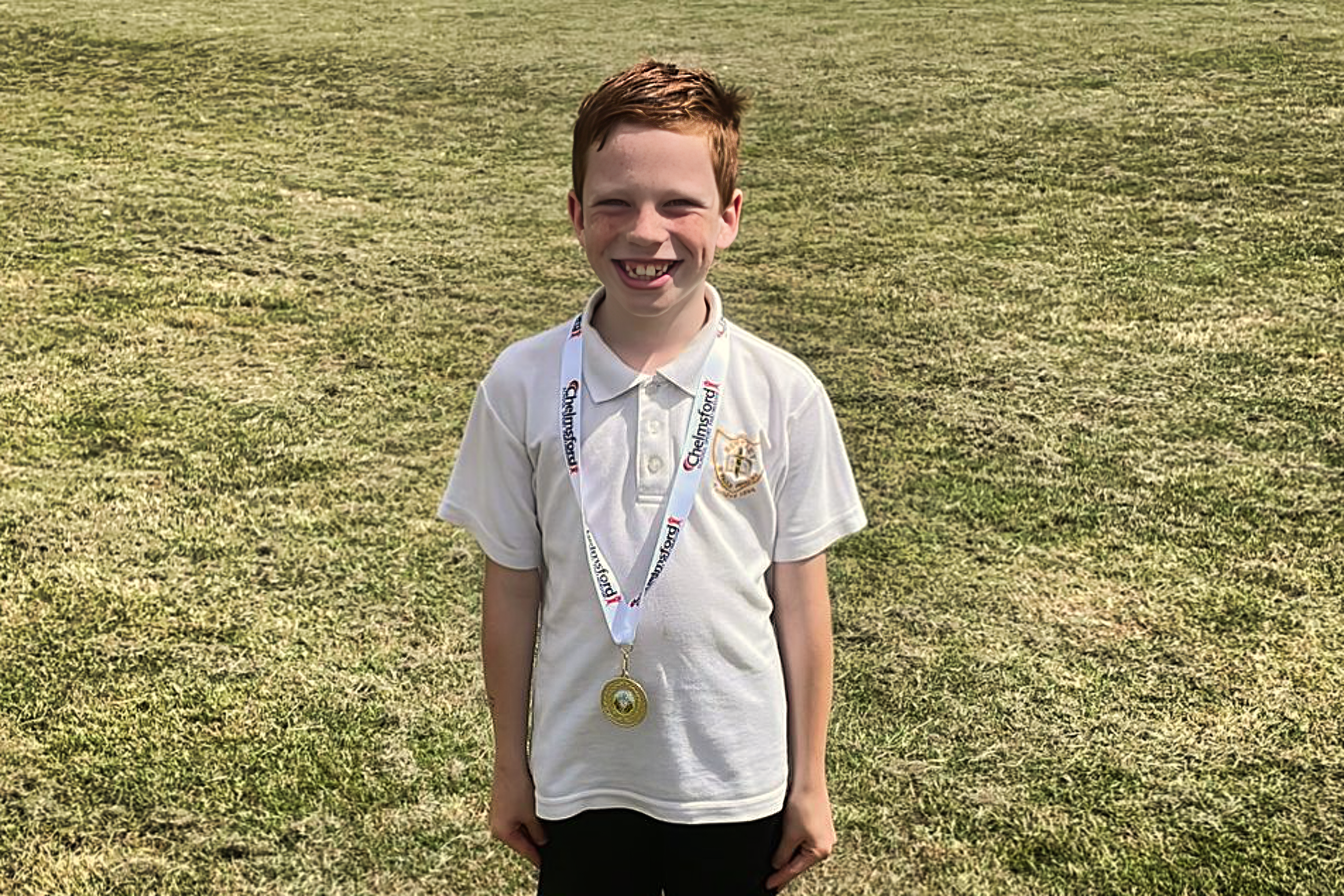 Schools News
Lovely to hear about some amazing results at the Quadkids county finals. Huge congratulations to Joey Marchant whose contribution helped his school take the gold medal. Also doing brilliantly and helping their schools to medals were Daniel Smith, Isobel McLennan and Matthew Cottee. Well done everyone!
EYAL Girls
Well done to all the Beagles girls who did so well at EYAL yesterday – really noticeable how many new Beagles we saw and how many tried something different to help out with great support for all and exceptional teamwork. Thank you!
U13 Girls – Great to see this group of girls taking the opportunity to experiment with events and try something new. We were really impressed with the performances we saw and lots of information we can take back and work on in training. Well done!
Katie Lowe – 100m: 14.8 – PB
Izzy Young – 100m: 16.2, 200m: 34.8 – PB's in both
Eliza Hobden – 200m: 31.3, 800m: 2:38.2 (3rd), LJ: 4.13 (3rd) – PB's in both
Ava O'Neal – 200m: 34.8, Hurdles: 17.3, 1500m: 6:12.1 – PB
Sophie Halford – 800m: 2:39.5
Robyn Colyer – LJ: 3.91, Javelin: 11.5m, 800m: 2:53.9 – PB's in all
Esme Thomas – Javelin: 9.22m, 800m: 2:47.3 – PB
Megan Morgan – 100m: 16.4, 200m: 32.9 – PB's in both
Relay – Katie / Ava / Eliza / Izzy – 5th: 64.7
U15 Girls – Lots of absence from the usual team with people off on holiday, and Olivia taking it easy following her first super sprint triathlon on the same morning! Great opportunity for others to shine and they took it!
Mirabelle Richter – 100m: 14.2
Honey Peck – 200m: 28.2, Hurdles: 15.4, 100m: 13.6 – PB
Stephanie Smith – 200m: 28.1, 300m: 43.7 (2nd), HJ: 1.25m – PB's in both
Nicole Hawkins – 300m: 44.8, 800m: 2:34.0, Discus: 17.32m
Olivia Forrest – Discus: 11.93m, 800m: 2:20.6 (2nd), Javelin: 7.96m – PB's in both
Evie Warn – 1500m: 4:56.1 (3rd), Hurdles: 18.1 – PB's in both
Isabel Forrest – 1500m: 5:16.1, Shot Put: 3.92m
Daisy Willingale – HJ: 1.25m, LJ: 4.14m, 100m: 14.0 – PBs in all
Ellie Gray – LJ: 3.83m, Javelin: 15.11m, 1500m: 5:26.0 – PBs in all
Katie Hawkins – Shot Put: 5.78m, Discus: 15.42m
Alessia Byrd – 800m: 3:01.5 – PB
Amy Maher – HJ: 1.25m – PB
Relay – Steph / Mirabelle / Honey / Nicole – 4th: 53.3
U17 Women – Lovely to see Sophie joining our tiny U17 women's team at this EYAL and therefore earning us more valuable team points! Excellent efforts by Erin and Mara as always.
Sophie Morris – 200m: 34.5, 800m: 3:13.13 – PB's in both
Mara Thomas – High Jump: 1.25, 800m: 2:44.6 – PB
Erin Delea – Javelin: 18.33m, Shot: 9.30 (3rd), Discus: 30.51 (1st) – PB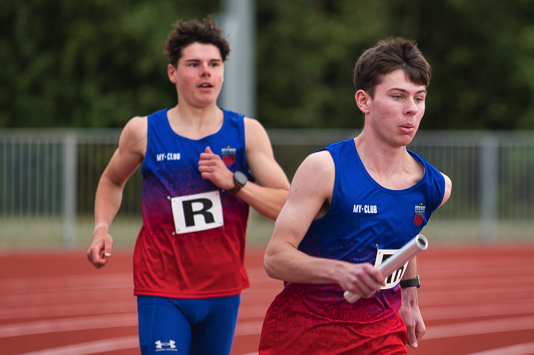 Parkrun / Junior parkrun round up
A limited number of Beagles at parkrun this week but amazing results – At Brentwood Elliot Worth went quicker than last week and finished second (20:00). At Valentines, Rob Trevor got a new course PB (18:08), Ollie Trevor got a new 5k PB (23:29) and Vicky Trevor enjoyed her parkwalk too (44:13).
On Sunday our juniors were taking centre stage at their local events. At Harrow Lodge – Ollie Trevor was just one second off his PB in fourth (8:50), Ethan Wilson was 8th with a great new PB (9:13), Jack Collier also achieved a new best time (10:08) with Ezra Gooch close behind him (10:14). Harry Collier also gained a new PB (10:16) and was followed back by Evie Foley (10:19). Over at Lake Meadows Lianne Esterhuysen finished 9th (8:28), and Danel Esterhuysen got a great new PB (10:59). Finally at Hutton Rec – Dylan Hussain finished 4th with a great new PB (8:45), Ethan Wilson was ninth (9:24) and Liam Worth continued to show his consistency running close to his best (9:49). Max Wilson was also running well (11:13),
A reminder – if you could please add Brentwood Beagles AC to your parkrun club list (go into manage your profile) – it does help us spot you in the results – if you need help, let us know!
Coming Up
The last week of term for most people sees a quiet week (a rarity!) in athletics. The Lee Valley Sprint night takes place on Wednesday though – good luck to anyone competing. Away from our club, the Diamond League visits London this Sunday – a great opportunity to watch some of the leading athletes in the world locally or on TV.