Another week and another big national final to report on as the end of the XC season finally approaches. Elsewhere, yet more recognition for our club in it's first year.
English Schools XC National Final
Very close to the end of the Cross Country season now with just one more weekend of events to go. This Saturday saw one of the most prestigious events on the calendar – the English Schools XC National Final. This year it took place in Nottingham at Wollaton Hall.
Olivia Forrest, Evie Warn and Isabel Forrest had all qualified for the junior girls event earlier in the year at an Essex Schools race and were really proud to don their new Essex Schools tracksuits and join forces with five other girls from the Essex area.
The junior girls race was a 3.5km event and arguably one of the most challenging of the season with some considerable hills and tight turns to contend with. 338 girls competed in total and the race was an incredible tight one – described by the commentator as the "race of the day". The final positions came down to an all out sprint down the final hill resulting in Olivia finishing in third place (12:17), tied on time with second and only one second behind first. Isabel made great progress through the field during the race to finish in 76th (13:15) and third for Essex, whilst Evie was right behind her finishing 80th and fourth for Essex (13:17) – meaning our Beagles girls dominated the Essex team standings.
As a consequence of their brilliance – the Essex girls team were presented with the Steadman trophy for fastest team to finish all eight of their runners. In addition Olivia was also selected to represent team England at the school's international cross country (SIAB) event next weekend. An outstanding achievement and our first Beagle to represent the country.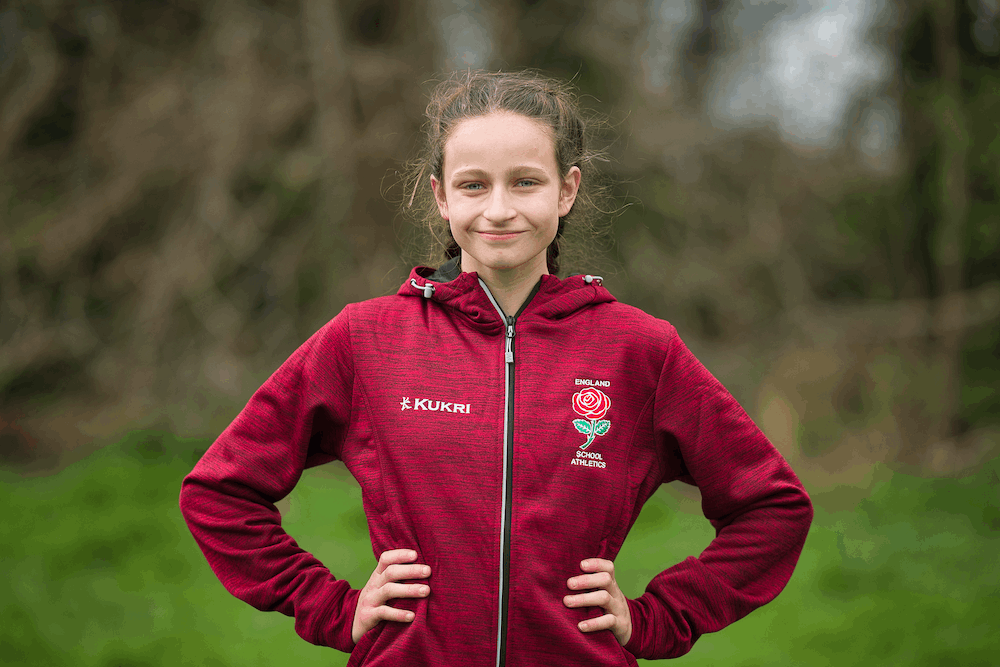 Brentwood Civic Stars Awards
We were incredibly honoured this week to be named as "Club of the year" at the Brentwood Civic Stars Awards. As we approach our first anniversary it's so lovely to be acknowledged in this way for all the hard work, progress and success that we've had in that time.
Thank you so much to everyone who nominated us for the award – the programme for the event included the following quote from Kate Hearn "Brentwood Beagles is a club that Brentwood should be proud of – the athletes and the parents are".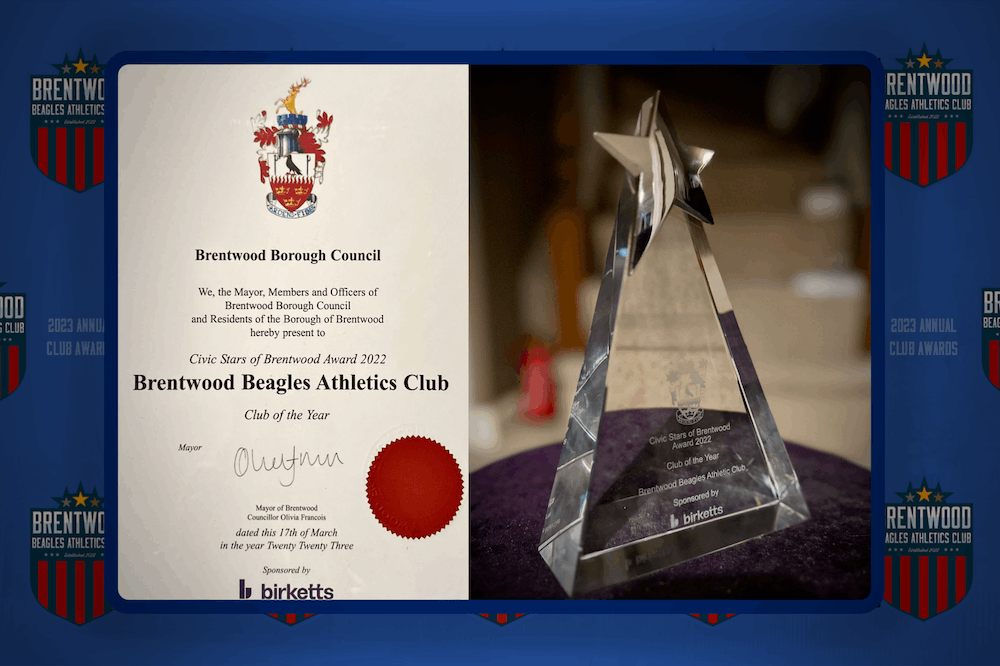 Beagle Bites Updates
More "Beagle Bites" on offer this week – our series of short videos intended to better inform our members about a whole range of issues linked to the world of athletics. This week's edition was on managing pre-competition nerves and anxiety and tomorrow's will be discussing RED-S (Relative Energy Deficiency in Sports). You can view editions here – Beagle Bites Archives – Brentwood Beagles Athletics Club We hope you find them useful – do let us know if you have any specific topics you would like us to cover and we will get our coaches on the case!
Parkrun / Junior parkrun round up
On Saturday, Beagles were doing us proud all over Essex. At Valentines parkrun Max Sanderson was amongst the leaders (17:57) whilst Louis Geater suffered foot issues but still ran well (20:43). At Raphael's Emily Brewington was our sole Beagles (22:47). At Brentwood Kurt Brooks finished second (21:42) with Daniel Jaycock fourth (22:03). Elliot Worth took on Thurrock parkrun finishing third (19:34)
On Sunday it was two PB's in two weeks for Lianne Esterhuysen who was at Harrow Lodge this week taking first place as well (8:24). Emily Brewington was close behind (8:46) whilst Ethan Wilson demonstrated his consistency (10:10). Over at Lake Meadows, Madison Kindler was first girl (8:03) with a great number of Beagles in pursuit! Congratulations to Hugo Wilks (8:33), Daniel Smith (9:31), Nora Heidemans (9:59 – just one second off her PB!), Eleanora Barfoot (10:43), Liam Worth (10:49), Oliver Kindler (10:56) and Ivy Kernohan (11:53)
Well done everyone!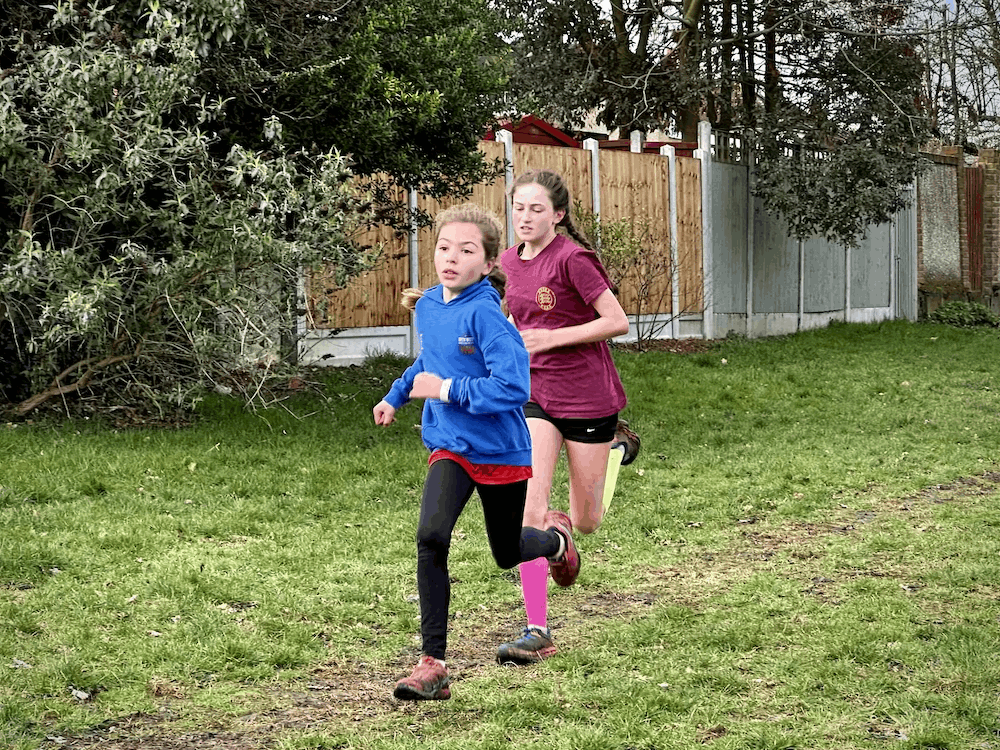 Membership renewal
Please be reminded that the renewal period for membership is now open. All renewals must be completed by the end of 31st March 2023 otherwise we will remove you from our membership systems and you will need to be added to the waitlist if you wish to return to the club. Any questions just ask Vicky on the next track night or email elaine@beagles.org.uk
Coming Up
Loads going on next week! Olivia is off to Liverpool to represent England at the SIAB. Sophie, Esme, Hollie, Isabel, Rosie, Millie, Nicole, Zac, Mattie and Jude are off to Kent to represent Essex Schools at the Year 7/8 intercounties. Madison, Fynn, Peony and Thomas are headed to Loughborough for the primary national schools cross country event. A number of Beagles are competing in the Essex primary XC finals in Chalkwell and lots of our Beagles are headed to Lee Valley for the minithon on Sunday. Good luck to everyone competing – do remember to send us your photos and news!