Half term may have been a restful week for many, but for the Beagles the Essex XC league saw hills, hills and more hills and our athletes loved them (well most did)! Great running from all involved and only a week until the next event – don't worry though it's the flattest of the league matches!
Serpentine 5K

The last Friday of the month sees Serpentine running club hold a 5km event in Hyde Park that has been taking place monthly since the late 1980s.

With half term coinciding this month, Olivia and Isabel Forrest took the opportunity to have a run. Olivia underlined her great current form by finishing as first female, 7th overall and gaining a new 5K PB of 16:38 which also gave her the course record for U15, U17 and U20 women! Her new PB also puts her fourth on the all time U15 girls 5K list!

Congratulations too to Isabel who finished 4th in her age group with her run of 20:11.

A great course and we would highly recommend to other Beagles!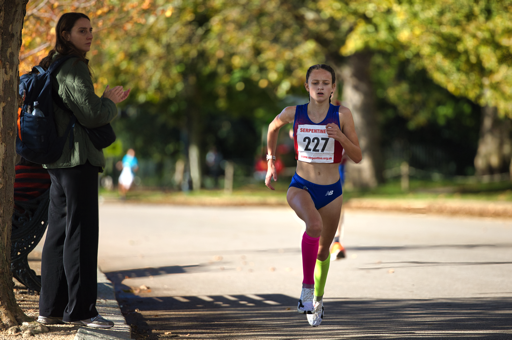 Essex XC League – Round 2
Saturday saw the return of the Essex cross country league for the second round event of the season at Gloucester Park in Basildon. By far the most exciting cross country course (so far) this season, with challenging hills and laps to ensure that every athlete was tested to their limits.
The day started with year 5/6 1500m race and Madison Kindler who stormed to victory winning the event with a time of 5:37. Lianne Esterhuysen finished as second girl and fourth overall (6:18). Other brilliant performances from Oliver Trevor 9th boy (6:58), Isobel Larner 7th girl (7:13), Emily Brewington 8th girl (7:15), Ethan Wilson 15th boy (7:18), Robert Pearson 16th boy (7:20), Jacob Hobden 17th boy (7:22) and Betsy Gilder-Briggs 12th girl (7:56). We were very impressed at how our youngest Beagles tackled the tough course with such enthusiasm and confidence.

Our U13s ran the U11s course twice (3k) with Ollie Johnson having a strong sprint finish to take a place on the line and finish 17th (13:08) and Daniel Smith running well in 27th (13:52). Our girls team again showed consistency finishing alongside each other – Ella Fagan who showed brilliance running downhill 12th (14:03), Aria Sabdo 13th (14:05) and Sophie Bickerstaff 14th (14:08). Ava O'Neal demonstrated her tenacity to finish 34th (18:34).

The dominance of our U15 girls was highlighted in the U15s 4k race. Olivia Forrest once again demonstrated her strength to finish first female and fourth overall (15:52), Evie Warn was second (17:11), Isabel Forrest 4th (17:34), Missy Tiller 8th (19:30), Nicole Hawkins 14th (20:27), Ella Gilder Briggs 21st (21:03), Ava Carter 32nd (24:37) and Honey Peck 34th (25:26). Honourable mention to Stephanie Smith who started well but had to stop after a lap for medical reasons. A brilliantly dominant performance from our U15 girls to finish first team again. Congratulations too to Zac Thomas – a strong run to finish 9th (17:53) and Charlie Lingley 33rd (25:59).
In the U17 6k race – Max Sanderson showed the benefit of a holiday and his commitment to training to finish second (23:52), with Louis King 32nd (29:28) and Jemimah Knightbridge 10th in the women's race (32:30). Honourable mention too to Louis Geater who pulled up mid race but was running strongly to that point.
Well done to Laura Durn who ran her 7k race in 35:50 to finish 50th overall and 6th in her age group.

In the men's 8k race – James Wilson finished 89th and 14th in his age group (36:43), with Elliot Worth just behind him in 94th (37:02) and 6th in age group. Finally Stuart Crowther 7th in age group – 165th overall (41:26). Brilliant efforts from all three on such a tough course.
A reminder to all reading this – you are very welcome to come and run at any of the remaining cross country league races regardless if you have run in the first two or not. There is no cost but you do need to register on Roster first and have an EA licence. Please see spond for the link.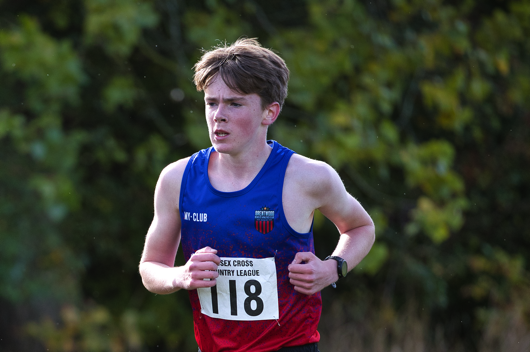 Parkrun and Junior parkun round up
Despite all the rain lately, the weather was kind to our runners this weekend with both Saturday and Sunday morning events held in late autumn sunshine.
With the Essex XC event at Gloucester Park taking place, Beagle numbers were down for the 5k runs on Saturday. However, we did have representation at 3 local events. Chelmsford parkrun were hosting their 500th event and achieved a record breaking attendance of 1,090 runners! Elliot Worth (23:28) used the run as a gentle warm-up for the XC race later, while also in attendance was Dylan Hussain (25:30). At Harrow Lodge, Matthew Cottee (23:28 PB) ran strongly to finish 12th, a considerable improvement on his last effort there a year ago. Finally, over at Wickford Memorial, Scott Brooks (18:57) continued to show impressive consistency at the event with another 1st place, and coming in with a comfortable cushion of over 50 seconds to 2nd place. Kurt Brooks (23:29) also ran, finishing in 28th.
Plenty of Beagles had recovered from their efforts the day before and were in attendance at our local junior parkruns. At Harrow Lodge, Missy Tiller (07:05) lead the Beagles in with a 2nd place, just ahead of Madison Kindler (07:15) 3rd, Ollie Johnson (07:31) 4th, and first male, Isabel Forrest (07:46) 5th, Emily Brewington (08:35) 7th, Oliver Kindler* (09:04) 10th and Ezra-Zion Gooch (10:26)20th.
There was a very strong turnout at a spooky Hutton Rec where Daniel Smith (08:47) led the team finishing in 2nd place, Jamie Murphy (09:03) came 4th and Nadia Price (09:24) ran strongly in her first run for the club, finishing 6th. Nora Heidemans (10:14) came 8th followed in by Rafe Matthews* (10:15), Joshua Barke (10:24), Jude Matthews* (10:39), Ted Lobo* (10:41), Liam Worth (10:43), Elise Gosling (10:47), Sophie Lobo* (11:17), Izzy Lobo* (11:51) and Camilla Nash* (12:14) not too far behind. Two aliens disguised as Ethan Wilson (16:58) and Max Wilson (17:15) tail walked to complete the event.
Finally, at Lake Meadows, Olivia Forrest (06:26) was course record hunting and duly took 1st place & the overall fastest time ever by 2 seconds. In 3rd, running strongly and recording a best time was Sophie Bickerstaff* (08:11 PB)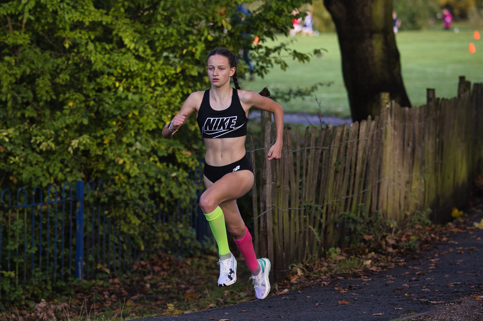 Well done to all our runners this weekend. Note for parents, if your child has an * by their name, please help our editors by adding Brentwood Beagles as their club under their parkrun profile (groups). Feel free to contact us if you need help setting this up.
Coming up
It's round three of the Essex Cross Country League. This time the racing takes place at Writtle University College in Chelmsford so please do come along and get involved – remember you need to sign up on Roster, check Spond for details. There are Essex vests up for grabs for the top finishers in some age groups for an intercounties race in December. Good luck to all competing. Unfortunately there is no year 5/6 race at this event (not our choice!). Also our U15 girls team – Evie Warn, Missy Tiller and Olivia Forrest are off to the English National Cross Country Relays in Mansfield on Saturday where they once again hope to demonstrate their brilliance on the national stage. It's an amazing course and we hope there will be a live stream for their race at 1:06pm so do look out for a link on social media and cheer them on from your sofa (or Writtle!)