Another week of great school's cross country results, and more cross country success at the SEAA XC Relays and some minithon news today! Congratulations to all who competed! If you are away for half term we hope you are having a lovely restful break.
SEAA Cross Country

Saturday saw four teams of Beagles head to Wormwood Scrubs for the SEAA (South of England) cross country relays.

With a number of our athletes at their first event we were incredibly impressed at the maturity they showed against competition from across the South of England.

First up our two U13 girls teams with each girl running 2km the teams showed great consistency with each other coming home 23rd (27:09) and 24th (27:12). First legs Aria Sabado and Dolci Hoyte both got off the line well and ran with confidence handing over to Allegra Sawkins and Robyn Colyer respectively. Both girls made up positions and pushed forwards strongly before handing over to Olivia Gildersleeves and Caitlin Phillips who both gave their all to push to the finish with the best of their ability.

The U13 boys, also running 2km, were led off by stalwart Frankie Edwards doing a great job as usual! Handing over to Ollie Johnson, in brilliant form this weekend, who in turn handed over to Kairhys Hoyte who was made a confident debut to bring the team home 19th in 25:07.

Finally our U15 girls were supreme over their 2km legs. Evie Warn took on the fast first leg runners keeping them in touch as she passed to Missy Tiller. Missy ran well holding position before handing over to Olivia Forrest who stormed through her leg to push the team to the front and ensure they came away as SEAA champions! A combined time of 21:14 with fastest U15 girl leg of the day from Olivia with 6:36.

Huge congratulations to all our runners. We were very proud of everyone today with so much individual success – from first races, to improving times and personal achievements. Well done! Well done also to all our young athletes who on the day took time to congratulate other teams and their athletes and demonstrated exceptional sporting integrity and sporting behaviour. They are a real credit to the club and not something all other clubs can say!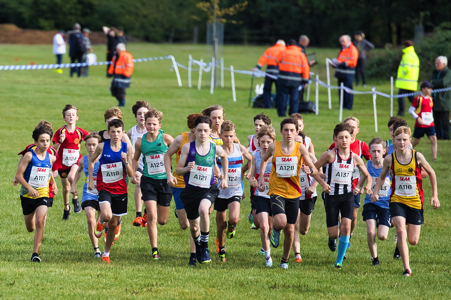 School's Cross Country
This week saw some more of our secondary school athletes take on the first round of the ESAA (English Schools) cup. With a hilly run in Benfleet we are thrilled that the Beagles tenacity shone through. Congratulations to Jude Hearn who took fourth place in the inter boys race and to Olivia Forrest (1st), Missy Tiller (4th), Isabel Forrest (8th), Rosie Quirk (11th) and Millie Cameron (17th) in the inter girls race. Both teams qualified for the next round.
We also saw some great running in Havering – congratulations to Aria Sabado – first in the year 7 girls race, Dean Savery – second in the senior boys race and to Ollie Johnson who followed up his excellent first place in his school cross country, to finish 7th in the district.
Minithon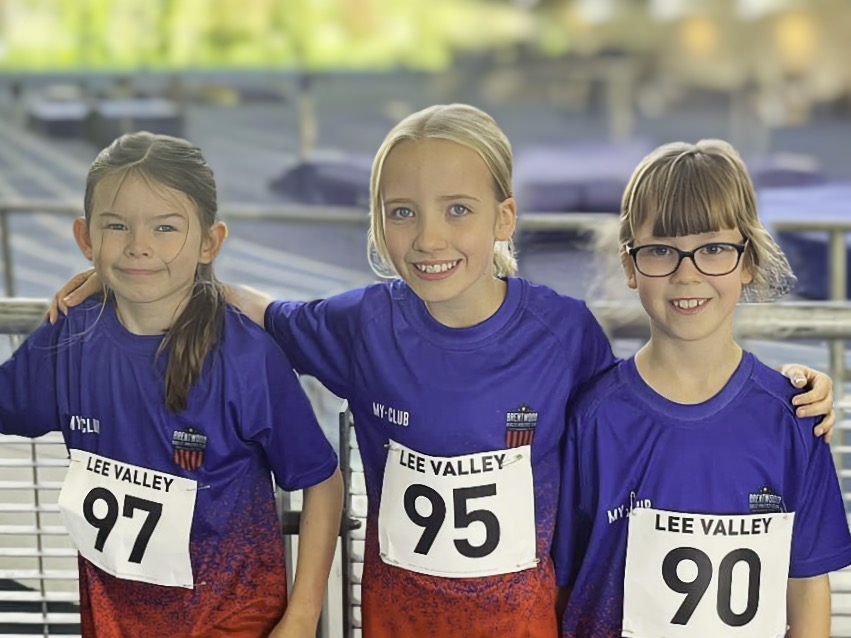 Congratulations to Beagles Christina Lees, Primrose Ox and Libby Adams who attended the Lee Valley Minithon at the weekend. All three girls competed in three events.

Primrose – 60m – 12.25, 200m – 51.15 and Long Jump – 2.21m. Bronze medal!

Christina – 60m – 10.54, 200m – 38.71 and Long Jump – 2.11m. Bronze medal!

Libby – 60m – 10.68, 60m hurdles – 12.82 and Long Jump – 2.75m. Silver medal!

Well done on your amazing performances!
The Lee Valley Minithon is a great first event for our athletes in year 3-7 and the next one takes place on December 9th so do consider signing up! Details will be on Spond.
Parkrun and Junior parkun round up
A wet and windy Saturday morning greeted a number of Beagles out and about at Parkrun. The prize for the furthest runner from home went to Oliver Trevor (23:53), who took part in the Belfast Victoria event. Closer to home, Daniel Smith (21:57 PB) ran well to finish comfortably inside the top 20 at Billericay and improved his fastest time by 17 seconds.
At Chelmsford, Madison Kindler (18:44 PB) was in record breaking form again! A superb 5th place overall, as she extended her own JW10 record by another 9 seconds, now over 30 seconds ahead of the 2nd best. Madison also moved up to 2nd in the overall course age graded best. Congratulations on a great effort.
At Brentwood, Louis King* finished second and ran a new PB (19:50) with Robert Barke (23:44) was another of our juniors to finish inside the top 20. Congratulations to Catie Arrowsmith* who made her parkrun debut (31:43) at Brentwood too. Over at Wickford Memorial, the Brooks brothers were in action. Scott Brooks (19:19) eased into 2nd place while Kurt Brooks (20:57 PB)continues to recover well from injury, finishing 10th. At Raphael, Jemimah Knightbridge* (19:57) made the top 10 and finished 1st female.
Finally, the highest contingent of Beagles was to be found at Thurrock, Orsett Heath. Louis Geater (21:30), Nicole Hawkins (21:49 PB) and Stuart Crowther (23:29) were lead in by Elliot Worth (19:32), taking the #1token by almost 1 minute.
Conditions were much improved on Sunday for the junior Beagles. Madison Kindler (07:22) was back at Chelmsford and took 1st place comfortably, as well as the JW10 best time! Oliver Kindler* (09:20) also ran well, finishing 13th. At Lake Meadows, Sophie Bickerstaff* (08:21 PB) ran well to finish 3rd and 1st female, while at Harrow Lodge, the club was strongly represented with 5 runners dominating at the front. Olivia Forrest (06:35) came in first, with Missy Tiller 2nd (06:59) running well again and matching her PB. Evie Warn (07:15 PB) was not far behind in 4th while just a little further back were Isabel Forrest (07:41) in 6th, and Aria Lily Sabado (08:36) in 9th.
A great turn out at Hutton Rec with 9 Beagles in attendance. Robert Barke (07:58 PB) and Daniel Smith (08:06 PB) tussled for the lead throughout, with Robert just able to open a gap over the final lap. Great runs too from Jamie Murphy (08:25), Dylan Hussain (08:34), Caitlin Phillips* (8:40) Ethan Wilson (09:04), Nora Heidemans (09:43), Joshua Barke*(10:28), Liam Worth (10:38) and Max Wilson (10:54). Ollie Trevor made the most of his weekend in Belfast by taking first place at the Riverside junior parkrun (8:47).
Well done to all our runners this weekend. Note for parents, if your child has an * by their name, please help our editor by adding Brentwood Beagles as their club under their parkrun profile (groups). Feel free to contact us if you need help setting this up.
Coming up
It's round two of the Essex Cross Country League. This time the racing takes place in Basildon at Gloucester Park so please do come along and get involved. If you are in year 5/6 remember that we run a special race for these school year groups – please check Spond and sign up on Roster. If you are U13 upwards then you will also need to sign up on Roster for your races – and you will need to wear a number bib going forwards. Again the link is on Spond!
Remember if you need new spikes for your shoes then please go and see Mark Smith (sprints coach) who has sets available for purchase.