It can be hard to believe how much Beagles activity takes place each week sometimes and then for it to be as immensely impressive as this week was just leaves us speechless. We've had success at every level of our club over the last seven days with numerous medals, personal bests and Championship winning performances. We are so unbelievably proud of all that has been achieved by our athletes and grateful to those who help them – our own coaches and Beagles team but also our Beagles parents who encourage their children and drive them all over the place! This week's news summary is a long one – but well worth the read!
Pope & Smith XC
Starting the week on a high were our Year 5 and 6 athletes who took part in the final cross country race of the Pope & Smith series that had been organised by Chelmsford. A really great course at Writtle and some strong competition is excellent training for these younger athletes.
Many congratulations to Madison Kindler who completed her hat trick of first place finishes coming first again in the year 5 girls race. Second again was Mille White with Grace Lander 10th and Natanya Itola 18th.
In the year 5 boys event Oliver Corcoran narrowly missed out on a medal finishing 4th with Will Fagan 7th.
In the year 6 girls race Ava O'Neal finished 5th and Lily Warren was 13th.
And finally Daniel Smith finished 10th in the year 6 boys race.
Super running by all!
Enfield Schools XC
Elsewhere in schools events, Emily Brewington took the gold medal in the Year 4 Enfield Schools Cross Country Race held at Lee Valley. A brilliant, dominant performance really underlining the impact of Emily's great training recently. Well done. Thanks for sending the photos in!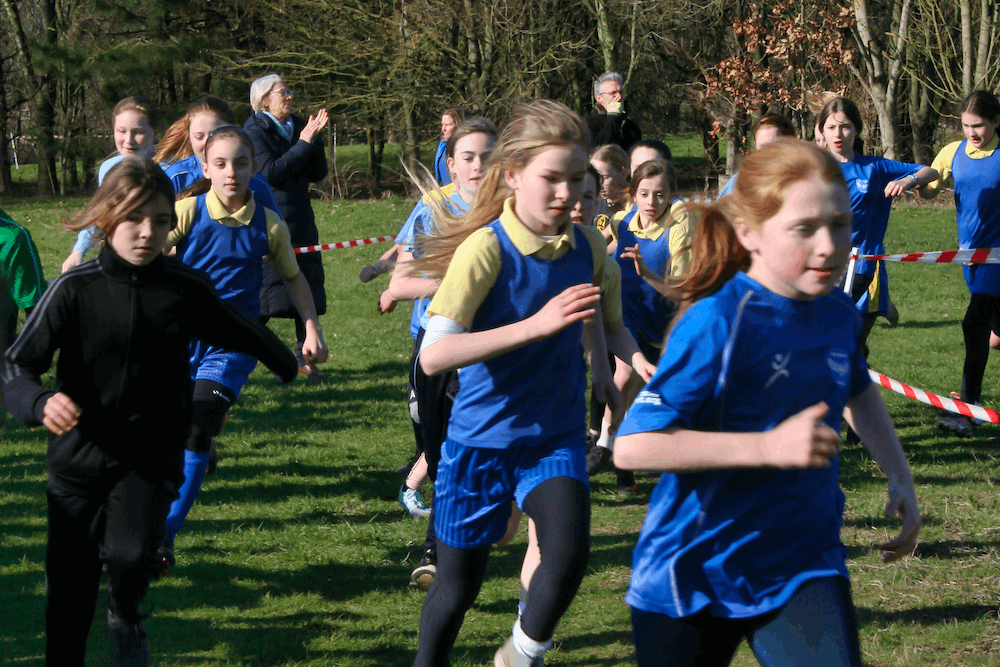 Essex & Eastern Indoor Championships – Day One
The prestigious Essex & Eastern Indoor Championships is the pinnacle of the local indoor competition season with 900 entries from all over the East region over the 2 days. For those unfamiliar with the event – the combined championships mean that Essex medallists can also be Eastern medallists at the same time depending on the entries for each event.
Day one was sprints focused and a real opportunity for our sprint squad to show off all their recent hard work in training.

The 60m U15 girls event was a really strong, hard fought contest. However all three of our entrants came home with new PBs:

Ava Carter 8.59
Honey Peck 8.85
Stephanie Smith 9.20

In the 60m U20 men Heats: Qi Wei was just outside his PB in 7.67 seconds whilst in the 60m Sen men Heats James Gillingham managed a new best time of 7.47 despite a slight stumble out of the blocks.

Finally in the 60m U15 boys Heats, Silva Tyler-Earnshaw made his Beagles debut with a strong 7.53 run easily qualifying for the final as 1st in his heat. In the final Silva finished an amazing 3rd in a new pb of 7.51. Picking up a bronze medal for Essex and the East region.
Five PBs from our athletes and a bronze medal was a great day's work. (Special thanks to Coach Mark for being on photo duty!)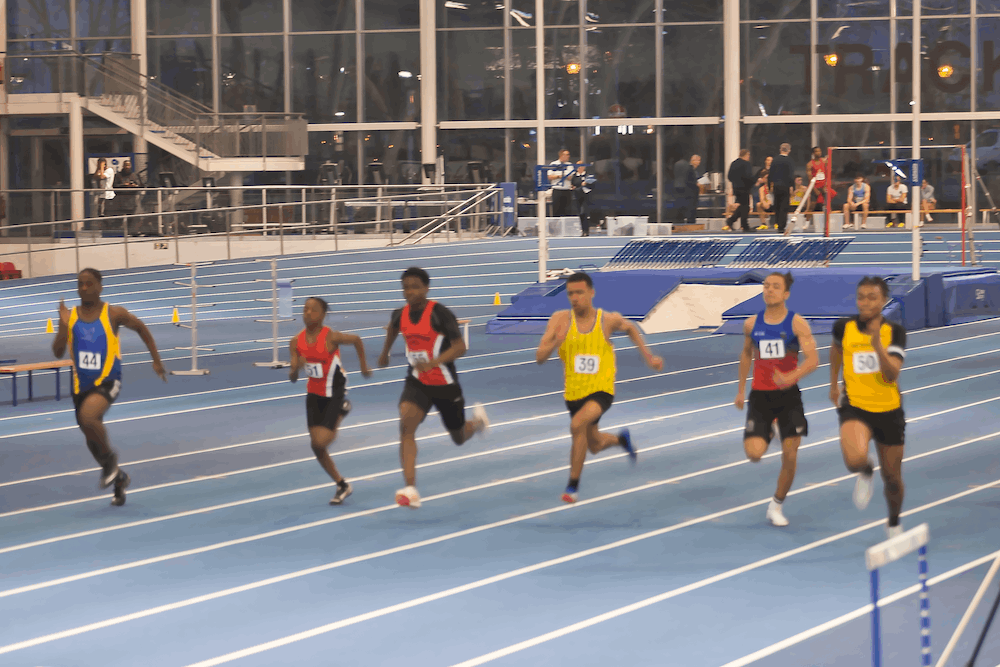 ISA National Cross Country
The ISA national cross country final brings together children from all over the country at Worksop College. Our athletes competed in the (very bright) colours of the East Anglian regional team having qualified locally in February. Congratulations to all four girls who ran:

Lucy Reynolds showed superb commitment in the Year 4 girls 1500m race finishing 73rd in 7:49.

Sophie Halford ran 2700m in the Year 7 girls finishing a superb third (11:45) and taking home the bronze medal.

In the Year 8/9 girls 3k Olivia Forrest finished first by a clear 10 seconds (11:20) crowning her the ISA National XC Champion 2023 whilst Isabel Forrest finished a superb sixth (12:07).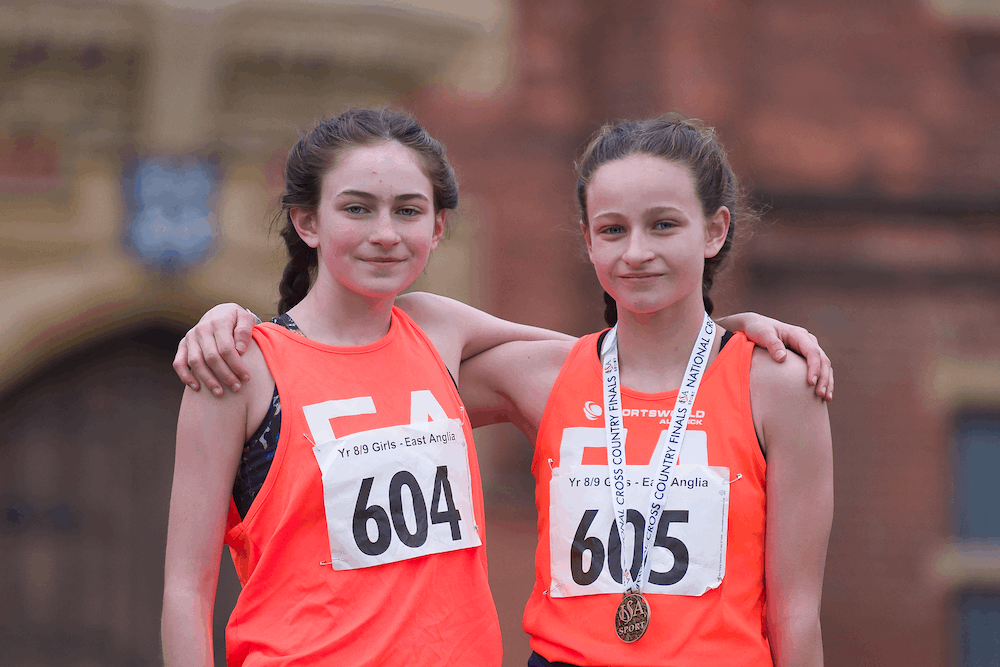 Essex & Eastern Indoor Championships – Day Two (Sprints)
Day two of the Essex and Eastern champs started with a second outing for the sprint squad focusing on the 200m and 300m.

An early start in the first event of the day saw the U15 girls 300m with Nicole Hawkins running a 45.70 PB and qualification for the final. In the final Nicole ran strongly, committing early and holding on despite challenge, to earn a double bronze medal (Essex & Eastern) with another PB of 45.61.
In the U15 200m girls event we had five Beagles on show and all of them ran amazing personal best times:
Ava Carter 28.44
Nicole Hawkins 28.87
Honey Peck 29.05
Stephanie Smith 30.09
Daisy Willingale 30.40

Nicole, Ava and Honey all qualified for the U15 200m semi final. In that semi-final Ava and Honey both ran close to their new PBs which in their first year of U15 bodes well for their Beagles future. Nicole unfortunately had to withdraw from the event with a knee problem.

Elsewhere in the 200m, in the U13 girls race, Sophie Halford also ran a new PB of 31.66 – huge potential for someone who has spent most of the season running long distances.

Finally in the 200m U15 boys event, Lee Boka ran 25.57 and qualified for the final, but withdrew due to illness. Whilst Jake Mitchell scored a new PB of 30.32.

A fabulous day with some 9 PBs from the Beagles sprinters
Essex & Eastern Indoor Championships – Day Two (Middle Distance & Field)
Following on from the plethora of PBs from the sprinters came the turn of the Beagles middle distance athletes to take to the track.

The U15 boys 800m saw Jude Hearn battle against a mid race nose bleed and still bring home a PB in 2.26.47.

The U17 boys 800m saw Louis Geater take more than 27secs off his PB with 2.18.48. Max Sanderson comfortably qualified for the final running close to his PB with 2.03.88.

For the 800m U15 saw Isabel Forrest conclude her busy weekend running close to her indoor pb with 2.39.09. Evie Warn running 2.31.48 PB, and Olivia Forrest 2.25.73 PB securing their route to the final.

First up of the middle distance finals saw Laura Durn run brilliantly to bring home the Essex Gold medal for the Beagles in the Masters 1500m in a personal best time of 5.57.16.

Swiftly followed by Max Sanderson U17 800m Essex Silver medal and another PB in 2.03.06.

Next up was the U15 800m final Evie Warn 2.32.58 just outside of her new PB, and Olivia Forrest who finished third to bring home an Essex and Eastern Counties Bronze medal and PB performance of 2.24.81.

Our sole Field representative was Daisy Willingale who competed in the U15 girls High Jump, clearing 1m 25.

Brilliant Beagles over the course of the weekend brought home 22 PBs, 1 Essex Gold, 1 Essex Silver, and 3 Essex Bronze and 3 Eastern County Bronze medals. An incredibly superb haul!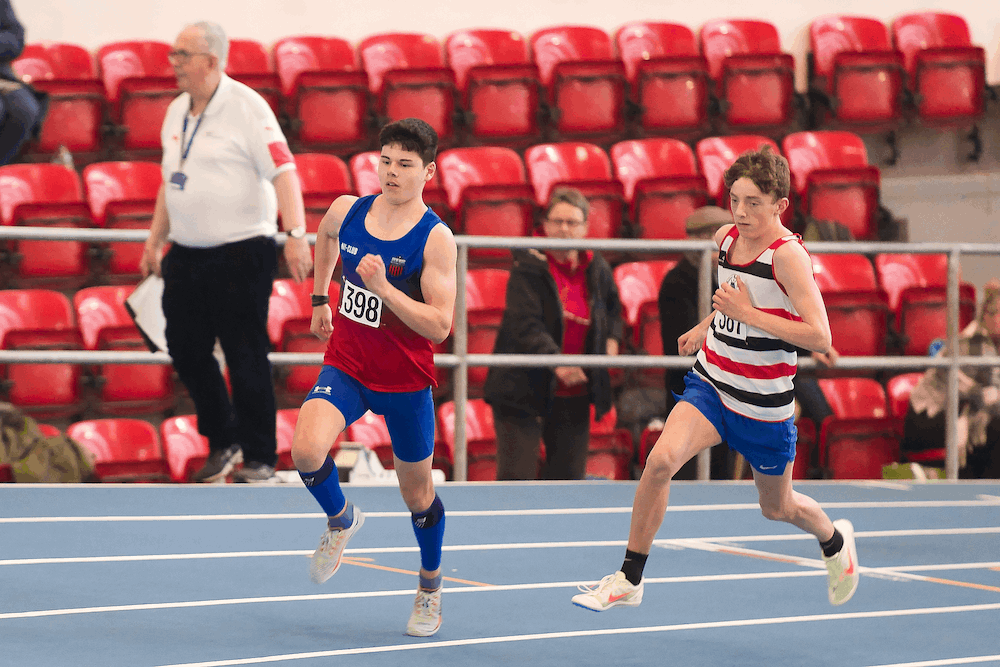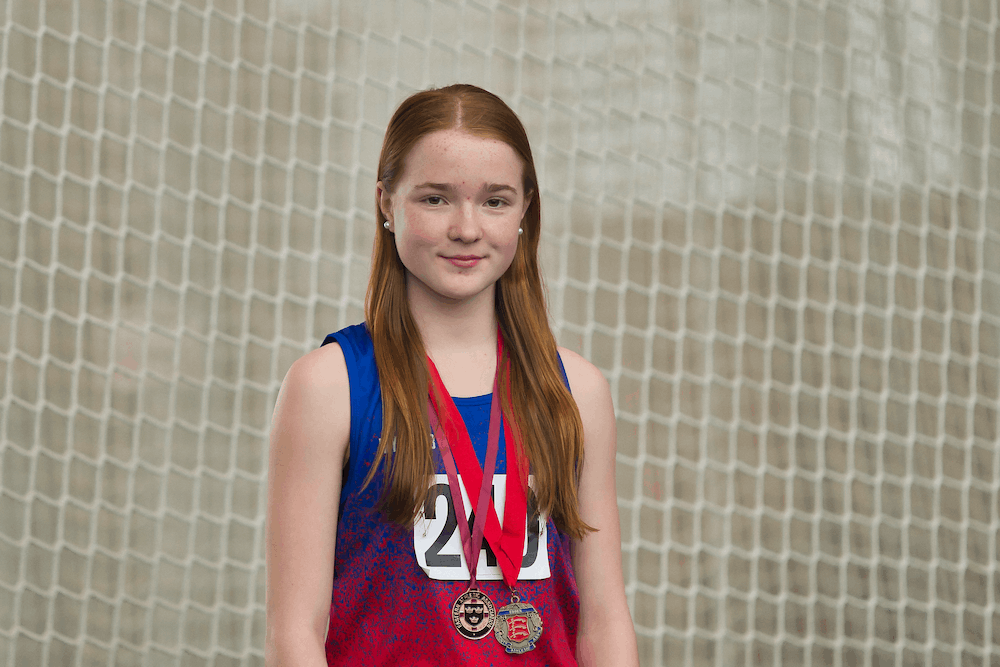 Finally – a very quick note to say a huge thank you to those in the Beagles team who put so much effort into the organisation of the event itself. One of our aims as a club is to play an active role in the Essex athletics community and it's fair to say our club volunteers more than did their bit this weekend with regards to this event. So a big thank you to Vicky Trevor for all she did with registration and results, to Kate Hearn for offering to help on one day – turning up when we were in full on crisis mode and just rolling her sleeves up and getting stuck in and then coming back to help again the next day and to Elaine Forrest for organising the event, registration, results, seeding and not throwing Vicky's useless printer at anyone. Thanks too to the Smith family who did such a great job of managing our Beagles team all weekend.
Chelmsford Half
Congratulations to Kurt Brooks who competed in the Chelmsford half marathon on Sunday. A superb run to finish 40th overall (28th in age group) in a time of 1:26.24. Sara du Plessis also ran at the event finishing 611th (44th in age group) in an also great time of 2:02.48.
Parkrun / Junior parkrun round up
On Saturday we had lots of other Beagles out doing their weekly parkrun! At Brentwood Mattie Delea took home a new PB (21:00) as did Jude Hearn (21:35) who led home his scout troop! Louis King also managed a PB (22:12) with Jasper Jaycock running well (24:34). Allegra Sawkins made her parkrun debut with a good run (26:11) as did sister Scarlett Sawkins (28:25). Over at Raphael parkrun George Ashton was first Beagle home (19:03) with Evie Warn picking up a new PB (20:58) and Emily Brewington continuing her good form (23:07). Elliot Worth was over in Billericay (19:03) and Rob Trevor (21:21) was at Harrow Lodge with Ollie Johnson who took home a new PB (22:43) supported by dad Paul Johnson (22:44).
On Sunday at Harrow Lodge –Emily Brewington led the Beagles home (8:50) with Ezra Gooch also running (11:20). At Lake Meadows Madison Kindler was first girl home (8:05) whilst Sonny Jones picked up a new PB (8:51). Liam Worth ran almost half a minute faster than last week (10:00) and Grace Lander made her parkrun debut (10:23).
Well done everyone!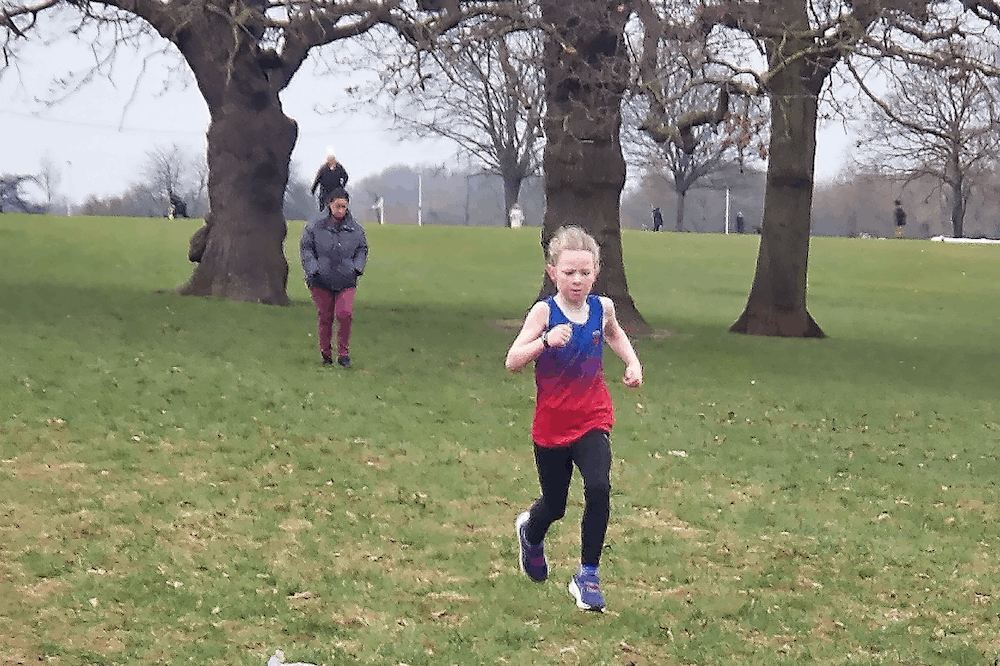 World Book Day
Many of you may have been celebrating World Book Day this week at school. We love a good book at the Beagles and so were really pleased to receive this photo from Ronnie and Joey Marchant who chose to wear their Beagles clothes to school for the day to promote the athletes they've read about in books. Great promotion boys!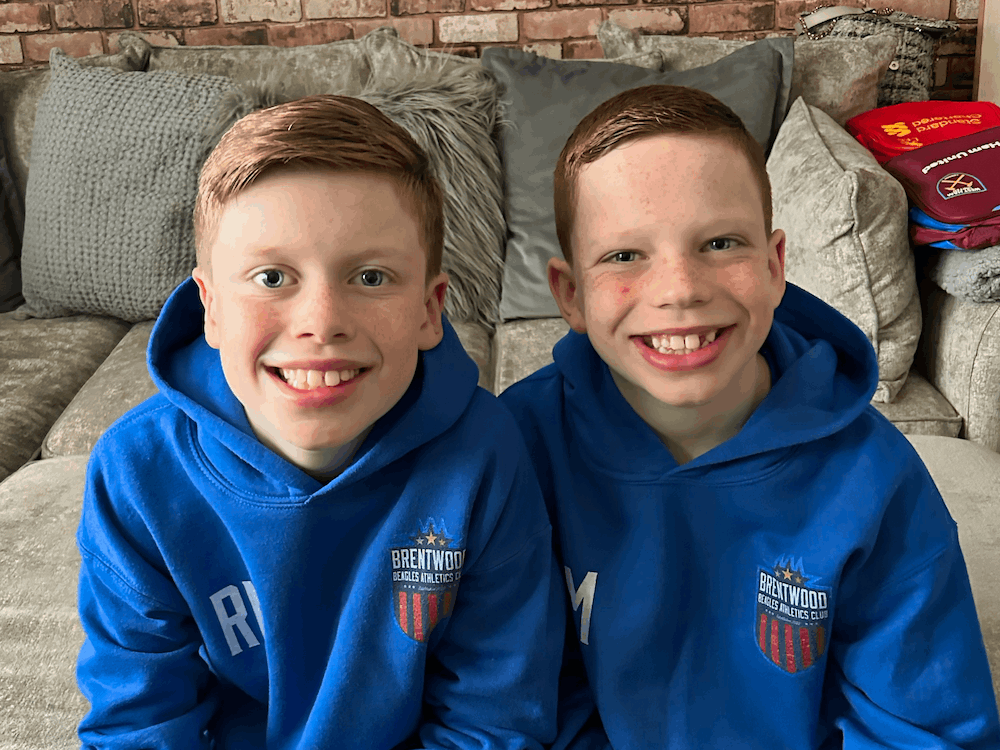 AGM and Awards Evening
Final reminder – our inaugural AGM will be held this Saturday 11th March at 6:30pm in the Brentwood School Sports Centre. Everyone is very welcome to attend and ask any questions they wish of the club. This will be followed by our very first Beagles Awards Evening at 7:15pm and we really do hope you will join us to celebrate some of our brilliant Beagles. If you don't want to attend the AGM, you are very welcome to just come for the Awards part of the evening. We will be finished by 8pm.
Coming Up
As well as our AGM, this weekend several of our Beagles are off to Loughborough to represent Essex in the National Intercounties Cross Country event. Good luck to all of you competing. On Sunday a number of our athletes are back at Lee Valley for the BFTTA open event – please do send us your photos!