We've has great stories of Beagles in action from all over the place this week – school's events, opens, our amazing EYAL results and even European success. This peak summer period is filled with athletics events and news so please do keep sending your stories in – we love to hear them.
Schools events including Basildon District Championships
The Basildon School district championships saw a couple of great Beagle performances – congratulations to Katie Hawkins second in the 1500m and to Nicole Hawkins who became district champion over 800m and in the discus.
Congratulations too to Ollie Johnson who was 1st in the long jump and 2nd in the 1500m at his recent school sports day and was consequently picked for district sports in long jump.
We've also been pleased to hear about some of the Quadkids results filtering through – well done to Ivy Hallam who finished first in her age group and to Bertie Allen who was also in amongst the top boy performances. Nathaniel Milczarek-Palomares finished second in the Yr2 boys event with some strong performances across all four categories.
Horndon on the Hill 10k
Congratulations to Paul Johnson who took on the very popular Horndon on the Hill 10K race on a very hot Sunday! Amazing performance from him to finish 9th in his age category with a personal best time of 43:40
Watford Open
Another successful Wednesday night at the Watford Open for the Beagles who made the most of the 1500m evening.

Congratulations to Max Sanderson on his four second PB – 4:15.35.

Brilliant running to by Louis King – 5:09.15 and Mattie Delea – 4:40.92 – both just marginally outside their PBs.

Thanks Laurence for the photos!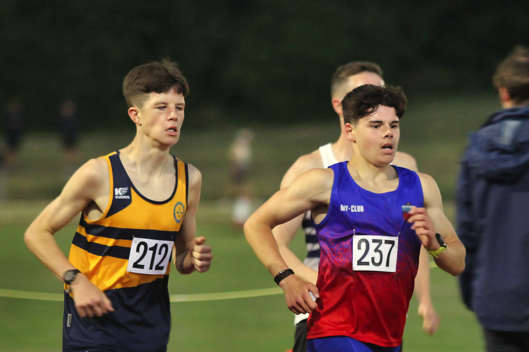 European Biathle Championships
After a busy few days training in Germany, Olivia Forrest competed in the European Biathle (Modern Pentathlon) Championships as a U17 and finished on the top of the podium.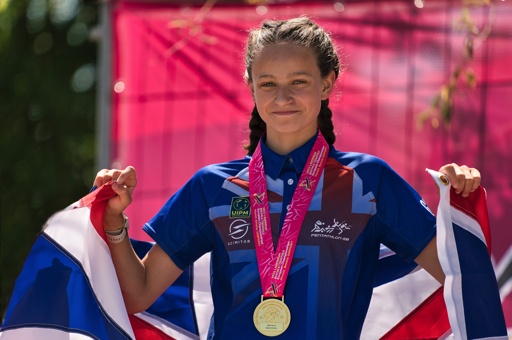 Leading throughout the event Olivia dominated her first 1200m run before completing her 200m open water swim and then finishing off with another 1200m run. She beat athletes from all over Europe with the runner up being 18 seconds behind her at the finish.
Well done Olivia! European Champion 2023!
Brentwood Try a Tri
It was great to see so many of our Beagles take on the new Brentwood Try a Tri initiative – designed to get more local people into triathlon. All participants did the same course / distance and the results aren't separated by age groups so we will simply say congratulations to the following Beagles for having a go and we hoped you enjoyed the experience! Madison Kindler, Mitchell Evans, Oliver Kindler, Sonny Hughes, Emily Brewington and Michael Evans (adult race!).
EYAL
Sunday saw a team of around 40 Beagles represent the club at the latest round of the EYAL (Eastern Young Athletics League) in Chelmsford. With a bigger team than ever before but our usual collaborative and supportive approach to the event, we are thrilled to say that we finished in third position as a club with our highest score to date! Our U15 girls and U17 boys did even better finishing in second place in their specific categories. We are so immensely proud of this achievement given the gaps in our squad and the size of our competitor teams. The next match is coming on 16th July and we would love to keep up the positive performance trend so if you are available to compete please do check Spond for details.
U13 Girls team – We are so proud of our ever growing U13 girls team as their confidence and experience increases at every event which also positively impacts on their performances! Ava O'Neal took a nine second PB in her 800m – 2:50.4 and had good results in the 70m hurdles – 16.3 and 200m – 33.2. Evie Abbott made her Beagles debut and did a great job in the 70m hurdles to finish second with a PB of 13.0, she also got a long jump PB of 3.65m and a 100m PB of 14.4 seconds. Libbie Gordon also jumped her way to a new long jump PB – 2.73m and had great runs in the 100m – 15.3 and 200m – 35.2. Hollie Poyton equalled her 200m PB with her third place finish on 29.5 whilst Sophie Halford managed second place in the B string event with her time of 31.2. Eliza Hobden provided a great sprint finish in the 800m to finish second – 2:42.8, she went one better in the long jump finishing first with 4.04m and gained a new 200m PB of 30.2 seconds. Esme Thomas finished second in the 1500m with her time of 5:48.1 and third in the discus with a PB of 12.14m. Isobel McLennan came third in the high jump with her best jump of 1.20m. Finally the girls relay team – Evie / Hollie / Ava / Sophie – combined efforts to finish in third place!
U15 Girls team – Traditionally one of our strongest teams at the EYAL, the U15 girls continued their amazing form. Ava Carter was third in the 100m – 13.5 – and first in the B string 200m – 27.9. Honey Peck ran just outside her best in the 100m – 14.0, and gained two new PBs – for 75m hurdles – 14.8 seconds and for shot – 6.47m. Daisy Willingale continues to improve in all areas with three new PBs – over 100m – 14.3 seconds, in 300m – 48.5 seconds and in the long jump – 4.13m. Ella Gilder-Briggs finished second in the 200m – 27.0 and gained a new high jump PB of 1.30m. Stephanie Smith finished first in the 300m – 45.4 with Nicole Hawkins doing the same in the B string race – 45.5. Nicole also finished second in the 800m – 2:28.6 and gained a new discus PB to finish second there too – 18.10m. Evie Warn had one of her best ever races with a great second place finish in the B 800m – a new PB of 2:25.6 to boot! Evie also managed a new long jump PB of 3.62m. Alessia Byrd made her Beagles debut with a great 800m run and final straight sprint to gain a new PB of 3:01.4. In the 1500m Olivia Forrest showed her usual event dominance to finish first – 4:39.4 and she showed versatility by also competing in the high jump 1.25m and the 75m hurdles – 16.8 seconds. Isabel Forrest finished second in the 1500m B string race – 5:40.6 and picked up a new javelin PB – 7.73m. Katie Hawkins gained a new PB in the shot to finish second in the B string – 6.03m and also threw well in the discus – 14.11m. Finally an amazing team performance in the relay by Ava / Honey / Ella / Stephanie to finish in second place!
U17 Women's team – It was lovely to see Mara Thomas at her first Beagles EYAL and she excelled herself – a 5:34.9 PB in the 1500m and a 18.25m PB in the javelin meant it was double success for her! Erin Delea was the other half of the team and she also excelled with a PB in the javelin of 19.52m, a PB and first place finish in the discus of 27.79m and a first place finish in the shot with her throw of 9.21m.
U13 Boys team – Our U13 boys team did a brilliant job at picking up points across their events with some great new PB's achieved. Joe Smith finished third in the 100m – 13.9 and then first in the 200m with a new PB of 27.9. Dylan Kenley achieved a great new 1500m PB taking about 50 seconds off his previous time – 5:37.9. Ronnie Marchant did well to finish fourth in both 75m hurdles (13.9) and 100m (16.1). Henry Willingale made his Beagles debut with three great PBs – 200m in 33.4, 2:50.1 in the 800m and 4.67m in the shot. Daniel Smith ran a new 800m PB – 2:52.3 and threw well in the javelin – 10.62m. The combination of Joe / Daniel / Henry / Ronnie finished fifth in the relay.
U15 Boys team – Our U15 boys team had some really dominant performances against the competition and lots of amazing PBs. Most notable the 1500m which saw George Pearce take the win in a PB of 4:35.8 and Mattie Delea ensuring maximum points for the team with his run of 4:41.9. Mattie also gained two new PBs – in the 300m – 43.7 and in the shot – 6.91m. George likewise banked two further PBs – in the long jump – 4.33m and in the javelin – 22.94m. David Wilson did a great job leading the boys Beagles throwing team finishing second with PBs in all three of his events – shot 9.96m, discus – 20.64m and javelin – 25.58m. Joe Poyton ran a new 200m PB – 27.6 and Zac Thomas also got the hat trick of PBs – 200m in 26.7, long jump – 4.42m and 800m – 2.16.4. The boys relay team – Zac, Joe, George and Mattie did a great job to come home in third place.
U17 Men's team – Another great competition for our U17's men team who finished as runners up in their age group. A PB for Israel Shokoya in the 100m of 12.3 and a good run of 25.0 in the 200m. Tobias Maitland got his PB in the 200m – 25.7 with good performances too in the 100m – 12.6 and the long jump – 4.79m. Callum Goodey came second in the 400m with a new PB of 55.8 and ran his 200m in 24.5 with a best long jump of 5.26m. Max Sanderson picked up some good points as first B string in the 400m – 57.4 and second in the 1500m – 4.21.2 as well as achieving a javelin PB of 28.2m. Team Louis took on the 800m – Louis Geater finishing just outside his PB in 2:18.6 and Louis King taking a new PB of 2:23.4. Dean Savery took maximum B string points in the 1500m – 4:39.4 and equalled is high jump PB of 1.65m to finish third. Strong relay performance from Callum / Tobias / Israel / Max to take third place.
Thanks to Laura Durn for additional pictures.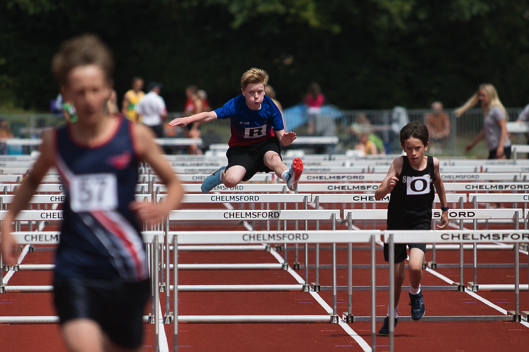 Parkrun / Junior parkrun round up
Parkun Saturday saw some great running by our Beagles. A huge well done to Isobel Larner who ran at Billericay and a gained a great new PB (23:29). Callum Goodey finished sixth at Brentwood (21:37) and the Trevor's made it a family occasion at Harrow Lodge with Rob sixth (19:03), Ollie with a super new PB (23:56) and Vicky enjoying her morning parkwalk (42:55). Over at Raphael's George Ashton continues to build back his fitness (20:04) and Emily Brewington was showing her usual good form (22:42). Over at Chalkwell Parkun, Ollie Johnson ran his second parkrun PB in two weeks (21:20) with dad Paul Johnson right behind him (21:21). Finally at Wickford Memorial parkrun, Laura Durn finished first female with a new course PB (22:39).
On Sunday our juniors were out again in force. At Harrow Lodge, Ethan Wilson was incredibly close to his best (9:26), Ezra Gooch was running well (10:36) and Henley Jeffery gained a new best time (10:57). Over at Hutton Rec juniors, Frankie Edwards finished first and gained a new PB (7:39) and Daniel Smith finished second and within touching distance of his PB (8:22). Our other Ethan Wilson ran well to finish ninth (9:46) with brother Max Wilson just outside his PB (10:36). Good running as always by Nora Heidemans who finished as first female (10:21). A great PB for Bailee Abrahams (11:49) as well.
A reminder – if you could please add Brentwood Beagles AC to your parkrun club list (go into manage your profile) – it does help us spot you in the results!
Coming Up
Good luck to all our athletes who qualified with their school for the ESAA Track and Field Cup final which takes place on Saturday in Chelmsford! We have our own night of the races on Friday night at Brentwood too – please remember to sign up on Roster (link is in Spond) if you are coming and let us know if you need more information.