It's been a big week of competitions for our Beagles with some remarkable PB's, performances, medals and championship winning performances. School athletics season has also started so please do keep us informed about what your athlete has been up to. We would also like to take the opportunity to wish all our athletes doing their GCSE's and A-Levels good luck!
Thames Valley Harriers Open & BMC Races
A first time visit to the Linford Christie Stadium for our club on Wednesday night saw four Beagles enjoying the Thames Valley Harriers Open event which incorporate a number of British Milers Club races

Congratulations to Lianne Esterhuysen – warming up with a 100m in a time of 17.99 before taking on the 800m with a brilliant personal best time of 2:54.05.

Also competing in the 800m was Madison Kindler who led from the front to finish with an excellent personal best time of 2:35.03.

Olivia and Isabel Forrest both competed in the paced BMC 1500m events. Olivia was first up and managed an outdoor seasons best of 4:46.78 whilst Isabel took home a new personal best of 5:08.68.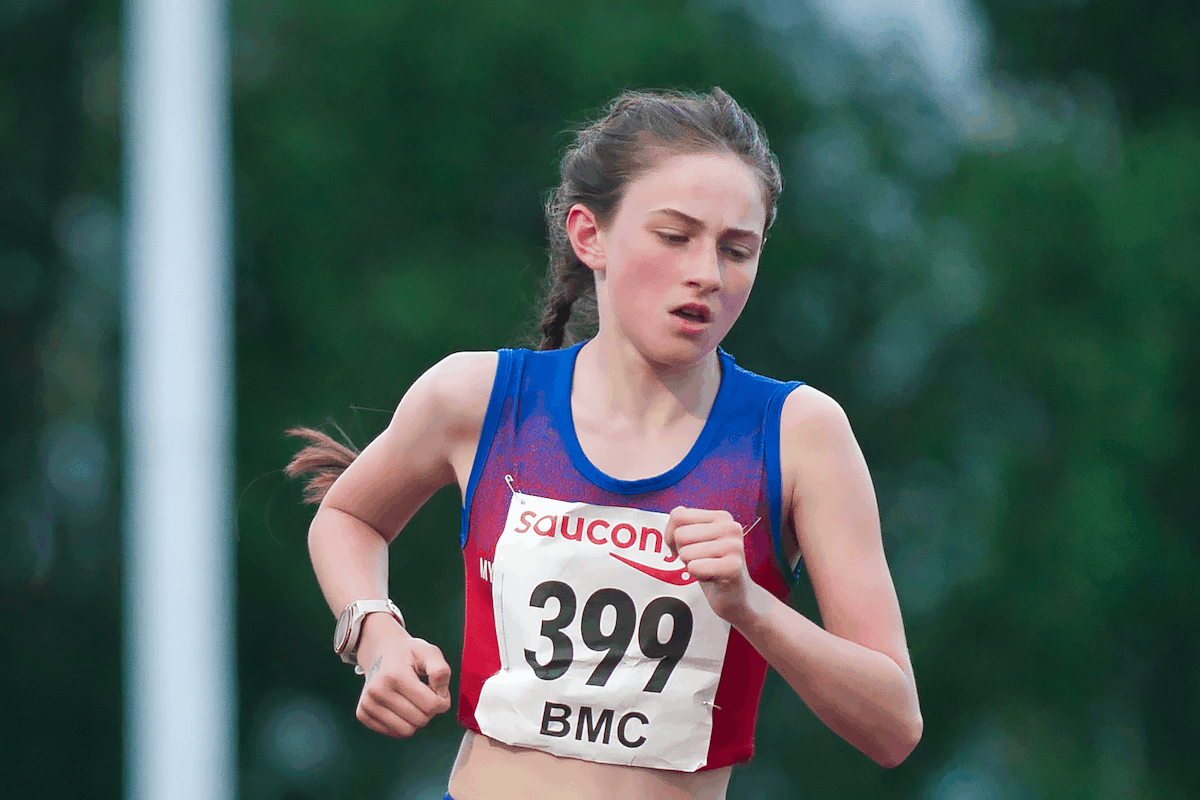 Crown to Crown
The rain at the beginning of the week ensured that the Crown to Crown 5K course was going to be muddy and on the more challenging side on Wednesday, however Stuart Crowther still managed to bag himself a new course PB with a great run of 21:34 to finish 11th overall. Well done Stuart!
Schools News
Thursday saw the MESSA district trials held at our very own Brentwood track – great performances by all the Beagles involved – Mattie Delea, Olivia Forrest, Evie Warn, Ava Carter, Ella Gilder-Briggs, Isabel Forrest, Daisy Willingale, Stephanie Smith, Erin Delea – and probably more we are unaware of! Congratulations to all and particular well done to those who qualified for the Essex finals.
Elsewhere in the schools track and field cup first round, Grace Smith represented her school over 200m and won her intermediate girls heat with a time of 28.3 seconds. And Aisling O'Leary gained two new PBs – 16.55m in javelin and 3:45 in the 800 metres. Well done to both.
Essex Championships – The Boys
Our male athletes showed commitment & saw brilliant personal achievements and PBs to highlight the potential in the squad.

Dean Savery U17 – A strong high jump performance kicked off his championships finishing just shy of his season's best with 1.63m to end up fourth in Essex. On Sunday a very strong start in the 3000m followed by a real dedication to pushing through the pain of the final laps saw him rewarded with a new PB of 9:58.64 & another 4th place finish.

Ronnie Marchant U13 took on three events over the weekend & impressed us all with his commitment and resilience. First up was the 75m hurdles with a PB performance on 17.04 & 7th place in Essex. In the 100m a second PB of 16.13 & in the 200m a third PB of 33.75.

Mattie Delea U15 did the double in the distance events with PBs in both events. First up was a strong run in the 1500m to finish fourth (4:44.89) whilst Sunday saw a brilliant effort in the 3000m to also finish fourth – 10:11.46.

Louis King U17 showed incredible resilience in a tough 1500m to finish 13th in 5:41.90.

Nicky Mulholland U13 showed grit in the 100m with a PB sprint of 14.54 and on Sunday ran strongly to run 29.51 & qualify for the Essex final.

James Gillingham (Sen) sprinted his way through the 100m heats – 11.42 – to qualify for the Essex final where he took fourth place with a seasons best performance of 11.27.

Qi Wei U20 saw two Essex finals over the weekend. In the 100m a fifth place finish & an 11.82 PB. On Sunday Qi qualified for the 200m final with a 24.47 PB with a good run in the final to finish 6th in 24.63.

Ollie Johnson U13 time trial final & ran really well in the 800m & came away with a new PB of 2:42.61 & an 11th place finish.

Jake Mitchell U15 ran well in his 800m to almost match his PB – 2:33.10.

Jude Hearn U15 took two seconds off his PB with his strong 800m run to finish in 2:20.69.

Max Sanderson was sadly suffering from injury so focused all his attention on the 800m finishing his heat in 2:05.97 to qualify for the final.

Finally Lee Boka U15 ran two new PBs in the 200m – in the heat 24.93 & a super final performance of 24.46 to finish 6th.
Essex Championships – The Sprint Girls
The female members of our sprint squad really gave their best over the weekend producing some memorable performances.

Ella Gilder-Briggs U15 had the closest race of the championships in her 200m. Having proved mighty with PBs of 26.92 and 26.41 in the heats and semi finals, she pushed even harder in the final to be part of the only dead heat of the whole weekend – sharing the silver medal position with a super time of 26.39. Ella also made the 100m final ultimately finishing 7th but with 2 PBs along the way – 13.20, 13.31 and a final time of 13.32.

Ava Carter U15 showed her sprint strength too – in the 100m she qualified for the semi final with a run of 13.26 and narrowly missed the final with her time of 13.44. In the 200m, Ava got quicker throughout the day – heat time of 27.59, semi final time of 27.20 and a final time of 27.17 to finish fourth overall.

Honey Peck U15 scored a 100m PB of 13.78 in the heats and went even further in the 200m with a PB in the heats of 28.46 and a PB in the semi final of 28.27.

Stephanie Smith U15 also had a weekend full of PBs – in the 200m she saw good progression from heats to semi final – 28.45 in the first and 28.22 in the latter. In the 300m her heat PB of 45.19 saw her progress to the final where she finished seventh in 46.75.

Also competing over 300 and gaining new PBs, Nicole Hawkins U15 – her heat PB of 44.76 saw her through to the final where she finished 5th in 45.06.

Mirabelle Richter U15 also ran PBs – in the 100m her PB of 13.64 saw her make the semi final where she ran 13.80. In the 200m heats Mirabelle ran another new PB of 28.58.

Ava O'Neal U13 had three great sprint runs over the event – 15.77 in the 100m heats, 32.47 in the 200m heats and a seventh place finish in the 70m hurdles final of 15.91.

Libbie Gordon U13 scored a new PB in the 100m with her run of 14.94 and ran well in the 200m – 33.98.

Such huge potential with our female sprinters but best of all – amazing support for each other throughout the weekend. Well done girls!
Essex Championships – Field and Endurance Girls
And finally to our field and endurance girls where the bulk of the Beagles medals were found this weekend just underlining the strength of our club in these spaces.

Erin Delea U17 – amazing to see her perform this weekend across both of her throws events with well earned medals in each. A superb discus event with a best throw of 26.24 to take the Essex title and a new PB. Followed by an excellent shot throw of 10.16 – another PB and a bronze medal.

Also throwing shot at the weekend was Katie Hawkins U15 who gained a new PB of 5.60 to finish 11th in the final.

Laura Durn (VW) ran sensibly in her 1500m to avoid further aggravation of her injury but still picked up the silver medal with her run of 6:15.39.

Isabel Forrest U15 finished 9th in the 1500m final – 5:12.88 and then picked up the bronze medal in the 3000m with a great new PB of 10:49.84.

Sophie Halford finished second in her U13 girls 800m time trial and 5th overall with a brilliant PB of 2:38.99.

Hollie Poyton was in the other U13 girls 800m time trial – finishing 3rd in that but 4th overall in Essex with a superb PB of 2:33.74.

Evie Warn U15 finished 6th in the 1500m with a PB of 4:58.06. Then on Sunday she ran a wonderful new PB in the 800m of 2:27.33 to qualify for the final finishing 6th in 2:34.44. And making her triple jump debut she finished 5th with a best jump and PB of 7.51.

Finally Olivia Forrest U15 medalled in all three of her events over the weekend. The 1500m saw her narrowly miss out on gold but gain a new PB of 4:42.10 and a silver medal. On Sunday she dominated the 3000m finishing over 20 seconds ahead of second place – a gold medal and time of 10:06.21. Finally, also making a triple jump debut she displayed her hidden talent in this area to make a best jump of 8.28 which awarded her the bronze medal.

Well done to all – amazing results and placings.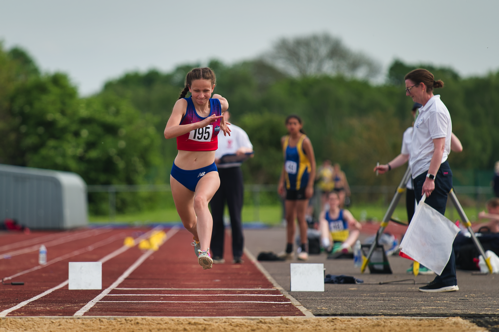 Parkrun / Junior parkrun round up
A busy Saturday elsewhere meant less Beagles out for parkun. Congratulations to Elliot Worth finishing second at Billericay (19:17) and to Nora Heidemans who picked up a new PB at the same course (25:46). At Raphael's parkrun Emily Brewington just missed her PB by a fraction (21:33) whist at Brentwood parkrun Dylan Hussain had a good run to finish 9th (25:17) with Marc and Emma Delea also enjoying the course and their morning run (27:22 and 34:14 respectively).
Sunday's junior parkruns saw a mammoth Beagles turn out and loads of PBs too – well done junior Beagles! At Harrow Lodge junior parkrun Ollie Johnson was first Beagle home with a new PB too (8:04) closely followed by Lianne Esterhuysen who also gained a PB (8:11). George Ebanks made his parkrun debut with a really good run (9:54) and was followed not far behind by Ethan Wilson (9:58). Ezra Gooch continues to run well (10:45), Evie Foley showed great consistency (11:14) and Danél Esterhuysen made her Harrow Lodge debut (11:17). Over at Lake Meadows Madison Kindler scored another new PB (7:29) and Emily Brewington made her course debut (8:18). Oliver Kindler was also running well (9:42).
Finally at Hutton Rec juniors – Frankie Edwards led everybody home with his first course appearance (7:40), Daniel Smith reached the ultra marathon milestone (50 junior parkruns) with a third place finish (8:49) and Amelie Irvine was first girl home with her course debut (8:50). Ethan Wilson ran a great new PB to finish sixth (9:36), with Liam Worth also celebrating his new PB (10:10) and Max Wilson achieving his new best too (10:50). Not to be left out, our girls were also smashing their personal best times. Well done to Bailee Abrahams for her new PB (12:20), Amaia Keskin-Larrea for making her pakrun debut (12:21), to Camilla Nash on her new PB (12:49) and to Aida Keskin-Larrea on her parkrun debut (15:10).
A reminder – if you could please add Brentwood Beagles AC to your parkrun club list (go into manage your profile) – it does help us spot you in the results!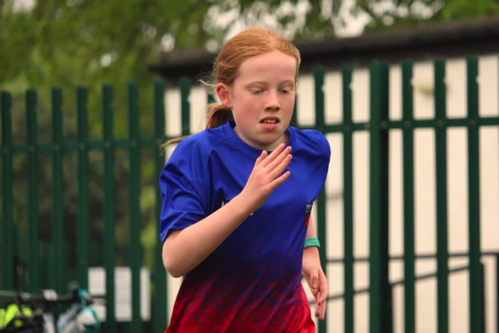 Coming Up
Another busy weekend of action with our next EYAL competition – this time in Basildon. Watford Wednesday is all about the 800 this week. And we also know various secondary schools are in action in the first round of the ESAA Track and Field Championships.