Another hot week temperature wise was matched once again by some amazing fiery performances from our athletes. Once again we saw Beagles on the podium at an Essex Championships – a particular well done to Erin Delea on her schools discus gold medal. We were also treated to an amazing specialist session on race walking by expert coaches, and renowned walkers David Annetts and Stuart Bennett.
Lee Valley Double Sprints
An excellent performance on Wednesday night for James Gillingham who travelled to Lee Valley for their 100m double sprints event. In his first round race James managed a new "recent years" best with a time of 11.17 in wind legal conditions! His second round race was just a fraction outside of that time – 11.18 although the wind had picked up and the run would have been considered wind assisted.
Great performances from James and more to come through the season we are sure!
Southend Half Marathon
Taking a longer route to success, Daniel Jaycock, took part in the Southend half marathon on Sunday. Battling incredibly hot temperatures throughout the run, Daniel finished 32nd overall and 8th in his age group with a time of 1:25.11. Well done Daniel!
Essex Schools Championships
Saturday was an incredibly hot day for the Essex School Championships which took place at Thurrock this year. All the Beagles taking part had been selected by their school district based on their performances at qualifying events – so an incredible achievement to have made it to the start line.
We saw some brilliant times despite the heat – so congratulations to everyone who did get a new personal best. The Beagles also came home with two medals – a gold and a bronze.

In the sprint races:
Junior Girls
100m Ava Carter: H 13.53.
200m Ella Gilder-Briggs: H 26.91: 5th in final 26.67
300m Stephanie Smith: H 44.43 (PB): 5th in final 45.75.

Junior Boys
200m Lee Boka: H 24.78.

In middle distance:
Junior girls
800m Nicole Hawkins H 3rd 2:25.72 (PB). 7th in final 2:36.33
1500m Olivia Forrest – despite a dramatic fall mid race – 3rd 4:53.46.
1500m Katie Hawkins – 13th 6:03.33

Inter Boys
800m Max Sanderson H 5th 2:06.97, Final 7th 2:08.61

Throws (results not yet online):
Discus – Erin Delea – Gold medal!
Javelin – David Wilson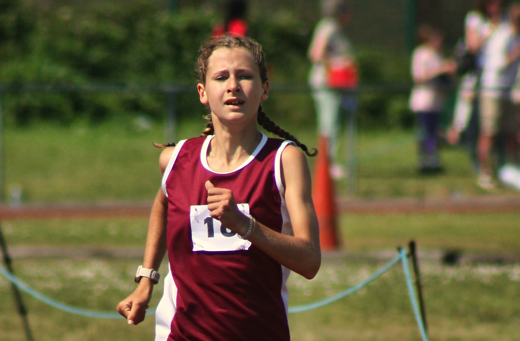 Race Walking Session
On Sunday, we welcomed race walking experts and performance coaches David Annetts and Stuart Bennett to our track for a special session on a unique athletic discipline. Race walking is an event where technique really matters and our athletes were given a masterclass in the various key movements along with many top tips and a run down of the rules. A particular highlight of the session was when everyone worked on their best model walks with bean bags and then cones on their head – we will definitely be repeating that at one of our normal training sessions soon! Just when everyone thought they had made great progress, there was a final race where despite a 30 second head start coach David beat everyone with his amazing race walking skills!
A fun session and we can't wait to put our new skills into practice at some taster events in the local area soon.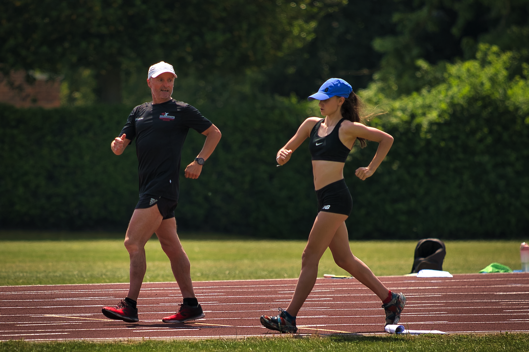 Parkrun / Junior parkrun round up
The hot weekend weather saw less Beagles out doing their weekend parkruns. Elliot Worth headed to Raphaels park and finished fifth (18:47). At Roding Valley, Mattie Delea finished second with a great new PB (19:31) whilst Marc Delea ran well in the middle of the pack (26:55) and Emma Delea enjoyed her run too(35:41). At Brentwood Callum Goodey improved on last week's run (21:48) whilst Louis King ran the summer course for the first time (26:33).
On Sunday the conditions led to some great performances – at Harrow Lodge, Olivia Forrest extended her female course record further with another PB and first place finish (6:39). Ollie Johnson also got a new PB and reached his marathon milestone (7:54). Emily Brewington was a tiny fraction off her PB (8:16) whilst Ezra Gooch ran brilliantly to gain his new best time (9:54), closely followed by Hudson Jeffery with a PB of his own (9:59). Ethan Wilson and Henley Jeffery continues to build their endurance stamina (11:08 and 11:52 respectively), and Isla Johnson once again smiled throughout the morning run (12:17).
At Hutton Rec juniors, it was a Beagles one, two with Frankie Edwards out front (7:57) followed home by Daniel Smith who matched his PB (8:21). Nora Heidemans ran well as usual to finish as second female (10:14), Oscar Booth continued his recent good running (11:03) and Penelope Booth was only marginally outside her best (11:36).
And at Lake Meadows juniors Madison Kindler was first girl home (7:42) with Lianne Esterhuysen just seconds off her best time (8:27). Henry Willingale made his course debut (9:34) as did sister Daisy Willingale (9:44) with Liam Worth just ahead of Daisy (9:42). Oliver Kindler also ran well (9:48) and Danel Esterhusyen managed a new PB (11:19)
A reminder – if you could please add Brentwood Beagles AC to your parkrun club list (go into manage your profile) – it does help us spot you in the results!
Coming Up
A few interesting events this week – the Watford Open and Crown to Crown both take place on Wednesday night and on Friday it's the Essex 5k track championships at Ilford – good luck to Elliot Worth and Jonathan Warner at those.