It's been another week full of athletics action with some incredibly memorable performances and fast finishes. From great PB's in Watford, brilliant 5K off roads and outstanding 5K (and mile) road races and then a weekend at the Southern Championships, the Beagles have really been showing their best!
Crown to Crown
At one of our favourite events – Pitsea Running Club's Crown to crown 5K Ollie Johnson continued to demonstrate his amazing form with a 15th place finish and a time of 20:54. Paul Johnson was not far behind in 21:10 and Stuart Crowther also ran well with a time of 22:48. Well done to all. Just one more event left in the summer series – September 6th at an earlier start of 7pm. Pictures via Pitsea RC.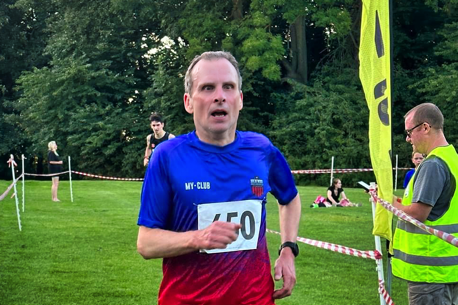 Watford Open
Over in Watford at the bi weekly Watford Harriers Open there was another very successful track night. With an 800 focus for most of the evening Isabel Forrest ran a great new PB of 2:33.67 followed by PB's for Missy Tiller – 2:20.84 and Louis King – 2:20.73. Last up in the 800's – Max Sanderson broke the two minute barrier with a storming run of 1:59.69. Finishing the evening was Olivia Forrest with a 3000m of 9:44.14. A brilliant set of results.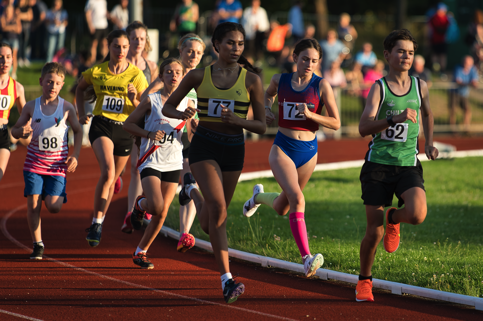 Friday Night 5K and Mile
A lovely Beagles Friday night outing to Colchester tonight for the ATW Friday night 5K and mile which included the Essex 5K Road Championships.

Starting the evening in style with some brilliant results in the mixed age and gender mile race – Missy Tiller finished as first female (5:34) with Madison Kindler taking silver (5:49) and Emily Brewington finishing sixth girl (6:29). On the boys side – Frankie Edwards finished third male (5:48) and Ollie Kindler was 8th male (7:19). Great results and PB's!

The 5K races were run in an assortment of categories based on time and gender. In the men's 19-21 minute race – Reggie Edwards led from start to finish and dominated the run with a great PB (18:03). Also having a great race was Ollie Johnson (19:06) who was also best male of the night in his 11-12 age group. Paul Johnson also ran a new PB (19:52) with Stuart Crowther just behind him (19:58). Frankie Edwards did the double following his earlier mile (20:43).

Next up was the men's 17-19 minute race with a brave run from Dean Savery who went out hard at the start and kept going for a new PB (17.20). Elliot Worth showed good consistent pacing throughout (18:21). Jack Cooper and Mattie Delea ran close together before Jack found a bit of extra pace (18:28) with Mattie still managing a great new PB (18:47).

Finally in the elite women's race Olivia Forrest ran strongly to lead from the start, running most of the race alongside the eventual winner. A great silver medal and new PB (16:53) – equalling the fastest U15 5K road time by a girl in the UK this year. Also running a fantastic PB was Evie Warn who finished 12th overall and 2nd in her age group (18:31). And ensuring a hat trick of female PB's was Isabel Forrest (19:21).

A brilliant night of racing, amazing to see so many Beagles vests and PBs and wonderful to have such a supportive team of parents and friends providing the encouragement!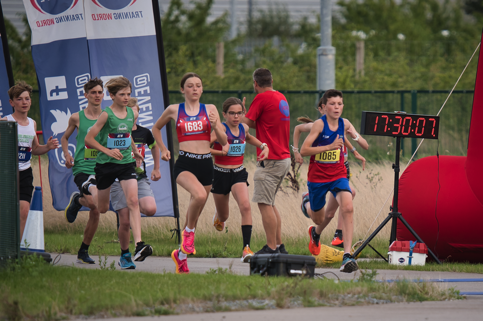 South of England Championships
The South of England Y13/15/17 Championships held at Lee Valley saw some more great results for the Beagles.
Starting Day One off – Jude Hearn had a good run in his 800m heat though outside his best.
Sprint girls Ava Carter and Ella Gilder-Briggs ran well strongly in their 200m heats with Ava narrowly missing out on the semi finals (27.95). Ella's heat time was 27.30 which saw her through to the semi final just missing the final by hundredths of a second with her time of 28.03.
Max Sanderson qualified comfortably for the U17M 1500m final with a time of 4:07.81 looking strong throughout his heat. In his final he made another strong start to his the race demonstrating his clear potential over the distance. A good run in second and third before unfortunately being overtaken in the last 50m. Still a great result to finish 4th with a time almost identical to his heat of 4:07.82.
Isabel Forrest ran well in the U15 girls 1500m just missing out on qualification for the final. Olivia Forrest won her 1500m heat with a new PB (4:36.31) to qualify first for the final. Living up to that potential, Olivia positioned herself well in the final on the first couple of laps to allow her to pass to the front for a storming last 600 metres to finish first with a new PB of 4:29.28 – the fastest U15 girls time by an English athlete this year. Congratulations to the new Champion! Picking up the 1500m title to go along with the 3000m SEAA title she won earlier in the summer.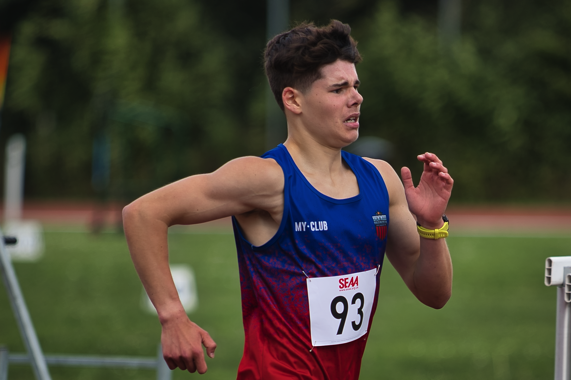 Parkrun / Junior parkrun round up
Despite the Beagles Friday night adventures, we still had a few running a Saturday parkrun. Enjoying their holiday and taking advantage of the local Moors Valley parkun, Matthew Cottee ran his parkrun PB (23:25) with brother Owen Cottee also enjoying his morning run (33:39). At Billericay parkrun Nora Heidemans ran a great new PB (24:33) as did dad Yvo Heidemans (24:34). Also celebrating a new PB at the same event was Izzy Young (25:27) – well done! Finally at Chelmsford parkrun, Oliver Weston-Stokes was close to his best (22:04) with Liam Worth gaining a new PB (23:45) accompanied by dad Elliot (23:45). Great running all!
On Sunday morning we had some more great running. At Lake Meadows, Ollie Johnson continued to show his amazing run of form with yet another PB (7:28). Lianne Esterhuysen was first female (8:25) with Danel Esterhuysen also enjoying her run (11:23).  Congratulations too to Isla Johnson who made her course debut (11:40). Over at Harrow Lodge, Hollie Poyton ran a new PB (7:53) as did Ethan Wilson (9:06). Also running well were Jack Collier (10:18), Evie Foley (10:44), Harry Collier (11:35) and Isla Foley (12:16). Finally at Hutton Rec juniors it was a Beagles one / two with Frankie Edwards (7:18) and Madison Kindler (7:20) both getting new PBs. Robert Barke was fourth (8:15), with Jamie Murphy 7th( 9:07), Ethan Wilson 9th gaining his PB (9:08) closely followed by Ollie Kindler also running a PB (9:13). More great running too from Nora Heidemans (9:55), Liam Worth (9:59) and Max Wilson (10:59).
A reminder – if you could please add Brentwood Beagles AC to your parkrun club list (go into manage your profile) – it does help us spot you in the results!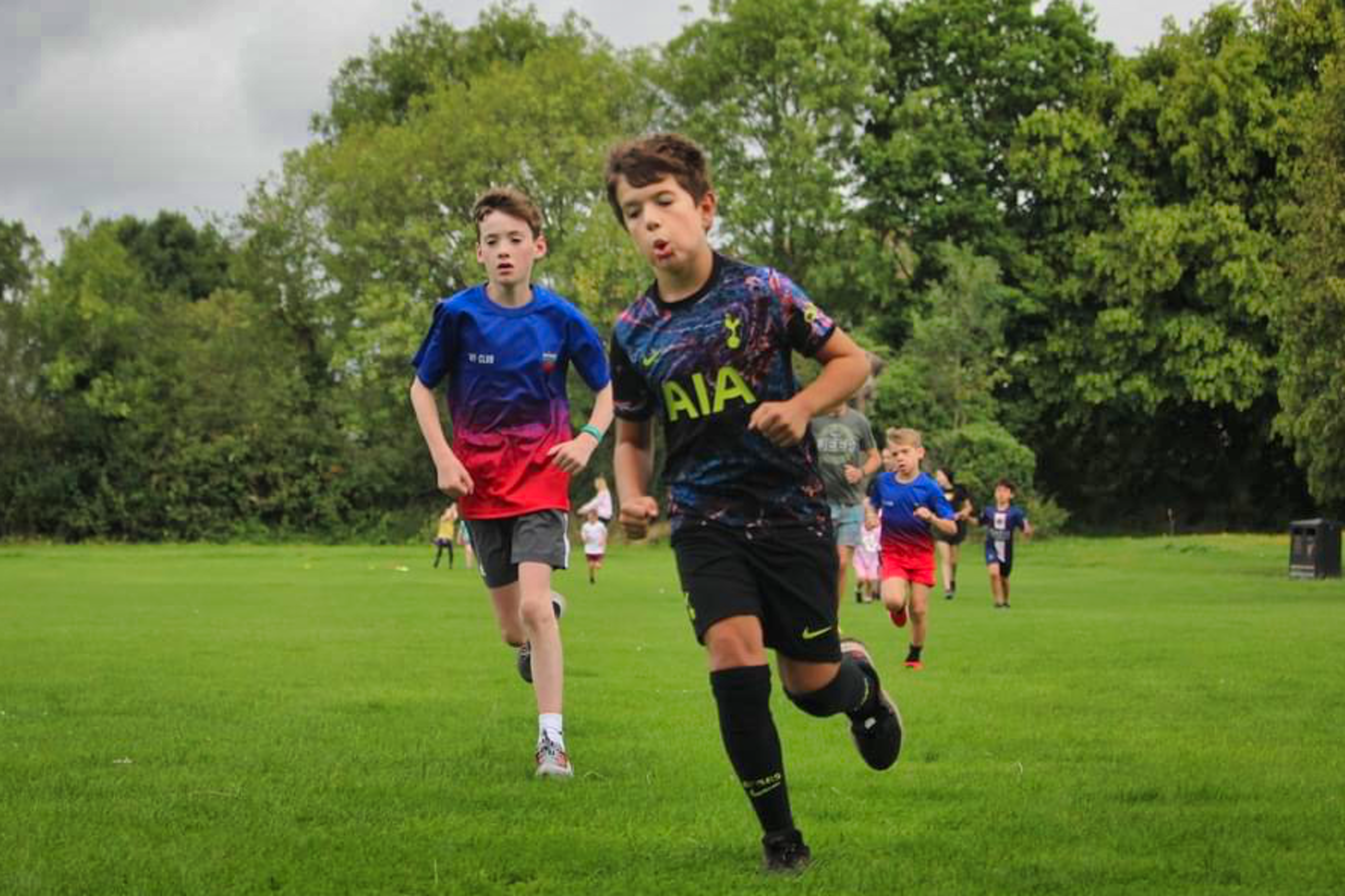 Coming Up
A marginally calmer week to look forward too but still lots of great open events. Wednesday night sees a Lee Valley sprints evening with several of our sprint squad competing. Elsewhere at Eltham the BMC are hosting another round of regional races for middle distance. On Friday night we have our own licensed night of the races event and are hoping that home turf leads to great times!