This week saw the end of our EYAL season as we hosted the final fixture of the league. Well done to all who competed. As the final track events of the season take place over the next few weeks, the early signs of cross country season are emerging – some dates for your diary below.
BMC Regional Races and Thames Valley Harriers Open
The British Milers Club is the leading middle distance race organiser in the country with events around the country designed to bring together the best runners in order to push for new personal best times. On Wednesday night Olivia Forrest took advantage of their event at the Linford Christie Stadium to take on her her least preferred distance – the 800m. Taking four seconds off her PB and finishing second in her race it was a great performance. New best time – 2:16.44.

Also in attendance and taking advantage of the Thames Valley Harriers Open event, Stephanie Smith waited until the last event of the night to storm to victory in her 200m against a headwind to finish in 28.26. Well done!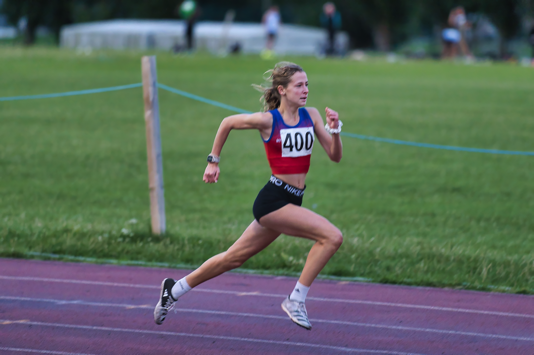 Ealing Mile
On Friday three of our Beagles took advantage of the school holidays to travel to Ealing and take part in their monthly road mile event.

Olivia Forrest already held the course record but took a further 12 seconds off that time to win the race and finish in 4:58. The fastest recorded U15 female road mile ever run by a UK athlete.

Second female was Isabel Forrest with a new PB of 5:39. Also running brilliantly and gaining her new PB was Madison Kindler with a time of 5:51.

A dominant Beagles performance!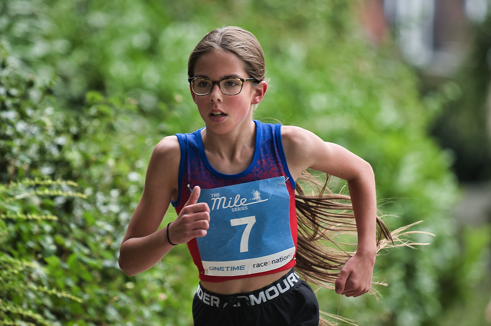 EYAL Round Five
The final round of our first official EYAL season ended with us hosting the event at Basildon. With a team very much hit by holidays, it wasn't our most successful event of the year as a team but we still saw brilliant individual performances with 31 personal bests being achieved. Well done to everyone who took part and a massive thank you to so many different people who rolled their sleeves up and helped us put the event on – we really couldn't have done it without you.
U13 Girls:
Katie Lowe – 100m PB – 13.9, 200m PB – 30.2
Evie Abbott – 100m PB – 14.0, 70M Hurdles PB – 12.8, Long jump – 3m
Hollie Poyton – 200m – 29.7, 800m – 2:33.8, Long jump – 4.07m – equal PB
Robyn Colyer – 800m – 2:58.6, Javelin 13.07 PB, Long jump – 3.91m
Megan Morgan – 100m – 14.8 PB, 200m – 31.9 PB
Izzy Young – 100m – 16.4, 200m – 34.8 equal PB
Relay – Hollie / Evie / Izzy / Megan – 61.1
U13 Boys:
Tobi Oluseye – 100m PB – 13.6, 200m PB 26.9
Timi Oluseye – 100m PB – 14.0, 200m PB – 28.8
Ronnie Marchant – 100m – 15.5 – equal PB, 75m hurdles – 17.8
Ollie Johnson – 800m – 2:41.7, Shot – 4.57m
Matthew Cottee – 800m – 2:54.5, High jump – 1.20m, Long jump – 3.51m PB
Daniel Smith – 1500m – 5:31.8 PB, Javelin – 12.10m
Relay – Timi / Tobi / Ronnie / Ollie – 59.4
U15 Girls:
Ava Carter – 100m – 13.4, 200m – 27.3
Mirabelle Richter – 100m – 13.7, 200m – 28.6
Daisy Middlemiss – 100m – 14.4 PB, 200m – 30.6 PB
Megan Collett – 100m – 14.4, Long Jump – 3.98m
Stephanie Smith – 300m – 44.7, High Jump – 1.25m equal PB
Ella Gilder-Briggs – 200m – 26.6, 300m – 44.2 PB, High Jump – 1.35m PB
Olivia Forrest – 800m – 2.17.7, Discus – 11m, Javelin – 7..81m
Evie Warn – 800m – 2:24.7 PB
Isabel Forrest – 1500m – 5:09.4, Shot – 4.47 PB. Javelin 8.11 PB
Relay – Ava / Ella / Stephanie / Mirabelle – 54.1
U15 Boys:
Charlie Lingley – 100m – 15.0, 200m – 32.3, Long Jump – 3.29 PB
Mattie Delea – 200m – 29.8, 1500m – 4:37.7, Shot – 6.36m
David Wilson – Discus – 21m, Javelin – 29.97m
U17 Girls:
Erin Delea – Shot – 9.43m, Discus – 30.63m PB, Javelin – 22.45m PB
U17 Men:
Tobias Maitland – 100m – 12.3, 200m – 25.1 PB, Long jump – 4.64m
Dean Savery – 1500m – 4:24.1 PB, High jump – 1.65m equal PB, Javelin – 8.17m
Louis King – 1500m – 5:07.2, Discus – 13.25 PB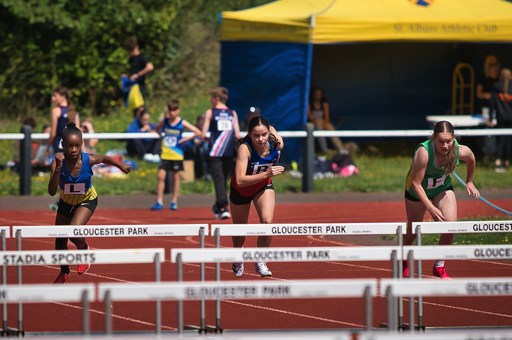 Parkrun / Junior parkrun round up
Well done to all who braved the miserable Saturday weather for a parkrun this weekend. Elliot Worth was at Brentwood and finished 7th (20:24) just ahead of Evie Warn who was first female and got a new PB (20:46). Stuart Crowther was also running well at the same event (22:04), Daniel Smith running a new PB (28:10) and Laura Durn supporting (28:11). At the Eden Project two different Beagles were randomly in the same place! Congratulations to Missy Tiller who finished as first female with a new PB (20:06) and Emily Brewington also running brilliantly (23:03). At Billericay Ollie Johnson finished fourth (20:30) and left dad Paul Johnson in his wake (20:46). Cameron Young also got a new PB at the same event (21:31).
Better weather for our juniors on Sunday thankfully! At Harrow Lodge Ezra Gooch ran a great new PB (9:36) as did Evie Foley (9:51). At Lake Meadows Liam Worth had a good run as sole Beagle (9:48). At Hutton Rec Madison Kindler finished first with a new PB (7:28) and Robert Barke was 4th (8:18). Also enjoying their Sunday runs were Ethan Wilson (9:57), Nora Heidemans (10:27), Joshua Barke (11:08) and Max Wilson (11:21).
A reminder – if you could please add Brentwood Beagles AC to your parkrun club list (go into manage your profile) – it does help us spot you in the results!
A quick guide to age groups!
We know that it can be quite confusing to understand the age groups for the various different athletics disciplines so we have set out below the differences.
In cross country your age for the season is taken as of 31st August 2023. So if you are 11 or 12 on the 31st August 2023 you are a U13 for the entire cross country season but you do not become eligible to compete in cross country if you turn 11 after that date – you would need to wait until next season.
U13 – 11 / 12 on 31st August 2023
U15 – 13 / 14 on 31st August 2023
U17 – 15 / 16 on 31st August 2023
Junior men / women – 17 / 18 / 19 on 31st August 2023
Senior men / women – age exceeding 20 on 31st August 2023.
Please note some competitions, such as schools events, may have different criteria so please do always check before entering. We hope to run some specific cross country events this season for those in year 5 and 6 so please do keep an eye out for those.
On track – your age for the season is as of 31st August 2024. Please note the new track season ages apply from 1st October the date deemed to be the end of the summer season. So if you turn 11 on 29th August 2024 you are an U13 on track from October and if you enter any indoor races after that time you should enter as a U13.
U13 – 11 / 12 on 31st August 2024
U15 – 13 / 14 on 31st August 2024
U17 – 15 / 16 on 31st August 2024
U20 – 17 / 18 / 19 on 31st August 2024
Senior men / women – on 31st August 2024
If you have any questions then please ask us and we will help!
Relay events
A number of cross country events have now been announced with the first two events of the season being relays. If you are keen to be part of a relay team please email elaine@beagles.org.uk with your name, age group and event so that we can pull teams together. More details for all events will be on Spond.
Essex Cross Country Relays – Weald Park, Brentwood – September 16th
SEAA 6/4/3 Road Relays – Aldershot – September 23rd
Coming Up
The biweekly Watford Open is on this Wednesday with 800s and the 3000 on offer with the Crown to Crown event also taking place. Friday night will involve a number of our athletes travelling to Colchester for the Essex 5k road championships and a one mile race. This weekend also sees a number of our athlete competing in the South of England championships. Good luck to all!