It was lovely to see so many Beagles out on Saturday morning at the Brentwood parkrun – with amazing performances and another display of team support as well. This time of year sees lots of schools start their cross country programmes – do let us know how your athlete is getting on as results can be hard to find!
Brentwood parkrun takeover
A sunny Weald Park greeted a fantastic Beagles turnout (41 runners, 20 PBs!) as we quite literally took over Brentwood Parkrun. Countless brilliant performances all round but special mention to 3 of our runners who broke age category records. First off, huge congratulations to Madison Kindler (19:53 PB) who broke the all-time age-graded record at Brentwood, previously set in 2020, scoring 85.83% set in 2020. This is an astonishing performance given the 360 events and 45,000+ finishers who have attempted the course since the Parkrun began in 2014. Madison finished 11th, shattering her existing JW10 record by 2 minutes 20 seconds! Max Sanderson (17:18 PB) crushed the JM15-17 record by 63 seconds and finished 2nd overall. Olivia Forrest (18:25 PB), 4th, broke her own JW11-14 best and was just 5 seconds outside the female course record of 18:20 set by Lauren Deadman back in 2017.
Preston Taylor (17:25) finished 3rd, just a few seconds behind Max making a highly impressive debut on the tough cross-country course. Jude Hearn (19:06 PB), came 5th while showing great maturity and grit, Evie Warn (19:31 PB) ran a perfectly paced effort to place 6th.
A constant procession of blue & red tops then saw Matthew Delea (19:45 PB) come 8th, Louis Geater (20:47 PB) 15th, fast finishing Missy Tiller (20:58 PB) 16th, Frankie Edwards (21:22) 19th, Ollie Johnson (21:51 PB) 24th, Robert Barke (22:23 PB) 29th, Daniel Smith (22:50 PB) 33rd, Hugo Wilks (22:57) 36th, Max Massarella (22:59) 38th, Matthew Cottee (23:00 PB) 39th, Lianne Esterhuysen (23:02) 40th, Will Fagan (23:30 PB) 46th, Theo Hughes (23:56 PB) 51st, Hollie Poyton (24:13) 57th, Emily Brewington (24:34 PB) 64th, Allegra Sawkins (24:49 PB), 67th, Oliver Trevor (25:01 PB) 71st, Daisy O'Connor (25:43) 84th, Oliver Kindler (26:36) 90th and Erin Delea (27:05 PB) 95th. Stephanie Smith (27:06 PB) demonstrated her sprint prowess taking several places in the home stretch to come 96th, just ahead of Ella Fagan (27:09) in 97th. Ava Carter (27:28), Scarlett Sawkins (29:12), Lola Massarela (30:14), Owen Cottee (34:22) and Oliver Jones (39:41) completed the Beagles junior finishers.
Our senior runners had a strong contingent out as well; lead in by 7th placed Elliot Worth (19:34), Scott Brooks (19:46) just behind in 9th, Dan Jaycock (20:14) 12th, Laura Durn (23:07 PB) 41st, Stuart Crowther (23:16) 43rd, Kurt Brooks (23:55) 50th, Lorraine Massarella (24:33) 63rd and Daniel Esterhuysen (25:36) 81st.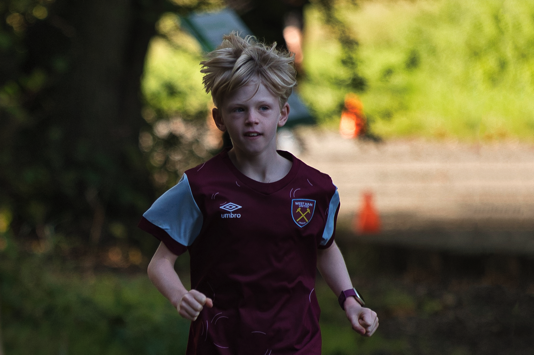 Schools XC Succcess
Congratulations to everyone who ran at the Lee Valley Schools cross country on Wednesday and to those parents who have shared results. We are sure more Beagles ran so apologies if we missed you!
Jude Hearn (Yr9) finished third in this race ensuring gold for his school team.
Aria Sabado (Yr7) finished fifth in her race also helping her team to gold.
Nicole Hawkins (Yr9) finished 14th.
Eliza Hobden (Yr8) finished 17th.
Katie Hawkins (Yr9) finished 32nd
Daisy Middlemiss (Yr9) finished 34th
Congratulations as well to Damon Ford for an amazing run at his school cross country where he finished first.
And it was also lovely to see some of our Brentwood School Beagles acting as hares at the Brentwood prep school races. Well done Hollie Poyton and Oliver Weston Stokes.
Parkrun and Junior parkun round up
Despite the huge turnout at Brentwood, we had other runners also performing well. A great run by William Gazzard (17:13 PB) saw him take home 1st place at Raphael, with Jemimah Knightbridge (19:35) finishing 2nd female in 11th. Finally, at Chelmsford, Dylan Hussain (23:51) finished inside the top 150 from a huge field of nearly 800 runners.
On Sunday we had a number of juniors out representing the club, carrying on where they left off on Saturday. Madison Kindler (06:58 PB) capped off a great 2 days with a sub 7-minute run at Lake Meadows, breaking a 2nd age graded course record (88.66%) of the weekend! Her time also extends her JW10 record to 25 seconds. Lianne Esterhuysen (08:13) finished 7th with Oliver Kindler (09:06) not far behind in 11th. In 20th was Liam Worth (09:59). Over in Hutton, after 2 weeks off 1-2's we had a 1-2-3 of finishers! Frankie Edwards (07:34), Daniel Smith (08:42) and Jamie Murphy (09:03) taking the podium places. 1st Female went to Nora Heidemans (09:37), with Joshua Barker (10:32) the next Beagle in, coming 16th.
At Harrow Lodge, the Beagles went one better with a 1-2-3-4 set of finishers! Olivia Forrest (06:25), Missy Tiller (06:59), Isabel Forrest (07:15 PB) and Ollie Johnson (07:19 PB) taking the honours. That wasn't the end of it though with Oliver Trevor (08:08 PB) running well into 6th, Aria Lily Sabado (08:32 PB) coming 10th, Emily Brewington (09:50) 22nd and Ezra-Zion Gooch (09:56) 23rd. Finally, to end a very busy weekend of parkrunning, at Chelmsford Oliver Weston-Stokes (08:02) finished 3rd, just 3 seconds outside his PB.
Remember to contact us if you need help setting up your parkrun profile to represent the club.
Coming up
Three exciting events next weekend – good luck to Stuart Crowther who is taking on the Tiptree 10 event on Sunday. On Saturday our U15 boys and girls are in Birmingham for the national road relays and a number of Beagles are competing at the first round of the Sports Hall events in Chelmsford. Good luck to all! Please send us your photos!