Another week of brilliant cross country challenges with a little paddling for our Beagles underlining why the XC season really is a unique and wonderful thing! It has also been a great week for Team Beagles who have been receiving recognition on behalf of the club for the progress and achievements over the last year.
Eastern XC

Another weekend and another amazing cross country course with some brilliant Beagles performances. This time we were in Horseheath, Cambridge for the Eastern XC. A challenging, hilly course which includes a run through a lake!

First up for the day was Frankie Edwards running strongly in the 3km U13 boys race with a great tenth place finish in 12:12.

Our U15 girls once again showed their strength taking the overall team award over the 4k course following brilliant performances from the ever dominant Olivia Forrest – 1st (13:47), total determination by Evie Warn to take 3rd (14:36), committed running by Missy Tiller in 6th (15:39) and amazing resilience by Isabel Forrest who made it to the finish line in 12th despite a sprained ankle (16:50).

The U15 boys, race also over 4km, featured Jude Hearn at his best sticking with the front runners and finishing just outside the medals in 4th (13:30).

In the senior men's category, Elliot Worth did three laps through the lake in his 12km course. Describing the course as "very tough" he did a great job to finish 5th in his age group – 49:38.

Finally the U17 men ran 6km with Max Sanderson also sticking with the front runners and giving his all to finish 6th (time to be confirmed) and Louis King once again underlying his continued progress and running really well (position and time to be confirmed).

Well done again to all – another brilliant set of cross country performances.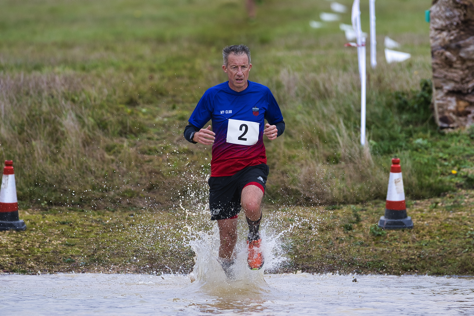 England Athletics East Region Awards
Saturday evening saw several members of the Beagles committee attend the England Athletics East Region Volunteer Awards held in Bury St Edmunds. With the club nominated in four categories it was a great achieved to be recognised and to be able to celebrate all that we have achieved over the last year. Congratulations to Paul Forrest, runner up in the coach of the year category, to Mark Smith, runner up in the newcomer to volunteering category and to everyone at the club for being runner up in club of the year. Well done to Elaine Forrest who won the category of club leader of the year.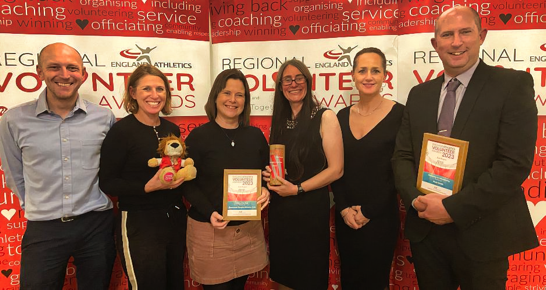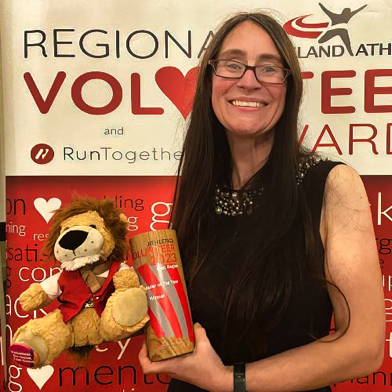 Thank you to everyone who nominated their coach or club – we really do appreciate your support. For the full citations and more information on the awards read the full article here
ESAA Regional Round (Again!)
As reported last week the regional round of the English Schools cup competition took place at Southend on Saturday 12th November. With no official information last week we are pleased to now congratulate everyone who ran so well:
Junior Boys – Frankie Edwards 13th, Daniel Smith 40th
Intermediate Boys – Jude Hearn 3rd, Zac Thomas 4th, Charlie Eagle 33rd
Senior Boys – Dean Savery 10th
Junior Girls – Sophie Halford 17th, Aria Sabado 22nd, Esme Thomas 24th, Caitlin Phillips 32nd, Eliza Hobden 42nd
Intermediate Girls – Missy Tiller 3rd, Isabel Forrest 8th, Stephanie Smith 16th, Aisling O'Leary 19th, Ellie Gray 20th, Millie Cameron 25th, Daisy Middlemiss 39th
Senior Girls – Jemimah Knightbridge 9th
Well done all!
Other Schools news
Congratulations to Nicole and Katie Hawkins who finished the Basildon district XC is first and second position. It's also been great to hear of some early indoor schools events at Lee Valley – well done to Stephanie Smith on her 300m at 44.86 seconds.
A reminder that school event information is very hard for us to come across so if you are competing please let us know how you get on!
Parkrun and Junior parkun round up
We had several runners out and about local parkrun events on Saturday, despite a wet and windy morning. At Raphael, Emily Brewington (24:18) ran well, finishing 60th in her 60th 5k event! Over at Harrow Lodge, Lianne Esterhuysen (22:16)put in an excellent performance (supported by coach Rob Trevor) to finish 1st female, and 5th overall, fantastic running! Well done too to Daniel Esterhuysen who continues to improve his own running and made his course debut (26:28).
At Wickford Memorial, Scott Brooks (18:07) continued his fine run of form coming into the Valencia marathon, notching up another 1st and finishing 90 seconds clear of 2nd place! Sophie Bickerstaff (22:41) ran at Billericay and impressed again, finishing 1st female by over 2 minutes, while Hugo Wilks* (23:26) also did well.
A number of Beagles were at Brentwood in muddy conditions. Matthew Delea (20:52) was first of 5 to finish, taking 2nd place with Stuart Crowther (21:44)running well into 4th. Making her debut on the course in 8th was Ellie Gray (22:52) while less than a minute behind was Daniel Smith (23:41). Further back, Phil Price (33:19) enjoyed a leisurely run with his dog!
On Sunday, slightly drier conditions meant a good turnout at local junior events. We had a great showing of Beagles at Hutton Rec, all doing well to finish on a windy morning. Robert Barke (09:02) took 2nd while finishing 3rd and 4th respectively were Jamie Murphy (09:18) and Ethan Wilson (09:41). Nora Heidemans (09:51) was first female and finished 6th overall while not far behind her were Rafe Matthews * (10:41), Jude Matthews * (10:49), and Joshua Barke (10:54). Also in attendance were Chloe Thomson* (11:25), Joshua Thomson* (11:39), Jessica Thomson* (11:42), Bailee Abrahams* (11:48), Max Wilson (11:57) and Nadia Price (17:13).
At Harrow Lodge, Olivia Forrest (06:46) had to settle for a rare 2nd place behind an extremely quick first male finisher; in 3rd was Missy Tiller (07:14) with Ollie Johnson (07:44) not far behind in 4th. Aria Lily Sabado (08:25) ran well into 6th while also enjoying a good run out were Ezra-Zion Gooch (10:26) and Freya Brewington (11:36).
Finally, at Chelmsford, Madison Kindler (07:18 PB) continued her great form to finish 2nd and first female.
Well done to all our runners this weekend. Note for parents, if your child has an * by their name, please help our editors by adding Brentwood Beagles as their club under their parkrun profile (groups). Feel free to contact us if you need help setting this up.
Coming up
This weekend sees round two of the Cross Challenge Series – this time taking place in Sefton Park in Liverpool – the venue traditionally used for selection for the European Cross Champs. Good luck to the four Beagles travelling to the event.