It's been another week of great school's results with District successes throughout Essex with multiple medals! We've also taken another Essex Championship title this week, a national title and a great haul of medals at the Eastern championships. Another busy week!
ISA National Final
Our week started incredibly well with a trip to Birmingham for the ISA (Independent Schools Association) national final. With a great opportunity to compete on the very track used at last summer's Commonwealth Games this really felt like a special occasion. Athletes were selected to represent the regions of the country from qualifying events and Olivia Forrest was representing East Anglia in the 1500m for Yr8/9 girls.
A competitive start to the race saw a handful of girls make a break but Olivia raced with maturity and went with them before breaking away herself to build a considerable lead eventually finishing with a new PB and championship record of 4:37.11. Olivia's time places her in the top 10 U15s in the UK over the distance so far this year. Unfortunately, despite this (and meeting both the entry AND national standards for the U17 AND the U19 3000m), Olivia hasn't been selected to represent the County at the English Schools Championships! Watch this space for a post covering selection advice for Parents going forward.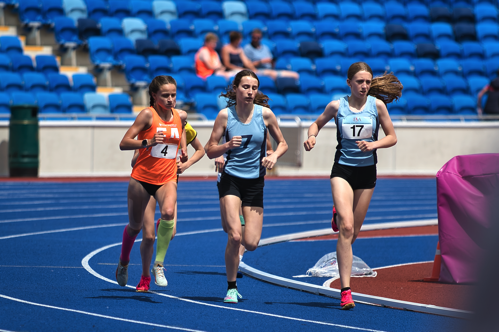 School district events
This week saw all the school district championship events take place and we saw some brilliant results for our Beagles. Unfortunately, these events aren't run by qualified officials and therefore the finishing times are not able to be used as official personal bests. The full results are also not published so the information below is based on what we have been sent by parents and athletes and we are sure there are performances missing. Again, please do share what your child does.
Brentwood district
Scarlett Sawkins finished second in the high jump competition. David Wilson finished second in the javelin. Evie Abbott took the district title in the hurdles event a feat matched by Evie Warn in the 1500m. Also topping the podium was Max Sanderson in the 800m and congratulations too to George Ashton who finished third in the 1500m. Ella Gilder-Briggs became district champion in her age group 200m event with Ava Carter finishing second in her 200m age group. Stephanie Smith was another district champion – for her the 300m. as was Grace Smith in her age group. Grace also managed fourth place in the high jump and helped her relay team to second place. Aisling O'Leary also became district champion in the 800m. Second place for Alf Carter in the 800m and to Mattie Delea in the 1500m and third for Daisy Willingale in the 800m. Megan Collett ran brilliantly in her 100m and came third in the long jump. Also competing at the event were Zac Thomas and Tobias Maitland.
Amazing to see such strong results in the Brentwood district – well done to everyone!
Central Essex district
Olivia Forrest became 1500m champion with a new championship record and ran as part of the relay team. Sophie Halford ran brilliantly in her 200m. Also competing were Esme Thomas and Lily Quirk.
Essex 5 mile championships
On Friday night Laura Durn took on another Essex Championship race – this week it was the road five miles! Hosted by Springfield Striders in Pleshey, the two lap course saw almost 250 entries with Laura finishing an amazing 6th in her age group with a time of 38:06. Well done Laura.
Eastern championships
Our Beagles celebrated 6 medals from the Eastern Athletic Association Track & Field Championships on Saturday, held in Cambridge. The regional championships comprise of athletes from the counties of Essex, Suffolk, Norfolk, Hertfordshire, Bedfordshire, Cambridgeshire & Lincolnshire.

Lee Boka U15B achieved Double Silver medals in the 100m and 200m, Stephanie Smith U15G Silver medal in the 300m. Ava Carter U15G obtained a Bronze medal for 3rd place in the U15G 200m, Erin Delea Bronze medal in the U17W Discus and Max Sanderson Bronze in the U17M 1500m.

The full results for Beagles:

Ava Carter U15G
100m Heat 13.4. Final 13.31 6th
200m Heat 27.41. Final 27.85 3rd (BRONZE)

Lee Boka U15B
100m Final 11.73w (2.9m/s) 2nd (SILVER). PB but wind assisted.
200m Final TBC 2nd (SILVER)

Charlie Lingley U15B
100m 14.57 8th
200m TBC 8th

Stephanie Smith U15G
300m Heat 45.10 Final 44.90 2nd (SILVER)

Jude Hearn U15B
800m Final 2:16.58 PB
Long Jump 4.58m PB 6th

Max Sanderson U17M
800m Final 2:05.96 4th
1500m Final 4:29.31 3rd (BRONZE)

Mattie Delea U15B
1500m Final 4:38.32 PB 4th

Erin Delea U17W
Discus 25.21m 3rd (BRONZE)
Amazing results from all! More pictures to follow.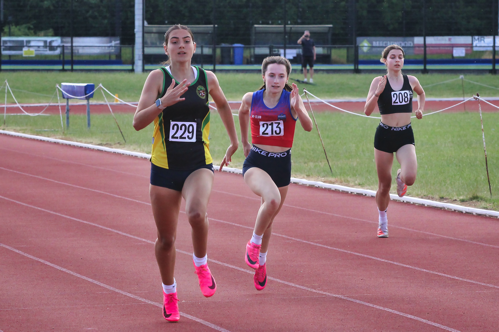 Essex mile championships
Our second big event on Saturday was at Chelmsford with the mile of miles event incorporating the Essex mile championships.

Lovely to see so many Beagles in attendance including a few making their debuts. We were incredibly proud of the commitment and tenacity you showed in the hot conditions – congratulations!

First up was the U11 boys race and Fynn Anderson got the Beagles off to a flying start with a super third place finish and bronze medal in a time of 5:38.39. George Smith and Hugo Wilks kept each other company throughout the race with George pipping Hugo to 5th place – 6:04.11 and 6:05.29. Also running well to finish 10th was Dylan Hussain with his time of 6:30.45.

Our U11 girls dominated their mile race with Madison Kindler leading from start to finish with a time of 5:39.28. A great gold medal performance. Lianne Esterhuysen finished in third place for the bronze medal in 6:11.86 whilst Amelie Irvine battled well to hold on to fourth place – 6:.46.48.

Jonathan Warner excelled in the men's C race with a confident performance that really built into the last lap and ensured a first place finish – 4:54.46 – 5 seconds ahead of his nearest rival.

A tough race for our u13 girls but both stuck with it and didn't give up. Well done to Eliza Hobden who finished 9th in 6:13.86 and to Isobel McLennan 15th in 7:15.07.

Frankie Edwards ran strongly throughout the U13 boys race and was unlucky to finish just outside the medals in fourth – 5:41.23.

And finally the U15 girls race saw Olivia Forrest crowned Essex champion as she finished first in 5:10.72 following an incredible last 600 metres which pushed her six seconds clear of second place. Also running well and finishing fifth was Evie Warn who held off those close behind – 5:24.59. Isabel Forrest starting to show signs of recovery from her injury finished 12th in 6:13.73.

Brilliant results everyone! More pictures to follow.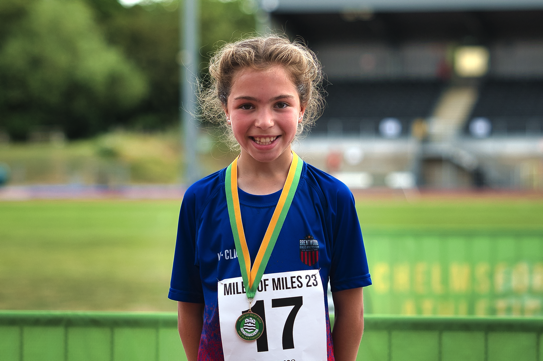 Parkrun / Junior parkrun round up
Some great parkrun efforts again this week – starting off in Brentwood – Elliot Worth finished fourth (20:29) with Callum Goodey gaining a new PB not far behind him (21:09). At Raphaels, Dean Savery finished second just outside of his PB (18:28) and at Billericay Nora Heidemans had another great run (25:04).
On Sunday at Harrow Lodge, Ollie Johnson finished as first male and gained a new PB (7:44), Emily Brewington was fourth (8:30) and Ethan Wilson completed the Beagles line up (10:33). At Lake Meadows juniors Lianne Esterhuysen continued to show her good form finishing as first female (8:16). Henry Willingale was just seconds off his best time (9:36) with Liam Worth not far behind him (9:49). Ivy Kernohan also had another good run (10:52). Finally at Hutton Rec juniors – Olivia Forrest made her course debut and took the course record with her first place finish and own 2k PB (6:33). Frankie Edwards continued his good run of form at the course (7:45) with Madison Kindler just behind him (7:56). Daniel Egan made his junior parkrun debut (12:17) and Bailee Abrahams also did a great job (13:46).
A reminder – if you could please add Brentwood Beagles AC to your parkrun club list (go into manage your profile) – it does help us spot you in the results! If you get stuck let us know!
Coming Up
Another Watford Wednesday night sees a number of Beagles competing over 1500 and 3000m. We have the next round of our EYAL league – this time in Chelmsford. And good luck to Olivia Forrest who is representing Great Britain this week at the European Biathle Champiosnhips in Germany!