This week saw the crossover of the final track races and the first XC ones with our Beagles proving that they can get great results wherever they go.
Blackheath & Bromley Open
At the final Blackheath & Bromley Open of the season Madison Kindler, started her 800m campaign with a great PB and first place finish (2:30.32).

Essex XC Championship Relays
The weather hadn't got the memo, but Saturday saw the start of cross-country season with the Essex County Athletics Association XC championship relays at Weald Park.

Full finalised results aren't yet available with many notable errors, but we are incredibly proud of all our amazing runners today for giving their all in the heat as they tackled the hills! All junior runners ran 3K with Laura Durn doing a great job as our only senior on this occasion who ran 6K.

Our U15 girls A team led the first race from start to finish with Evie Warn stretching the field over the first leg, Missy Tiller maintaining the lead in the middle leg and Olivia Forrest ensuring the team dominance was evident to all. We are thrilled that they become Essex Champions!

Three of our teams finished fourth in their age groups – the U17 women were led off by Mara Thomas who ran a great leg despite falling and twisting her ankle en route. Erin Delea showed true Beagles spirit by stepping into the team despite running being far from her choice event! And Jemimah Knightbridge ran strongly on the last leg to ensure fourth place. The U17M also finished fourth Louis King and Louis Geater both ran the first leg with Louis King just ahead on the final straight and passing over to Preston Taylor. A great debut Beagles run from Preston put Max Sanderson in a good position for a brilliant run to finish solidly in fourth. Our U15 boys had an incredible start thanks to a great performance by Jude Hearn followed by a confident run from Zac Thomas and a strong final leg from Mattie Delea.

The U15 girls B team were led off well by Isabel Forrest who passed to Daisy Middlemiss with a good second leg and finally Nicole Hawkins bringing the team home superbly to finish 9th.
And finally our two under 13 teams – made up almost entirely of those new to the cross country courses but all of them attacking the distance and demonstrating their tenacity. For the girls – Ava O'Neal ran a wonderful first leg with Sophie Bickerstaff showing her strong potential over the second leg and Ella Fagan running a marvellous final leg to bring the team home in 10th place. The U13 boys saw Daniel Smith and Matthew Cottee both tackling leg one and giving their all. Daniel handed over to Frankie Edwards who showed his grit with a sprint finish for his lap and a great final run by Ollie Johnson who also sprinted to hold his place and keep the competition at bay, landing the team a brilliant 5th place.

Well done again to all and a massive thank you to everyone who stepped into marshal and help the organisers. Once again proving that the Beagles team goes well beyond the athletes! Full results will hopefully be on the event page later this week.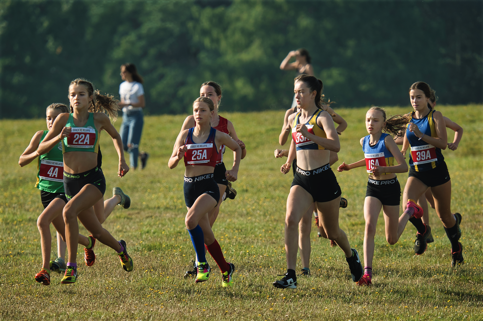 Ingatestone 5
The Ingatestone 5 race is a 5 mile road ran around the Ingatestone area. Stuart Crowther had a great run to finish first in his age group walking away with another great trophy and a great finish time of 33.36. Well done Stuart!
Havering Open
Sunday saw the final track event of the summer 2023 season with many of our Beagles taking part in the Havering AC Open. With many PBs and great performances we had lots to celebrate – well done to everyone who gave their best!

First race of the day was the 300m which U15 Ella Gilder-Briggs dominated coming home first in 44.32. Ella also ran over 100m – 13.41.

Our middle-distance runners had some great results today – over 1500m U15 Evie Warn had her second amazing performance in two days with a first-place finish and another brilliant PB of 4:49.77 in a competitive battle with another runner. Louis King (U17) showed once again the improvement he has been making all season with another new PB – 4:46.14. Isabel Forrest (U15) ran 5:16.17 with Daniel Smith (U13) at 5:58.4.

Some dramatic hurdles events and falls took place during the races but fortunately our Beagles kept their focus with Evie Abbot (U13) storming to a new PB and first place of 12.51. Evie also ran well over 100m – 14.28.

Ava O'Neal (U13) had a full programme of events demonstrating her range – over her hurdles she ran 16.66, in the 800m 2:57.4 and she sprinted to 35.2 over 200m.

Our sprinters had some good results over 100m and 200m. Katie Lowe (U13) – 14.23 over 100 and equalled her PB over 200 – 30.2 to finish first. Honey Peck (U15) – 13.6 (100) and 28.3 (200) and Nesochi Onyechere (U15) who gained a new PB of 14.5 in the 100 and finished first with a PB in the 200 of 29.8. Daisy Willingale (U15) gained a new PB of 29.9 over 200m.

We also saw PBs from our male sprinters – Lee Boka (U15) sprinted to a 12.2 PB over 100m and ran 24.7 over 200m finishing first. Wayne Imbuwa (U15) ran a 12.9 PB over 100 and a 25.7 PB over 200m. Nicky Mulholland (U13) also ran a 200m PB of 28.7.

Finally our 800m runners had a good day – Aria Sabado (U13) had a great debut run over the distance setting her PB at 2:53.2. Madison Kindler running up an age group at U13 was dominant throughout her race, front running to a sensational new PB of 2:26.5. Daisy Middlemiss (U15) ran the distance for the first time setting her PB at 2:49.7. Missy Tiller (U15) had a very strong second lap of her race – 2:27.4 finishing first. Laura Durn (V45) gained a new age group PB of 2:47.2. Frankie Edwards (U13) ran a new Pb of 2:30.2 to also finish first and Max Sanderson ran a sub 60 second first lap on his way to a 2:02.4 time.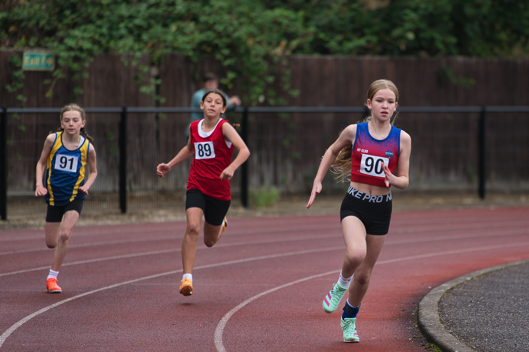 Parkrun and Junior parkun round up
It was a busy weekend of racing away from parkrun but a handful of Beagles still ensured we had great representation around the courses. Harriet Ward (36:38) ran well, her first effort at the busy Chelmsford course. Ben Corcoran (20:14) ran strongly at Raphaels parkun. Meanwhile, the Brooks' were out at Wickford Memorial with both Scott & Kurt coming back well from injury. Scott claimed his first Parkrun 1st place (19:37), and Kurt (22:55) finishing over a minute quicker than his last time out.
On Sunday at Hutton Rec Junior Parkrun, the Beagles dominated taking 4 of the top 6 places as well as a great 1-2. Jamie Murphy (08:47) ran strongly from start to finish with a 13-second PB while also improving on his best & closing in on a first sub-9 minute run was Ethan Wilson (09:01). In 4th, Nora Heidemans (09:30) finished first female while a positive start from Liam Worth (09:44) saw him claim his highest finishing position to date, 6th. There were more blue & red shirts to come with Joshua Barke (10:46) and Max Wilson (11:12) running steadily to finish in the top 20. Bailee Abrahams (11:13) and Camilla Nash (11:32) both scored new PBs. Over at Harrow Lodge yet more PBs, this time from 1st placed Emily Brewington (08:08), and Evie Foley (9:26), while also running very well was Ezra-Zion Gooch (10:06). There was little to separate Jack Collier (10:33) with brother Harry Collier (10:53) just a little further back.Finally, at Lake Meadows, Lianne Esterhuysen (08:12)ran strongly to finish 4th just a few seconds outside her PB, with Sophie Bickerstaff (8:24) finishing 6th and Danel Esterhuysen (12:23) also enjoyed her Sunday morning run.
Remember to contact us if you need help setting up your parkrun profile to represent the club.
Coming up
Another weekend of relays – this time on road! Good luck to the three teams headed to the SEAA relays in Aldershot this weekend.