English Schools Athletics Association (ESAA)
With the first round of the national English Schools Athletics Association (ESAA) events taking place last week, a good number of our Beagles were in action helping their school teams score points. These events rely on the school team as a whole doing well so despite some awesome individual performances, not all our Beagles will make it to the regional finals held in mid-June. For those that did though we wish you ever success in the next round! 
12.05.2022
Brentwood Beagles' Ben Corcoran ran a very strong 5.02 to finish third in the 1500m and help Campion school make the regional final in the junior boy's event.
16.05.2022
Nicole Hawkins finished first in her 800M with a new outdoor PB of 2.34.2. She also competed in the Discus with a throw of almost 13M scoring some solid points and helping Woodlands School make the regional final in the junior girls event.
Aisling O'Leary ran well in the 800M with a good time of 2.47.5. Doubling up by throwing the Javelin, she managed to throw over 11M and helped Brentwood Ursuline Convent School to second position on the day and another Beagle through to the regional final for the junior girls event.
17.05.2022
Competing for Brentwood School on Wednesday, Ella Gilder Briggs finished second in the 200M with a time of 27.1s. She also took on the high jump managing a best height of 1.26M.
18.05.2022
The New Hall School team benefited from four of our endurance girls in their team. Isabel Forrest and Rosie Quirk matched each other's times with 2.46. Isabel then took on the long jump with a distance of 2.29M whilst Rosie threw 4.27M in the shot. Olivia Forrest and Millie Mae Cameron both competed in the 1500M with Olivia finishing first in 5.03 and Millie Mae having a strong final 100M to finish in 5.53. Olivia also cleared 1.2oM in the high jump with Millie managing 7.64M in the Discus – a great first time effort.
19.05.2022
The final day of the first round saw Jasleen Lotta take on the 800M finishing in 3.15.5 she also made her triple jump debut, stepping up for the school despite having never attempted the event before!
Lilly Quirk showcased her hurdling skills with a time of 15.4 seconds for Chelmsford County High School for Girls. She also showed her prowess in the high jump with a clearance of 1.20M.
Louis Geater, competing for William Edwards School, finished his 1500M in 5.37.4 and competed in the relay scoring the fastest leg of his team.
Junior parkrun success
Congratulations to Madison Kindler on a new junior parkrun PB of 8.23 at Harrow Lodge this Sunday.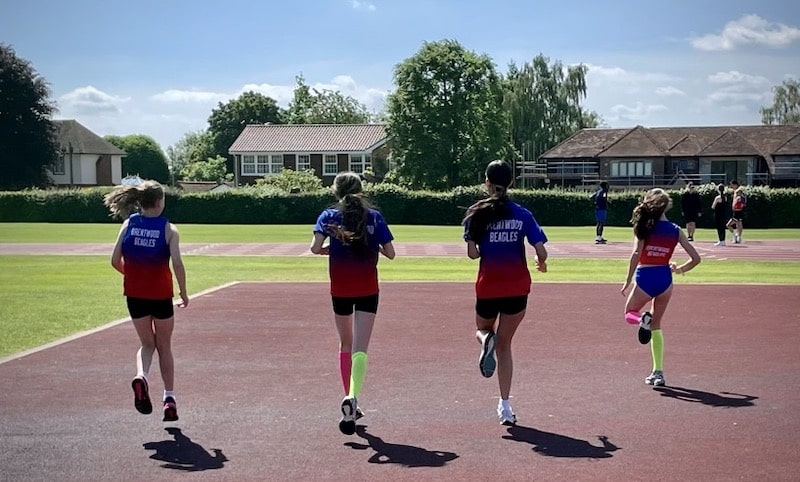 Have more news of your/your athlete's performance to share? Drop us a line here or via our contact page.